From 
Alice Ann Munro is a short story writer and Nobel Prize winner.
Alice attended the University of Western Ontario where she studied English and published her first short story in the university's literary magazine.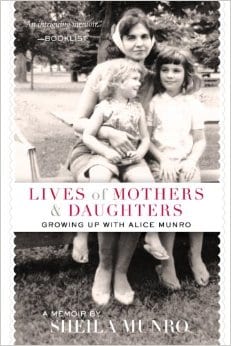 Her first book of short stories was published in 1968 and since then she has published fifteen more. Her work frequently appears in magazines including The New Yorker, The Atlantic Monthly, and the Paris Review.
In 1976, she married Gerald Fremlin, a cartographer and geographer. The couple moved to and moved to his hometown of Clinton, Ontario, not far from Wingham.
Gerald died in April 2013.
On December 10, 2013, Alice Munro was awarded the Nobel Prize in Literature.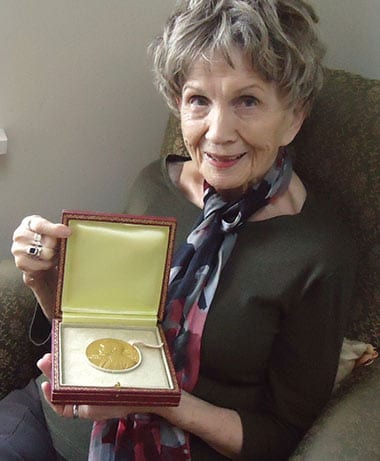 The Nobel Prize in Literature 2013 was awarded to Alice Munro,
"master of the contemporary short story".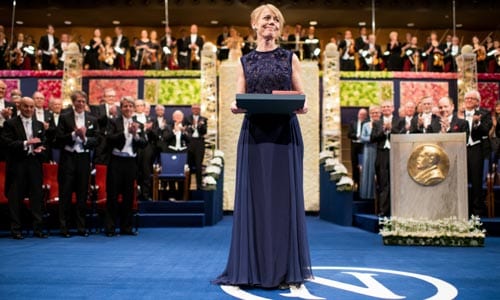 Jenny Munro receives the Nobel Medal on behalf of her mother Alice Munro in Stockholm, December 10, 2013.
Copyright © Nobel Media AB 2013, Photo: Alexander Mahmoud
Alice has announced her retirement from writing and continues to live in Clinton.
Wingham is a community located in the municipality of North Huron, Ontario. Wingham became part of North Huron in 2001 when the Ontario government imposed amalgamation on the former township of East Wawanosh, the village of Blyth, and the town of Wingham.
Read and watch more about Wingham
---
Clinton is a community in Ontario, located in the municipality of Central Huron. Established in 1831.