General Sir William Dillon Otter became the first Canadian-born Chief of the General Staff, the head of the Canadian Militia.
Born in 1843 in The Corners, Canada West (Clinton, Ontario)

Died in 1929 in Toronto, Ontario
While working as a clerk in the 1860s Otter joined the militia with the Queen's Own Rifles.
In 1866 Otter served as a Captain and Adjutant of The Queen's Own at the Battle of Ridgeway.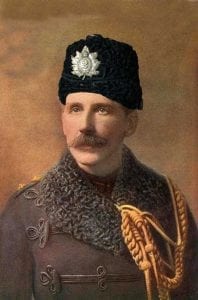 He joined the Permanent Force infantry when it was established in 1883. He was able to secure an appointment in the tiny permanent army by becoming commander of the infantry school in Toronto.
In 1890, Otter founded the Royal Canadian Military Institute as a body for "the promotion and fostering of military art, science and literature in Canada."
Otter served as commanding officer of the 2nd Battalion, Royal Canadian Regiment of Infantry in South Africa.
In 1908 he became the first Canadian-born officer to command this country's military.
General Sir William Dillon Otter retired in 1910 as General Sir William Otter.
He was knighted in 1913 and made a general in 1923.
---
Clinton is a community in the municipality of Central Huron, Ontario. 
Clinton is known as Canada's home of radar and has a huge radar antenna downtown due to its association with RCAF Station Clinton during World War II. Clinton was known as The Corners or "Rattenbury Corner" in its earlier days.
Clinton Ontario and Surrounding Area | 1992 | By rvusse