William Abraham Hewitt was a leading sports journalist, administrator and innovator.
Born in Cobourg, Ontario, Hewitt moved with his family an hour east to Toronto when he was four years old. At age 15 Hewitt was made a reporter. He remained in the role of Toronto Star sports editor for 31 years
Hewitt's true passion rested with hockey. In 1903 he got involved with the Ontario Hockey Association (OHA). For 58 years, he served as secretary of the OHA.
Nine years later he and associate Claude Robinson organized the Canadian Amateur Hockey Association (CAHA).
He was the referee of the first Olympic hockey game, Sweden's 8-0 victory over Belgium at the 1920 Olympic Games.
Hewitt was inducted into the Hockey Hall of Fame in 1947.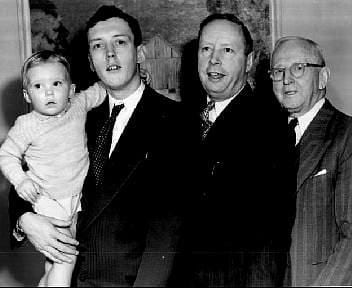 The hockey Hewitt family (from left to right): Bruce, Bill, Foster and W.A Hewitt
Hewitt's son, Foster Hewitt became a pioneering hockey broadcaster and also a member of the Hockey Hall of Fame.
Foster Hewitt was most famous for his play-by-play calls for Hockey Night in Canada. In 1931, Hewitt broadcast the first game from Maple Leaf Gardens. From that time, his play-by-play descriptions became familiar to fans from coast to coast.
Cobourg is a town on Ontario Lake, in Southern Ontario 95 kilometres east of Toronto.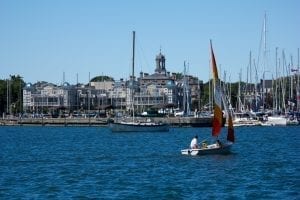 The Town was originally a group of smaller villages such as Amherst and Hardscrabble, which were later named Hamilton. It was renamed Cobourg in 1818, in recognition of the marriage of Princess Charlotte Augusta of Wales to Prince Leopold of Saxe-Coburg-Saalfeld.
Cobourg retains small-town atmosphere, in part due to the downtown and surrounding residential area's status as a Heritage Conservation District.
Old Pictures of Cobourg, Ontario