From Yarmouth, Nova Scotia
John Patch was a sailor and fisherman who invented one of the first versions of the screw propeller.
One day, while watching a small boat being manoeuvered with a single oar, John Patch came up with the idea for a device that would allow steamships to travel without the need of inefficient paddlewheels or wind-dependent sails. Thirty years later he had seen his idea become reality.
During the winter of 1832-33, Patch developed and built the screw propeller, a wooden shaft with two "fans" at the end.
In 1833 Patch tested his invention in Yarmouth Harbour. In 1834 Captain Robert Kelley agreed to put it on his 25-ton ship, the Royal George. The propeller was a success.
A new interpretive panel was unveiled in Yarmouth, honouring John Patch | 2011
John's invention is presented at an exhibit at the Yarmouth County Museum & Archives. A propeller-driven lifeboat in the collection of the Maritime Museum of the Atlantic in Halifax, Nova Scotia is named in his honour.
Yarmouth is a port town located on the Bay of Fundy in southwestern Nova Scotia. The town is long connected to fishing due to its proximity to Georges Bank. This is the heart of the world's largest lobster fishing grounds. As a result, Yarmouth receives Canada's largest lobster landings each year.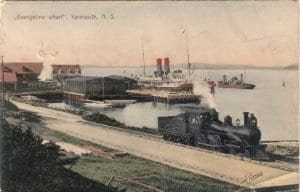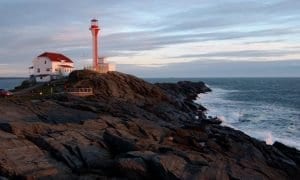 Read and watch more about Yarmouth, Nova Scotia in the posts: