From Kleinburg, Ontario
Lester Bowles "Mike" Pearson was a scholar, statesman, soldier and diplomat, who won the Nobel Peace Prize in 1957 for organizing the United Nations Emergency Force to resolve the Suez Canal Crisis. He was the 14th Prime Minister of Canada from 1963 to 1968.
Born in 1897 in Newtonbrook, Toronto, Ontario

Resided in Kleinburg, Ontario

Died in 1972 in Ottawa, Ontario
Born in Toronto of Irish stock on both sides of his family, Lester B. Pearson received a balanced education in politics, learning the conservative position from his father, a Methodist minister, and the liberal from his mother.
Lester Pearson's family roots in Kleinburg date back to 1894 when Lester's father, a Methodist minister, moved his family to Kleinburg to preach at the local Methodist church.  During their time in Kleinburg, the family lived at the Old Parsonage House on Lester B. Pearson (formerly Centre) Street.
With the outbreak of the First World War, Pearson enlisted in the Canadian Army Medical Corps and in 1915 was shipped to Greece to join the Allied armies fighting the Bulgarians.
In 1919 he received a Bachelor of Arts degree from the University of Toronto. In 1923 he received a B.A. degree with Second-Class honours in modern history at St John's College at the University of Oxford, and the M.A. in 1925. In 1928 Pearson left academic life to accept a position as the first secretary in the Canadian Department of External Affairs. He moved forward rapidly.
In 1945, he was named Canadian ambassador to the United States and attended the founding conference of the United Nations at San Francisco.
In 1958 Pearson was elected leader of the Liberal Party.
As Prime Minister Pearson brought in many of Canada's major updated social programs, including
universal health care
the Canada Pension Plan,
Canada Student Loans,
Instituted a new national flag, the Maple Leaf flag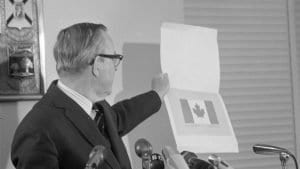 the 40-hour work week,
two weeks vacation time,
a new minimum wage.
The Great Canadian Flag Debate – PM Pearson at an RCL Convention
Pearson retired in 1968 and died in 1972.
Kleinburg is an unincorporated village in the city of Vaughan, Ontario. It is home to the McMichael Canadian Art Collection, an art gallery with a focus on the Group of Seven, and the Kortright Centre for Conservation.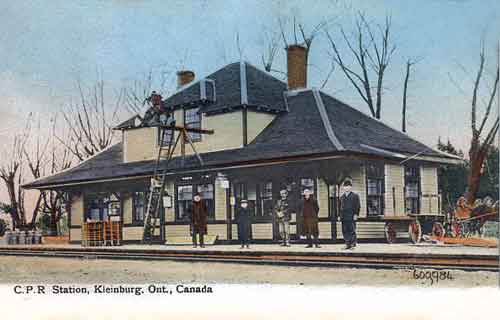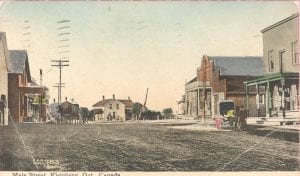 Kleinburg was founded in 1848 by John Nicholas Kline, a German-Canadian settler. A direct German translation of Kleinburg is "small castle".
Kleinburg was the home of former prime minister Lester B. Pearson.
Read more about Kleinburg