George Washington Orton was a middle-distance runner. In 1900, he became Canada's first Olympic gold medal winner.
Died in 1958 in Laconia, New Hampshire, United States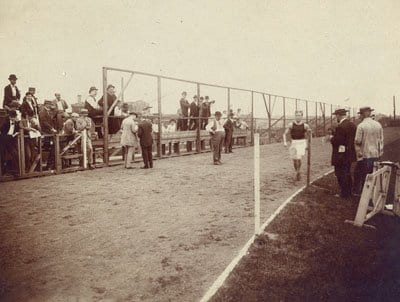 George Orton won gold in the 2500m steeplechase and bronze in the 400m hurdles at the 1900 Olympic Games in Paris.
London Sports Hall about George Orton
At the time, Canada did not send an official Olympic team to Paris, but the Canadian-born Orton competed on behalf of the University of Pennsylvania.
Born in Strathroy, Ontario, Orton was paralyzed when he fell out of a tree as a child. He regained his mobility at age twelve only.
Orton's total number of wins was reported to be 121.
He was inducted into Canada's Sports Hall of Fame and the Canadian Olympic Hall of Fame.
---
Strathroy is 35 kilometres west of the City of London, Ontario. The Strathroy-Caradoc municipality was created through the merger of the former town of Strathroy and the township of Caradoc in 2001.