#1000towns choice
By Scott Opichal | University of Alberta
Photo: CC BY 2.5, https://commons.wikimedia.org/w/index.php?curid=4080094
#1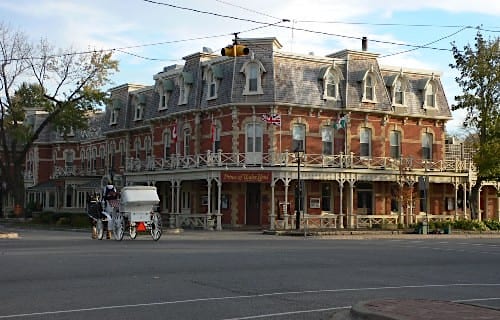 Nestled on the southern shores of Lake Ontario, not far from Niagara Falls, this scenic town is a popular tourist destination in the summer months.
Niagara-on-the-Lake is one of the most well-preserved 19th-century towns in the country. The Victorian main street is lined with lush vegetation, old-fashioned houses, and boutique shops. The town is painted with colour, from the many hanging baskets filled with blooms in the warmer months to the stunning Georgian-style architecture. Take a walk through the streets, visit the Falls on a day trip, and get your sugar fix at an award-winning chocolate factory.
Photo: Philipp Hienstorfer, Wikimedia Commons
#2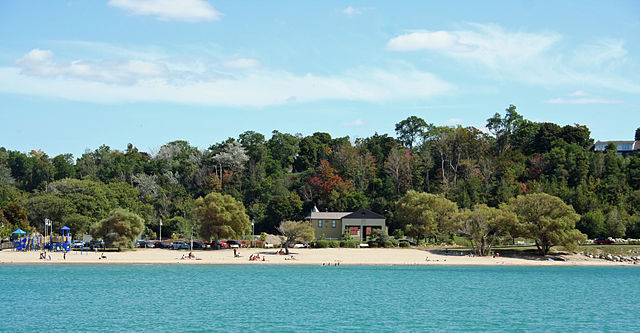 Goderich is filled with lovely parks and award-winning flower gardens. 
Set on bluffs overlooking Lake Huron, the town is home to three beaches, including a long boardwalk along its shoreline. Goderich's picturesque downtown area is designed in an octagon, with charming shops surrounding a central square. Dominated by a historic courthouse, the square is the site of numerous events throughout the year. You can catch a farmers' market on Saturday, a flea market on Sunday, and regular live music events.
Photo: Whpq – Own work, CC BY-SA 3.0
#3
Meat Cove, Nova Scotia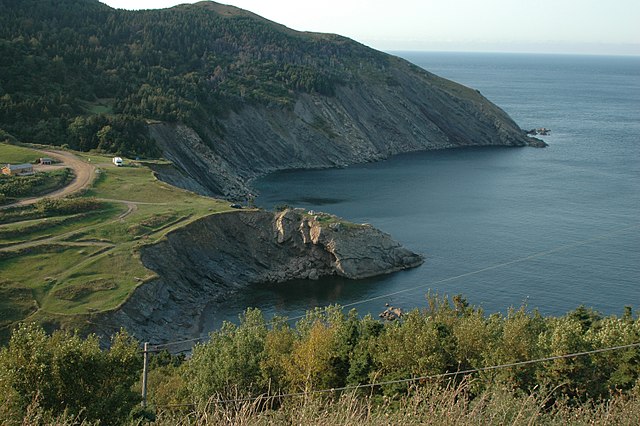 This tiny, remote fishing village on Nova Scotia's Cape Breton Island has some seriously jaw-dropping scenery.
Sunset turns the rocky cliffs and headlands a shade of crimson, while the rolling green hills set in the highlands make for an idyllic backdrop. The town is a popular stop while road-tripping the Cabot Trail. If you love hiking, the Cape Breton Highlands National Park has many trails, and the water at Meat Cove Beach is worth a dip. 
Photo: Josephbrophy – Own work by the original uploader, Public Domain
#4
Alma, New Brunswick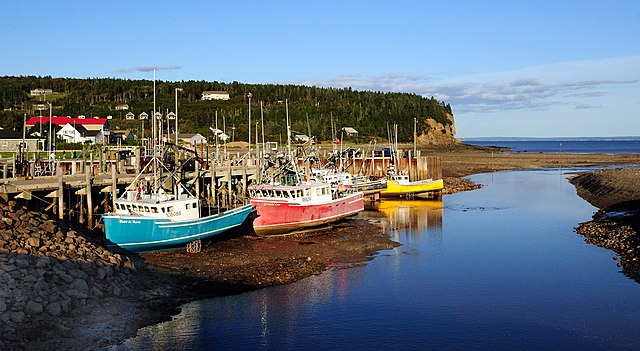 Alma is a cool town and should definitely be on your bucket list.
Alma is the gateway to the world-famous high tides of the Bay of Fundy — it's also a great spot to grab a bite to eat after a hike in the park.
The nearby Cape Enrage Nature Preserve is a special natural attraction with towering cliffs, rocky beaches, and an iconic lighthouse.
Photo: Taxiarchos228, CC BY-SA 3.0
#5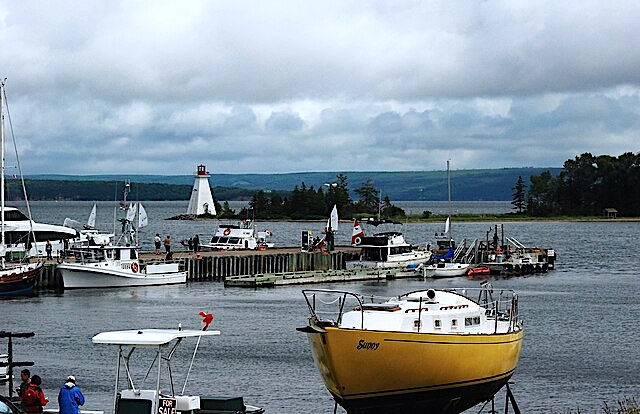 This town close to Bras d'Or Lake is beautiful and a perfect way to see wildlife without the fuss of a big city.
You'll feel the charm and culture of Cape Breton Island, which has a proud tradition of ceilidhs. Take a glimpse into this tradition that came across the Atlantic with many with Gaelic roots.
Photo: Thom C – originally posted to Flickr as Nova Scotia – Aug'08, CC BY 2.0
#6
An artist's paradise, Baie St-Paul is nestled in a scenic valley with stunning views of nearby Île aux Coudres.
The town is known as a favourite muse of Canada's Group of Seven painters, and its beauty continues to attract artists today. In addition to studios, art galleries, and boutiques, its narrow streets are lined with century-old homes, many of which have been converted into unique restaurants. One of the oldest towns in the province, Baie St-Paul, is also known as the birthplace of Cirque du Soleil.
Photo: Lezumbalaberenjena, Wikimedia Commons
#7
Mahone Bay, Nova Scotia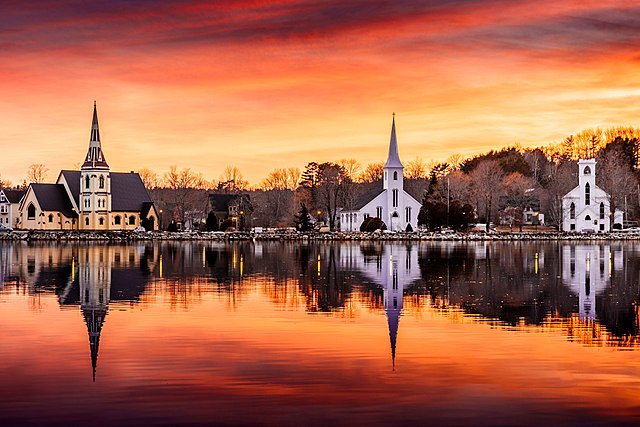 Mahone Bay is an archetypal maritime town, defined by three historic churches, which are said to be among the most photographed in Canada.
Founded in the mid-18th century, this quaint town borders a serene and eponymous bay home to more than 100 islands. Main Street, which runs along the bay, is lined with fine restaurants, 19th-century architecture, antique shops, and galleries.
Photo: Shawn M. Kent – Own work, CC BY-SA 4.0
#8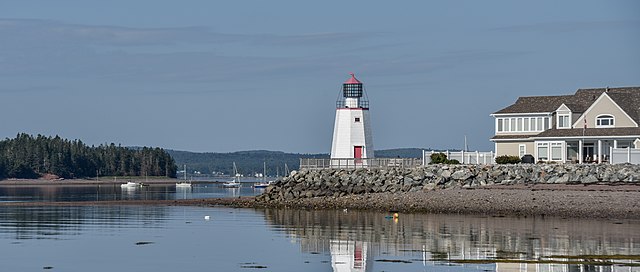 Canada's oldest seaside resort town, St Andrews-by-the-Sea, is set on the edge of a peninsula pointing south into the Bay of Fundy.
Founded in the 18th century by Loyalists, the town quickly became a popular summer retreat for the locals. Around a dozen buildings survive from the town's origins in the 1700s. In contrast, several hundred others date back to the late 19th century. Relatively unspoiled by modern development, the town's wide, tree-lined streets evoke the atmosphere of centuries past. Water Street, which runs along the shoreline, is lined with appealing restaurants, boutiques, and art studios.
Photo: Gordon Leggett / Wikimedia Commons, CC BY-SA 4.0
#9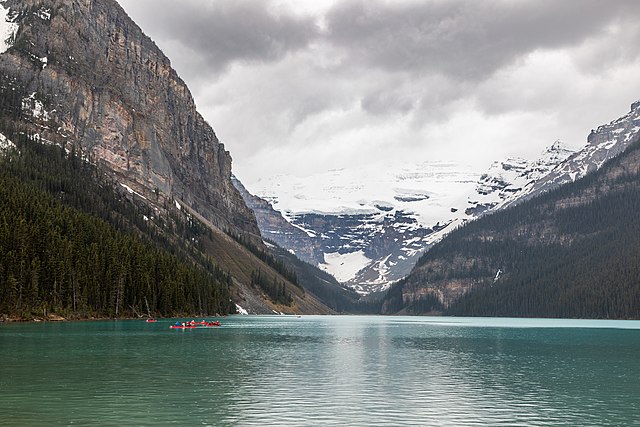 Lake Louise is one of the most popular places to visit in Alberta, and with good reason. The sparkling blue-green waters of the lake set against majestic peaks and glaciers in the background rarely fail to impress.
An aerial view of the picturesque hamlet of Lake Louise reveals a peacock-blue lake surrounded by snow-capped mountains and the iconic Fairmont Chateau Lake Louise at the water's edge. Winter is a snow-laden utopia with visitors ice-skating atop the frozen lake, taking sleigh rides around its edge, and skiing down world-class slopes. Come summer, daylight lasts until 11 pm, allowing you plenty of time to go hiking to sparkling glacial lakes or canoeing along Lake Louise.
Photo: Dietmar Rabich, CC BY-SA 4.0
#10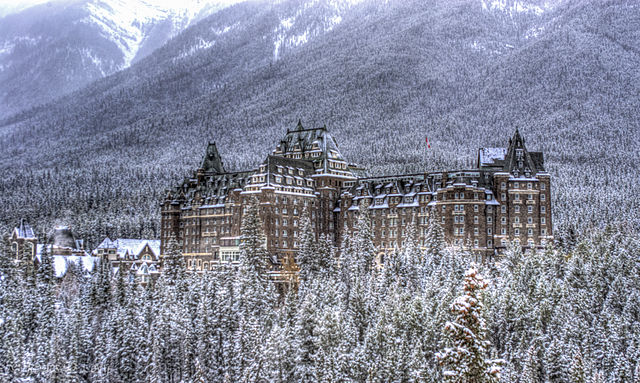 Banff is famous for its immense beauty.
The town is surrounded by looming mountains carved by glaciers, grand chateau-style hotels, and 6,500 sqm of parkland that is home to grizzly bears and elk. Among the most famous is the Fairmont Banff Springs Hotel. This hotel, built in 1888, is one of Canada's first railway hotels. Its classical structure is bounded by the majestic Rockies and emerald blue rivers.
Photo: James Levy – Own work, CC BY-SA 3.0