#1000towns choice
By Landon Kiltz
Some of the charming allure of small towns is the locally owned businesses and restaurants found within. Towns often have their own long-standing restaurants and pubs, which offer visitors a refreshing change from the standardization of the food found in big restaurant chains. Almost every Alberta town has at least one pub where the locals can gather, socialize, and grab a good piece of grub after a long day's work. Locally owned pubs not only offer a unique dining experience, but each also offers the visitor an unparalleled environment. Whether you want to catch up on the latest hockey game, take in some live music, or simply have a cold beer, a town pub is always a welcoming sight for a traveller's eyes.
Below we will explore some of the best pubs found in Alberta for you to visit next time you travel to this great province.
#1
Melissa's MisSteak
Authentic Wooden Cabin Dining
201 Banff Ave, Banff AB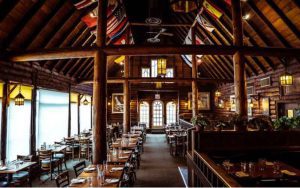 Melissa's MisSteak has been one of the finest places to grab a bite to eat in Banff since it opened in 1978. The building has two floors, with a restaurant on the main floor and a pub upstairs. The restaurant gives diners the feeling they are eating in an authentic wooden cabin and is decorated with many flags from countries worldwide. The upstairs features a bar and a pool table and a very laid-back and relaxed atmosphere.
Breakfast, lunch, and supper are all available in the restaurant. Pizza, homemade burgers, chicken wings or fingers, sandwiches, ribs, and of course Melissa's famous steak are all available on the menu. Melissa's also offers a wide variety of red and white wines, local Canadian and imported beers, and cocktails. They also offer a daily happy hour from 3:00-6:00 pm.  When stopping in Banff, if you're looking for a great place to eat, Melissa's MisSteak is hard to beat.
#2
The Beer Hunter
Buck-it Speciality Drinks
140, 700 McLeod Ave, Spruce Grove AB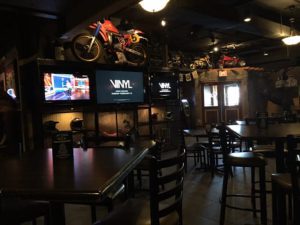 The Beer Hunter bar and grill is a locally owned restaurant and bar with many TV screens making it the perfect place to grab a beer and catch the most exciting sports events. A selection of live entertainment is also regularly offered. The bar also hosts private parties and fundraisers. The Beer Hunter also has a patio, with fireplace heating, making outdoor dining when the weather permits a possibility.
Traditional pub food such as nachos, potato skins, pretzels and beer cheese, poutine, burgers, salads, and sandwiches are all found on the Beer Hunter's menu. The pub offers a selection of Canadian craft beer, as well as domestic and imported beers. A variety of red and white wines, mojitos, Moscow mules, liquor shots, and the Beer Hunter's famous 30z buck-it can be found on the drinks menu.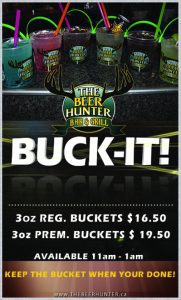 Daily Specials are offered from 3:00-6:00 pm. When you find yourself in the Spruce Grove area, The Beer Hunter is a highly recommended pub to grab a drink.
#3
Last Chance Saloon
Real Ghost Town, Real Bullet Holes
555 Jewell St, Rosedale Station, Wayne AB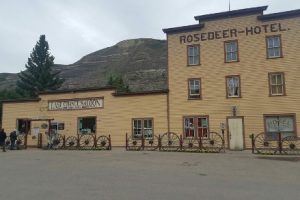 Established in 1913, the Last Chance Saloon is more than just a saloon; it's a piece of Canadian history! Just outside of Drumheller, the saloon is found in the town of Wayne, which is said to be a real-life ghost town. Last Chance Saloon is attached to the Rosedeer-hotel, which gives guests an extremely old-timey and authentic stay-in experience. The saloon was frequented by miners who made up the town's population in its heyday. The walls of this wild-west establishment contain authentic bullet holes. The Last Chance Saloon has both indoor and outdoor dining options. The establishment also frequently brings in live musical talent to keep guests entertained while eating out.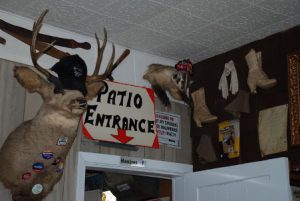 Last Chance Saloon offers diners a selection of burgers, sandwiches, wraps, and shareables on the menu. As for drinks, the saloon provides domestic beers, local craft beers, hi-balls, cocktails, premium liquor, and wine. For any Canadian history buff, Last Chance Saloon is a stop you won't regret.
#4
Paddy McSwiggins
Authentic Irish Pub
320 Thickwood Blvd, Fort McMurray AB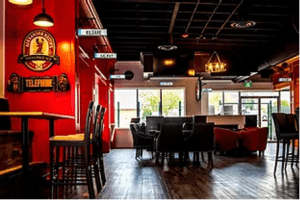 Paddy McSwiggins is a traditional Irish pub and restaurant that prides itself on its modern feel. The restaurant is family-friendly, and minors are welcomed until 8:30 pm daily. Paddy's offers breakfast, lunch, and supper options, but breakfast is only provided Friday-Sunday starting at 9:00 am.
The establishment's main attraction is the unique and traditional Irish food, including Guinness Stew, Shepherd's Pie, Fish & Chips, Linda's Proper Pie & Chips and award-winning wings. Drinks patrons can expect to see on the menu are beers on tap, bottled or canned beer, Irish whiskey, Irish Cream Liqueurs, and a selection of red and white wines. If you're looking for an authentic Irish pub experience, Paddy McSwiggins is the place to check out.
#5
The Drake Pub
Patio with Spectacular Mountain Views 
909 Railway Ave, Canmore AB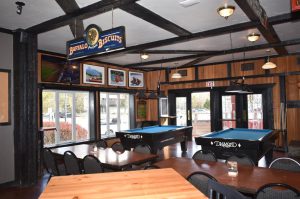 The town of Canmore is home to many great locally owned businesses, breweries, restaurants, and pubs, one of the latter being The Drake Pub. It offers patrons a very relaxed eating experience. Pool tables and live music are available for guests as they dine, creating an atmosphere of pure fun. Indoor seating and a patio with a view of the beautiful Rocky Mountains are both available options.
The Drake offers a wide variety of pub favourites, including salads, wings, chicken strips, nachos, poutine, ribs, soups, fish and chips, burgers and sandwiches. The Drake also offers craft beers from many of Canmore's local breweries, so you can enjoy the very best the town has to offer. A wide range of domestic beers imported beers, coolers, ciders, cocktails, sours, martinis, shooters, and red and white wines are also available for purchase. Happy hour takes place Fridays through Sundays from 4:00-7:00 pm. If you want a fun pub atmosphere where you can take in the spectacular views of the Canadian Rockies, then look no further than the Drake.
#6
Outpost Pub
Required Dress Code 
200 Pipestone Rd, Lake Louise AB

The Outpost pub is in the Post Hotel and Spa. The establishment offers guests a comfortable English-style pub experience, with a cozy fireplace and plenty of TV screens to watch the latest sporting events. All-wooden tables give the establishment an intimate cabin feeling. The Outpost also has a dress code, and no athletic attire, t-shirts or shorts are permitted. Jackets are not required, but many guests do prefer to wear them.
The Outpost offers a familiar pub menu which includes pizzas, soups, salads, burgers, sandwiches, and quesadillas. The pub offers an extensive selection of international red and white wines and champagne by the glass or by the bottle. Domestic beer is also an option, as well as beer from some of the finest Canadian microbreweries. Imported beer is also offered. A more selection of lesser-known imported beers such as the Erdinger Weißbräu from Germany can be found on the menu. Ciders, Cocktails, and other liquors are also on the drink menu. Suppose you are looking for a cozy place to dine and socialize over drinks? In that case, The Outpost offers an exceptional pub experience.
#7
The Whistle Stop Pub
The Best Cheeseburger & Fries Deal in Town          
105 Miette Avenue, Jasper AB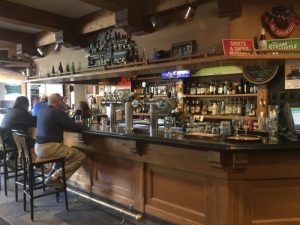 Found in the heart of the town of Jasper, The Whistle Stop Pub is a great place to energize one's spirits with some great food and entertainment. Located in Whistlers Inn, the pub has two full-service bars, live musical events, two pool tables, and six large television screens. They also offer "the best cheeseburger & fries deal in town." Minors are welcomed daily until 9:00 pm.
The Whistle Stop's menu boasts a wide range of starters, including stuffed mozzarella loaf, homemade meatballs, perogies, nachos, calamari, and chicken wings. The menu also offers salads, pasta, burgers, fish tacos, flatbreads, fish and chips, steak frits, and Nathan's Famous Dog for hungrier customers. A diverse selection of 11 beers on tap is also offered. If you're wandering through the centre of Jasper and need an excellent place to eat, be sure to stop by The Whistle Stop Pub!
#8
Swamp Donkeys Pub
Unique Event Nights
250 Main Ave W, Sundre AB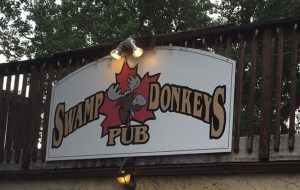 Swamp Donkeys Pub, found in Sundre, is undoubtedly a name that you'll want to remember. The pub features both indoor and outdoor seating options. Swamp Donkeys also has many unique event nights such as lady's night, onesie and pyjama karaoke night, and wing Tuesdays. A daily special is also rotated throughout the week.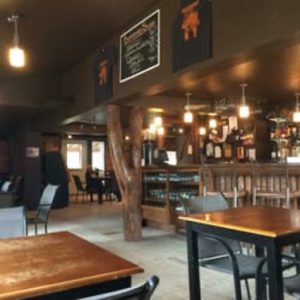 The menu has many pub food favourites, including soups, salads, pasta, steaks, sandwiches, and burgers. Cold beer and other refreshments are also available. If you are in Sundre and want a unique place to grab a drink and have a fun night, Swamp Donkeys Pub is the way to go!
#9
Langdon Firehouse Bar & Grill
Rustic Old-School Tavern Feel             
716 Centre St N, Langdon AB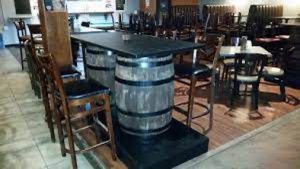 From the moment you walk into the Langdon Firehouse Bar and Grill and see the wooden barrel tables, you know you're in for a unique treat. The decor gives the Firehouse a rustic, old-school tavern feel. The bar has a quintessential pub vibe, with many TV screens playing sports and the walls are decorated with guitars. Live musical performances are also commonplace here. Happy hour is daily from 4:00-7:00 pm.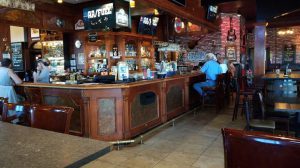 A selection of craft beers can be found on the drinks menu, such as those from the Origins brewing company out of Strathmore, Alberta. A wide selection of domestic and imported beers is also available. The Firehouse also offers many beloved pub entrees, including pizzas, salads, burgers, sandwiches, and a wide variety of appetizers. When in the town of Langdon, look no further for an excellent pub experience.
#10
DayzOff Pub
Take a Shot at the Two-Pound Burger Contest
640 Kingsway Ave SE, Medicine Hat AB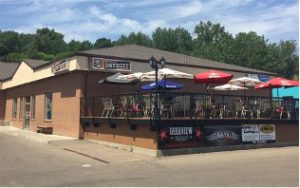 Finally, we have the DayzOff Pub in Medicine Hat. This pub is the place to be when it comes to sporting events. This sports pub also has regular live entertainment to keep customers enthused. DayzOff has a large patio as well as indoor seating for guests to choose from. The pub can be found right in the centre of Medicine Hat, exactly where all the action is. DayzOff is also highly involved in their community, supporting local community groups and sports teams every year. They also offer customers to take a shot at their burger contest. If the customer can eat a two-pound burger and fries within thirty minutes, the meal is free! A variety of daily specials are also listed on the menu.
DayzOff offers many different appetizers, burgers, soups, salads, wraps, sandwiches, and their signature "Real Meal Deals." The pub also serves cold beer, a variety of cocktails, and a selection of red and white wines. If you're in the Medicine Hat area and need a place to watch the big game, head on over to the DayzOff Pub.