#1000towns choice
By Kaitlyn Hui
We all need exercise, especially considering how the COVID-19 pandemic affected our way of life. With our sedentary behaviour hunched over our screens for virtual meetings, we need to let loose, stretch our backs and get those legs pumping. An activity that has been picking up in popularity as of late is biking as it has great environmental impacts and improves our health outcomes considerably. It increases our cardiovascular fitness, strength and posture as well as decreases stress. It's gentler on the body than running and perfect as the spring weather is slowly approaching. Whether it is with friends or family, cycling gives you the chance to get some fresh air and explore the different towns.
That being said, #1000towns will give you the insider scoop on the best places in Canada to go biking and why each would be perfect for you!
#1
Victoria, British Columbia
880+ Bike Routes to Take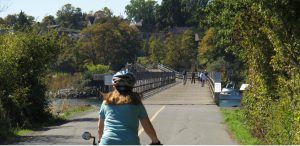 Victoria is a very bike-friendly city with flat grounds, protected bike lanes, shared-use neighbourhood bikeways and multi-use pathways. There are over 880 bike paths that you can take, especially in the spring and summer months. Since Victoria is so small, you can easily get from one place to another by using just the roads without much traffic. For some exciting bike routes be sure to check out the Seaside Loop which takes around 1.5 to 3 hours and is around 40 km long. It is a very scenic route that gives riders the chance to circle Victoria's Inner Harbour which has fishing villages scattered throughout. The Peninsula Loop is another popular option that goes through the Haro Strait and the Saanich Inlet. These are just some of the amazing bike paths you can take, and the difficulty shouldn't be a problem even if you are a new rider.
#2
Saskatoon, Saskatchewan
Best Place for Winter Biking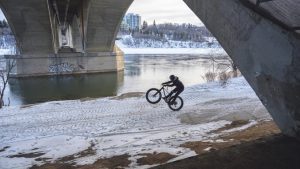 Whether it is for the winter or the warmer months, Saskatoon offers some amazing bike paths through side streets, downtown, beside the river and in open lanes. Despite the piles of snow, it is quite simple to "winterize" your bike and make it easy to travel through the slush. There is also a Saskatoon Cycling Club available for you to join that offers group rides to various locations throughout the town. Going with others will definitely incentivize you and keep you accountable to reach your goals. A definite stop would have to be the Saskatoon Farmer's Market which gives a very simple cycling path so you can stock up on fresh produce. Peturrson's Ravine is a fun trail for anyone and can even serve as a walking path should you get too tired. The more hidden paths make you feel like you are outside of the bustling city and the sunsets are amazing. Additionally, Meewasin Park has hiking trails, picnic areas and bike paths with the chance to get a view of the river!
#3
Ottawa, Ontario
The first city in Ontario to receive the gold-level "Bicycle Friendly Community Award"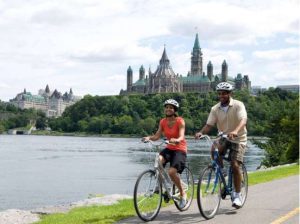 Ottawa has some of the most accessible bike paths in Canada. A particularly cool thing would have to be The Capital Pathway network which has two main courses: the Ottawa River Pathway and the Rideau Canal Western and Eastern Pathways. Both of these paths are quite easy to go down since you can see the gorgeous Rideau Canal as well as the nature around it. With over 980 km of bike paths, Sunday Bikedays from May to October offers the opportunity to travel down roads specifically to just cyclists or walkers.
geoOttawa is amazing so you can clearly outline your route and it also recommends specific roads for you based on your preferences. Some fantastic trails to try out when you're there include the East End to Petrie Island, Experimental Farm Pathway (8.5 km), Osgoode Pathway / Doug Thompson Pathway (21 km) and the Voyageurs Pathway (30 km). These are only some of the fun road cycling routes to take in Ottawa!
#4
Greater Sudbury, Ontario
Visit During Bike Month for Fun Events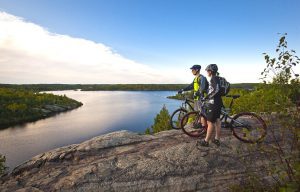 Greater Sudbury is very neat as they have implemented Bike Boxes which are painted sections on busy crossroads to signify areas that are only for cyclists. This is to make them more visible and allow for safer passage, especially because it can get confusing for motor vehicles. They even have a Bike Month in June with events such as the Kids Bike Exchange and Bike to Work Day to get people motivated to participate. Some trails include The Ramsey Lake Cycle Tour de Sudbury which gives you views of the Lake Laurentian Conservation Area as well as the Martindale to Downtown, a 4.5 km path that goes from Junction Creek all the way to Downtown. There are also mountain biking and fat biking routes such as Kivi Park and the Lake Laurentian Conservation Area. There are plenty of resources in the town to help you out, so this area is perfect for anyone who loves cycling!
#5
Gatineau, Quebec
Over 20,606 km of Bike Paths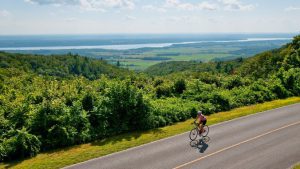 Gatineau is famous for Gatineau Park which has some of the best biking paths, mainly used for marathon goers and the pros because of the hills, steep climbs and sheer distance. However, the view from the top of the Champlain Lookout is breathtaking and well worth the tiring ride. If you aren't working to compete though, there is always the Capital Pathway which is a long network that goes through the park and the rest of the National Capital Region. There is 32.5 km of paths just there, but also options for mountain biking through the season from May 15 to November 30. For example, Camp Fortune has some exciting roads. In the winter, they're ski slopes, but in the summer they transition to mountain biking routes, which just speaks to their potential difficulty. Gatineau is ideal for anyone who is training for an upcoming race, so be sure to visit if you fit the bill!
#6
Moncton, New Brunswick
Plenty of Shared Streets and Trails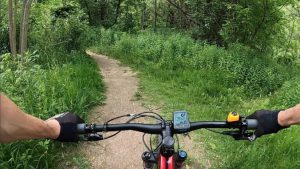 Moncton is a wonderful place to ride your bike, especially considering that there are bike lockers throughout the town and their buses have racks for easy transport. The town is in the midst of adding more bike lanes for accessibility to encourage more people to cycle. They have the Moncton Riverfront Trail Sentier Riverain which is full of paved on-road and off-road trails as well as urban paths. You can travel down the Petitcodiac River on your own bike or via rentals. The Irishtown Nature Park, Mapleton Park and Centennial Park are just some of the few parks in Moncton that have bike trails that you can easily travel down with your friends and family. They have scenic nature views that are very picturesque, especially as the trees transition their colours from green to more warm oranges and reds in autumn.
#7
Brossard, Quebec
Full of Long Paths For Cyclists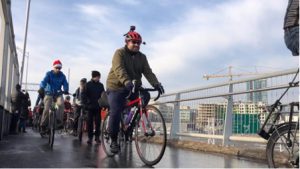 Brossard is another town that has some amazing bike routes, though not many people know about it. It is a very cycling-friendly city with paths along the Samuel De Champlain Bridge, a 3.4 km multi-use pathway. Since it's so long, it connects you to the La Riveraine bike path in Brossard as well as several other places like Nun's Island. It is shared with pedestrians, however, lots of cyclists still travel here just because of its popularity among locals. With over 875 routes in Brossard, there is bound to be something that you like, from flatter to more hilly options. The La Riveraine et la Montée du chemin de Chambly (80 km) is perfect for someone of any level and it runs through other towns such as Varennes, Boucherville, Longueuil, and many more. It gives a view of the St Lawrence River as well as the Montréal ports so you can catch your breath and get a snack along the way.
#8
Best Canadian Destination for Fat Biking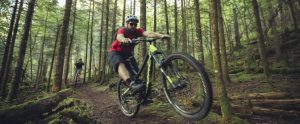 Thunder Bay in Ontario has all different types of cycling options available for you to enjoy. The Trowbridge Forest has so many adventurous paths and even a new machine-built trail called the Drift with really high jumps and daunting bridges. The 22 km of rocks and narrow paths are sure to get your adrenaline pumping. In the winter, Thunder Bay also has fat biking which is when bikes use larger tires to push through the snow. Since Thunder Bay has such a great community, Thunder Bay Cycling Club creates complex pathways for its members to enjoy. It provides a great way for like-minded individuals to come together, meet and bond over a shared activity. Further, there are 42 kilometres of bike lanes and shared lanes so there is plenty of space on the roads for cyclists.