You can compare the view of the unique Parry Sound trestle with a painting by legendary artist Tom Thomson on his visit in 1914.
Visit the first Artist's Station located under the shelter of the Seguin River Parkette gazebo, on McIsaac Way, near Chippewa III ship.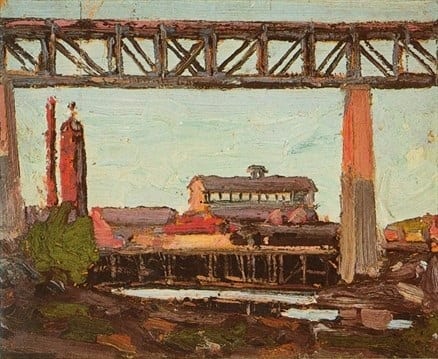 In mid-July, travelling back to Algonquin Park, Thomson paddled into the mouth of the Seguin River, stopping to stay in the South Channel for a few days. Thomson painted two images during his stay here –
Trestle at Parry Sound
Parry Sound Harbour
The trestle bridge crosses the Seguin River, just upstream of the river's mouth on Georgian Bay. Completed in 1907 by the Canadian Pacific Railway, the trestle is 517 m long and 32 m high. The first scheduled train passed over the span in 1908. It is the longest rail trestle east of the Rocky Mountains.
Today the trestle provides westbound rail traffic for both the Canadian Pacific Railway and the Canadian National Railway while all eastbound traffic uses Canadian National trackage.
The trestle bridge can be seen from almost everywhere downtown, and when you travel to the waterfront you will pass directly beneath it.