In 15 minutes from Parry Sound, you can find a unique place. Depot Harbour is the largest town in Ontario to have become a ghost town.
Located on Parry Island, which is part of the Wasauksing First Nation, Depot Harbour was once the western terminus of the Canadian Atlantic Railway and a very busy shipping port on the eastern shores of Georgian Bay. It would go on to become one of the most important Great Lakes shipping ports, along with Collingwood, Midland and Owen Sound. Trains were arriving and departing every twenty minutes.
Depot Harbour was founded in 1892. By 1898 the town had two large grain elevators, a hotel, bank, boarding houses, homes, stores and three churches.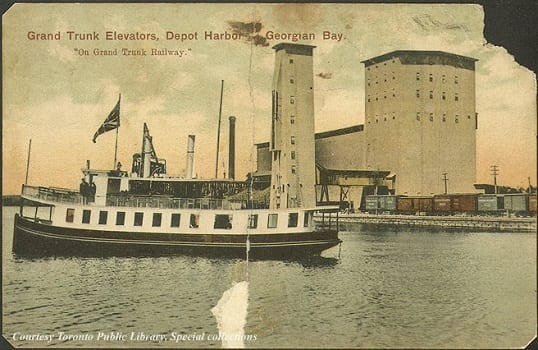 In the early 1930th, a drop in grain prices brought on by the Great Depression further killed Depot Harbour as a shipping port. The town fell into disrepair.
In 1941, the explosives plant in Nobel, ten kilometres north of Parry Sound, used one of the nearby warehouses to store cordite (used in the production of explosives).
In 1945, it was decided to tear down the old grain elevators. While tearing down the elevators, they caught fire. Sparks from the fire made their way to the cordite warehouse and exploded into a fireball.
Nowadays, the roundhouse is still standing, old car parts can be found inside. Some foundations can be found nearby in the woods. By the shore, you will find the cement steps which lead up the foundations of the old Catholic Church.