From Bassano AB
Joseph Boyd Martin is the Edward R. and Anne G. Lefler Professor Emeritus of Neurobiology at Harvard Medical School. He served as Dean of the Harvard Faculty of Medicine from 1997 to 2007.
Dr. Martin received his premedical and medical education at the University of Alberta, Edmonton, earning the M.D. degree in 1962.
Dr. Martin
began his career in academic medicine at McGill University in Montreal, where he eventually became Chair of the Department of Neurology and Neurosurgery in 1977. In 1978, he joined the faculty of Harvard Medical School in Boston as the Bullard Professor of Neurology and Chief of the Neurology Service at the Massachusetts General Hospital. Martin began his tenure as Dean of the School of Medicine at the University of California, San Francisco in 1989. He served in this role for five years.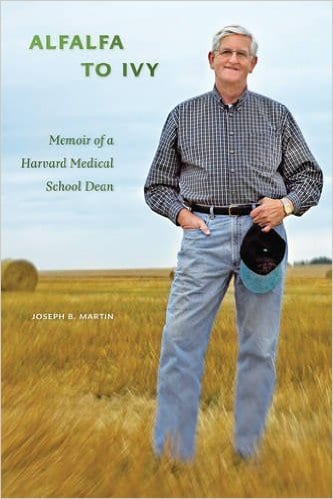 Alfalfa to Ivy: Memoir of a Harvard Medical School Dean
He was then Chancellor of UCSF for four years, until returning to Harvard Medical School in 1997. During his tenure as Dean of the UCSF School of Medicine, he established the W.M. Keck Foundation Center for Integrative Neurosciences dedicated to combining studies of the brain and behaviour, the Gladstone Institute for Virology and Immunology dedicated to AIDS research, and began planning for a Comprehensive Cancer Center.
University of Alberta 2007 Distinguished Alumni Award Joseph B. Martin