Graham Fraser was an industrialist and community leader from Nova Scotia.
Died in 1915 in New Glasgow, Nova Scotia
After leaving school Graham Fraser went to Providence, Rhode Island, where he learned the blacksmithing trade.
Fraser returned to New Glasgow in 1867 and started business on his own account, ironing wooden vessels for his father and Carmichael & Company; later he formed a partnership with G. Forrest MacKay.
In 1882 Fraser organized the Nova Scotia Steel Company at Trenton.
In 1890 Mr. Fraser organized the New Glasgow Iron, Coal and Railway Company with a capital of $1,000,000 for the purpose of mining ore and the manufacture of pig iron and coke. Fraser led Scotia's development of iron-ore deposits at Bell Island, Newfoundland, and coal at Sydney Mines, Cape Breton.
Fraser served New Glasgow variously as a town councillor, water commissioner, mayor and director of the Aberdeen Hospital.
New Glasgow is a beautiful riverside town of 9,075 residents, located in northern Nova Scotia, which serves as the commercial-service centre for the region of Pictou County.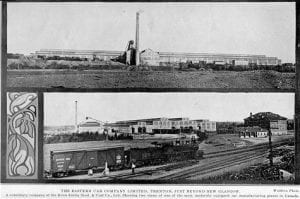 Read and watch more about New Glasgow, Nova Scotia