#1000towns choice
By Kaitlyn Hui
The Maritimes (Prince Edward Island, Nova Scotia and New Brunswick) are known for plenty of things such as their seafood, wildlife and cultural heritage, however, they are infamous for their beautiful beaches. Why not have a picnic, fly a kite, go for a swim along the shore, or even have the chance to go sailing in the ocean?
The beach is the perfect place to spend time with your friends and family in the summer, especially on a hot day due to its relaxing atmosphere and entertaining activities. Our bodies naturally want to escape the stresses of our hectic everyday life, and a simple stroll will give us the endorphins (or happy hormones) we need to give us a spring in our steps.
So, get ready to load your car with some towels and buckets, because #1000towns is going to give you the rundown on the most gorgeous beaches in the Maritime provinces.
#1
Parlee Beach
Canada's Warmest Saltwater Beach
45 Parlee Beach Rd, Pointe-du-Chêne, NB E4P 8V5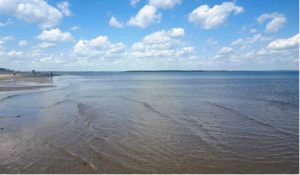 Known for its warm temperatures, the waters of Parlee Beach are perfect to swim in and the golden sand is great for photos. Since being awarded as a Blue Flag Beach (2020), its popularity has only grown. The shallow ocean waves are great for playing or water gun fights, but they also have beach volleyball courts, sand sculpture contests and ultimate Frisbee competitions. Lifeguards are on patrol all day, so your safety is accounted for. Nearby, there are more than 200 campsites if you want to spend the night as well as a playground and picnic benches. The Pointe-du-Chêne Marina and other cute stores are great if you need to do some shopping, but don't miss out on the chance to take a picture with one of the largest lobster sculptures (35m) in the world!
#2
Greenwich Beach
Largest Sand Dunes on the Island
P.E.I. National Park, Prince Edward Island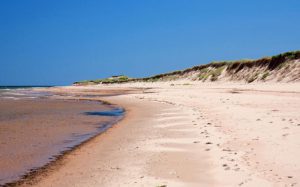 Kept a secret by the locals, this beach is a gem. Because of this, it doesn't get very busy in the daytime since it is outside the tourist bubble. The parabolic sand dunes are massive and are pretty neat to try and climb. However, on the beach itself, the white sands are fine. In an attempt to be sustainable, all of the beach's energy is solar-powered to preserve the environment. There are hiking trails close by that range from 1.25 km to 4.5 km long and span from the marshes like Bowley Pond and the majestic woods. The one really fun hike would be the Greenwich Dunes Trail which is 2.5 kilometres long and includes a 700 m floating boardwalk. While most of the paths are shaded, keep in mind to bring a hat just in case. Greenwich Beach is a must-see!
#3
Stanhope Beach
Home of the Covehead Harbour Lighthouse
828 Gulf Shore Pkwy E, York, PE C0A 1P0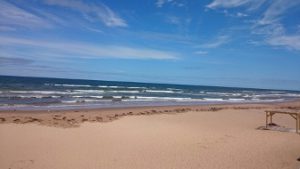 Stanhope Beach has the most amazing ocean and red sandbars that go on for kilometres and it is even home to the endangered Piping Plovers who build their nests in the dunes. People have said that they have even spotted some Irish moss and jellyfish in the water, though the marine life isn't so abundant that you can't swim. Even with the setting sun, the temperatures are just perfect! Once you're done relaxing, you can head over to the Covehead Wharf to enjoy some delicious meals and try out some of the best lobster you will ever try. If you're a lighthouse enthusiast, the beach also has the Covehead Harbour Lighthouse standing right when you first head in. This well-maintained area has lifeguards on duty during peak hours and a fun playground for the kids to enjoy.
#4
Ingonish Beach
Both Freshwater and Saltwater Swimming
Victoria County, Cape Breton Island, NS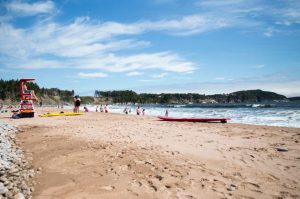 This beach has a playground, tennis courts and a soccer field along with the sparkling ocean. The waves are strong due to the currents so be wary of that while you swim, but it's ideal for surfing! One of the best hikes would have to be the Cabot Trail of the Cape Breton Highlands National Park since it allows you to see practically the whole beach. The campgrounds are also just a 10-minute walk away with a kitchen shelter, shower facilities and fire pits for use. Ingonish Beach is special because it has saltwater swimming in the ocean, but also a freshwater swimming hole created by the boulders. Over the centuries, the large rocks made a barrier called a barachois that blocked off a cove and limited the presence of the salty Atlantic. It is a really neat sight to see, so be sure to check it out.
#5
Hopewell Rocks
A Must-See Attraction in New Brunswick
131 Discovery Rd, Hopewell Cape, NB E4H 4Z5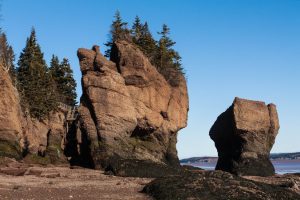 While this isn't necessarily a beach, the Hopewell Rocks are situated on one and they are a monument to behold. The tides of the Bay of Fundy have naturally carved out over 20 unique rock formations that resemble shapes like the elephant, dinosaur and even ET. To get to the ocean shore, you just either need to descend a massive staircase or go right behind the Interpretive Center down another path and wait for low tide. From there, the rocks look even more spectacular. There are a series of other trails around the park as well, but if you don't wish to travel to the rocks on foot, there is a shuttle that should be able to take you there. The park itself is self-directed, but the guides are knowledgeable and willing to provide their assistance should you need it. This is an experience you shouldn't miss on your Atlantic vacation.
#6
Brackley Beach
Busiest of the 6 Connected Beaches
Brackley Beach National Park, PEI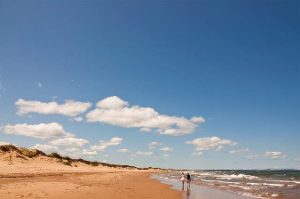 Brackley Beach is just one of the six beaches along the coastline, though this one is by far the most popular. There's also so much to do there from biking to rollerblading along the shoreline and even just going for a refreshing swim. The sunsets are also spectacular to watch from the boardwalks as the skies shift colours. As for hikes, the most notable one would be the Gulfshore Parkway which spans 10 km that extends to the marshes. There are sand dunes, barrier islands, sand spits, sandstone cliffs and more with restaurants and dairy bars nearby in case you are hungry from a long day. Don't forget about the Dunes Gallery which showcases some alluring Island art and has a craft shop and cafe inside. Overall, this beach will be sure to keep you here all day, so add it to the itinerary.
#7
Crystal Crescent Beach
3 White Sand Beaches
220 Sambro Creek Rd, Sambro Creek, NS B3V 1L8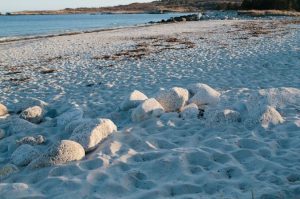 Near the Halifax Harbour, the Crystal Crescent Beach not only has three connected beaches, but it also has a variety of fun trails to trek down. For example, Pennant Point is a 10 km hike that winds you around some really fun areas to view the wildlife and the coasts. Along the way, there are places to have picnics, sunbathe and even connect to other trails like Blackberry Cove. As for the boardwalks, they're fairly extensive and well-maintained too. The waters are clear so swimmers are apt to try out their strokes, and the shores, while there are some pebbles, are very beautiful with their white, fine sand. If you squint hard enough, you can even make out the Sambro Island Lighthouse built in 1759 way out in the distance. Lastly, there is a small convenience store close to the beach to grab some snacks or ice cream, so sit back and enjoy the scenery while you're there.
#8
Cavendish Beach
The Infamous "Anne of Green Gables" Beach
Cavendish, PEI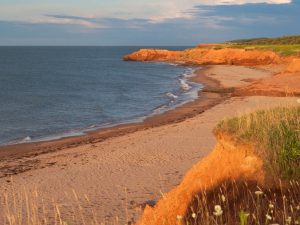 This beach has the most lovely red sandstone cliffs and barrier islands where you can relax and read a book. It is most well known for being a setting in Lucy Maud Montgomery's Anne of Green Gables novels, so fans will flock to this area to sit and watch the sunset. The Cavendish beach itself is the entrance to the PEI National Park and has several trails around that will lead you to new destinations. However, if you're driving, the Gulf Shore Parkway offers a scenic view, parking spots and also beach access points. There are interpretive programs along the way on the beach's ecology, geology and wildlife, so it gives you the chance to learn more about nature and the world around you. So, travel to this beach if you're touring Green Gables to see why the whole world has fallen in love with Cavendish.
#9
Carters Beach
3 Beaches in 1
Port Mouton, NS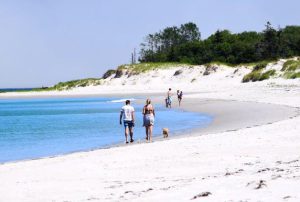 This beach comes with a three-in-one deal and they are all very different from each other. The first has shallow waters so it's great to just dip your feet in, whereas the second and third have a river you can cross at low tide, though at high tide it isn't too deep either. The sand is powder white like the tropics, though the water can be very cold depending on the weather considering it's still in Nova Scotia. As for accommodations, there are cottages and resorts nearby, as well as many attractions such as the Fort Point Lighthouse and the Queens County Museum. The Kejimkujik National Park has long trails for hikers and the chance to go biking, play basketball or baseball, and even go scuba diving. This isn't a beach that you want to miss considering how much there is to do!
#10
Aboiteau Beach
First Saltwater Beach in Canada to Have a Blue Flag Certification
150 Parc Ln, Cap-Pelé, NB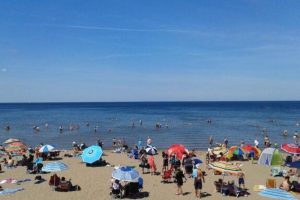 Last, but not least, Aboiteau Beach in Cap-Pelé is another sight to behold. Not only do they have a microbrewery so you can enjoy some drinks on the beach, but they have the À la Dune Restaurant so you can settle your hunger and enjoy some of the best seafood you have ever had. There are frequent festivals and events such as outdoor movies, concerts and other entertaining activities, but in the summer months, they also have free yoga classes for those hoping to get in some extra physical activity. For nature lovers, there are over 100 different species of birds that you can spot from the beach since it's along the shore of the Northumberland Strait. It's possible to even make out PEI from the tall lookout tower when you try and look at the scenery. This is a great beach to visit since it has a blue flag certification, meaning it met rigorous standards in terms of environmental safety, services and water quality.