#1000towns choice
By Kaitlyn Hui
We never want to stop learning. Whether it be about culture, art or even fossils, museums give us the chance to explore alternative avenues of human civilization and teach us about the world. It stimulates our minds and inspires us to lead change in our communities. After being stuck at work or school all day, museums are a great place to spend time with friends or family. With the engaging exhibits, beautiful architecture and alluring paintings, there is always something for us to learn a little bit more about.
In Manitoba, there are several interesting, interactive museums that you can't find anywhere else. These are all affordable places to relax and even take a step back into the past. #1000towns is here to tell you more about each option, so you know where to start!
#1
Canadian Museum for Human Rights
First Museum Solely Dedicated to Human Rights
85 Israel Asper Way, ​​Winnipeg, Manitoba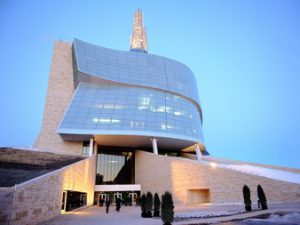 The Canadian Museum for Human Rights in Winnipeg is dedicated to celebrating heritage and culture while serving as a way to motivate others to learn about the importance of human equality. The beautiful glass, concrete and Tyndall stone exterior symbolize a dove flying over a large mountain, representing freedom and hope, and the interior is designed so that guests can travel from the shadows into the light. There are all sorts of meaningful, historic artifacts and exhibits since there are 11 different galleries in this five-story tall building. Ranging from video projections to mixed-media story niches, this museum discusses global perspectives regarding Canada, Indigenous peoples, and everyone else in between. Some places to visit would definitely be the Garden of Contemplation for gorgeous greenery and the Welcome Wall at Buhler Hall. This museum is an excellent way to learn about activism, change and the progress we as humanity have made over the last few centuries.
Tickets are free on the first Wednesday of the month from 5-9 pm, however, general admission is $18 with discounts for youth, Seniors (65+ with ID), post-secondary students (with ID), and families.
#2
The Winnipeg Railway Museum
Home of the Countess of Dufferin
Union Station, 123 Main St, Winnipeg, Manitoba, Canada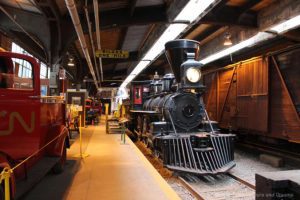 Located on tracks 1 and 2 in the Union Station, The Winnipeg Railway Museum aims to preserve the heritage of the railway system within Canada. Especially for train enthusiasts, there are many locomotives, trains and other special exhibits to visit. Guests are able to watch exclusive videos about the development of multiple railways such as the Hudson Bay Railway, the Canadian National Railway and the Canadian Government Railway. They also speak to important issues such as women's role in railway construction. There are various rooms for different purposes such as the George Hunter Art Gallery which holds interesting railway art or the exhibits detailing a Mac Rail Bus built in 1922. However, the most famous attraction would have to be the Countess of Dufferin, a steam locomotive built in 1872, featured in the image above. This real train was donated to Winnipeg way back in 1910 and eventually found its way into the museum where it is only displayed for guests to venture into.
#3
Manitoba Children's Museum
In the Oldest Surviving Train Repair Facility in Manitoba
45 Forks Market Rd, Winnipeg, MB R3C 4T6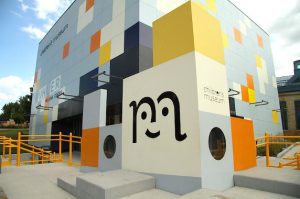 If you are looking for a fun and interactive place to spend time with your children, this museum has twelve permanent galleries that are all so exciting, that you may never want to leave. Founded in 1983, Manitoba Children's Museum now houses a 1952 diesel locomotive, an Illusion Tunnel, a Splash Lab and so much more. Kids have the chance to try out a milking machine and there is even a spot for toddlers to play in the Tot Spot. The hands-on activities make learning as amusing as it should be and gives energetic children the space to run around and keep them interested. If you enjoy yourself, this museum even offers spring and summer camps. Food and beverages are also available to purchase should you want to stay from the Shop and the Beanstalk coffee bar.
General admission is $12 plus GST for ages 1-101 which you can purchase at the door.
#4
Royal Canadian Mint
One of 2 Only National Mints in Canada
520 Lagimodiere Blvd, Winnipeg, MB R2J 3E7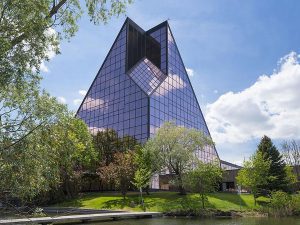 Do you want to find out how money is made? The Royal Canadian Mint offers insight into currency distribution and production through engaging tours that last around 45 minutes. You can explore the major milestones within Canadian history in both French and English and see exactly what it takes to make a single coin. Along the way, check out the coining presses that produce up to 18,000 coins an hour or even the three 150-ton presses that stamp around 8,800 coin blanks every single minute. The results are mind-boggling! In the end, there is a small gift shop to purchase unique items for collectors. This amazing tour is led by knowledgeable, friendly staff and you'll be sure to walk away with a lot of fun facts to test your friends.
Admission prices for adults depend on the weekday ($8) or weekend ($6), though discounts are available for kids, seniors, infants, families or large groups.
#5
Canadian Fossil Discovery Centre
One of the Fossils Won a ​​Guinness World Record!
111 Gilmour St B, Morden, MB R6M 1N9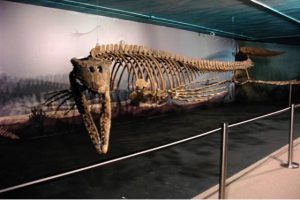 This fantastic museum has the largest collection of reptile fossils in all of Canada! There are exhibits regarding geology, paleontology and everything related to dinosaurs. If you decide to come with children, there are not only interactive activities, but there is even a Fossil Dig to keep them engaged and VIP Museum tours to get the most out of your experience. Kids and adults alike will be sure to love "Bruce", the 13-meter-long mosasaur, which has even managed to achieve a Guinness World Record in 2014. This is the perfect place to spend your time, especially because it is located in the beautiful Morden which has amazing beaches and delicious restaurants. Even if you visited last year, there are constantly new fossils being added to the collection, each excavated somewhere in Manitoba. You can purchase souvenirs at the gift shop if you wish for a keepsake, but really, the theatre and rideable metal mosasaur will give you all the memories you need.
Admission for adults is $8.25 and there are discounts available for students and families, however, pre-schoolers are completely free!
#6
Marine Museum of Manitoba
Home of Manitoba's oldest steamship
490 Eveline St #490, Selkirk, MB R1A 1E6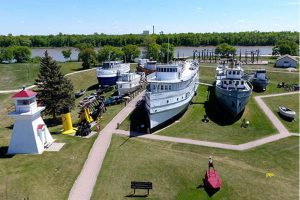 The Marine Museum of Manitoba, located in Selkirk, was established in 1972 and offers guests, especially nautical enthusiasts, the chance to tour the facilities as well as learn about Lake Winnipeg and the Red River. There are real live ships for you to embark on as you explore the past (1850) all the way until current times. The first ship to be obtained was the Motor Ship 'Keenora' which was built in 1897 and is still housed in this museum to this day. From artifacts detailing fishing voyages to old rudders and other eccentric items, be sure to also visit the two lighthouses that are still standing and hold so much history. There are guided packages available as well as picnic areas where you can enjoy a delicious meal with family or friends. The facilities provide an amazing view with so much to look at.
Admission for adults is $8.00 with discounts for seniors, children and families. Children 5 and under can enter the museum for free!
#7
Winnipeg Art Gallery
Has the Largest Public Collection of Contemporary Inuit Art in the World
300 Memorial Blvd, Winnipeg, MB R3C 1V1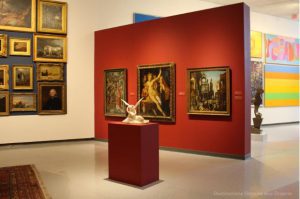 The Winnipeg Art Gallery has so much to offer! When you first lay eyes on the building, you may see the projections of Inuit artwork cast upon the front entrance. That would be the 20-minute light show that resembles the northern lights and while you watch, you can walk around to view the outdoor sculptures. Specifically, the WAG-Qaumajuq has an astounding 27,000 artworks on display to promote Canadian artists and diversity. There are also travelling art exhibitions that display even more indigenous art, such as videos, music, clothing, as well as the permanent European/Canadian collections. The museum's studio also offers programs for children and youth so they can test their artistic preferences and get inspired by the works around them. In the end, don't forget to visit the ShopWAG giftshop.
Adult tickets are $18, and seniors are $15, however, tickets for members, youth under 18 and Indigenous peoples are free.
#8
Manitoba Planetarium & Science Gallery
The Only Place in Manitoba Where Science is All Around You
190 Rupert Ave, Winnipeg, MB R3B 0N2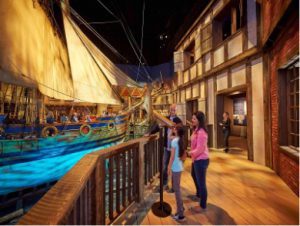 This magical museum is full of wonder. You get the chance to explore the laws of physics, chemistry and other disciplines. Within the Science Gallery, there are plenty of exhibits that cater to individual interests. For example, there are pulley chairs, a Cosmos Corner and an animation studio! There is even the infamous Explore Science Zone which is an interactive area where science unfolds before your very eyes. They should be getting some new displays soon as well, but the favourites are sure to stay. There is also the Planetarium which is open for all ages. There are two shows available "Magic Globe" for families and "Manitoba Skies" for anyone who chooses to visit. In both, you have the chance to learn about astronomy, our place in the universe and what else could be out there. The Manitoba Planetarium & Science Gallery really has it all and is more than happy to give you the opportunity to learn about the world around us.
Admission depends on which shows you plan to see and what areas of the museum you want to tour, so be sure to snag those tickets before it is too late!