#1000towns choice
By Kaitlyn Hui
Spring and summer are the best times to go wine tasting and British Columbia is full of ripe grapes, fresh off the vine. It's the perfect chance for you to sit back and relax with a gorgeous mountain view and a wine glass in hand. With over 10,000 acres of wine grapes in the province, BC has several wine towns that will quench your thirst and leave you wanting more. The province also has beautiful scenery from rolling hills to the seaside, so you can gear up for the summer sun. Wine tours provide you with the chance to gain more knowledge about the different products, meet like-minded individuals and indulge yourself in the social spirit.
Since there are so many amazing vineyards, #1000towns is ready to give you a glance at the exclusive wineries in BC and just what makes them special.
#1
CedarCreek Estate Winery
Amazing View of Lake Okanagan 
5445 Lakeshore Rd, Kelowna, BC V1W 4S5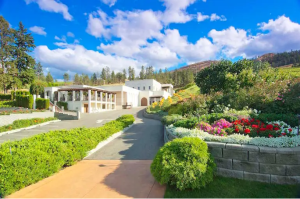 Located in Kelowna, CedarCreek Estate Winery offers guests a gorgeous view of Lake Okanagan, while also being situated in a cooler climate to allow their grapes to grow and burst with flavour. Not only do they have a massive tasting room that overlooks the hills, but they have several take-home collections ranging from Pinot Noir, Chardonnay, Pinot Gris, Riesling and much more. This room can be booked through their website at different price points. If you're in the mood for a meal, the Home Block Restaurant is right around the corner which uses ingredients grown and foraged from their own gardens. The chef expertly pairs the wines with the homely meals. However, for members only, they also have the exclusive Aspect House which can host private tasting or business events.
#2
Little Straw Winery
Affordable Wines That Will Pleasure Any Palette
2815 Ourtoland Rd, West Kelowna, BC V1Z 2H7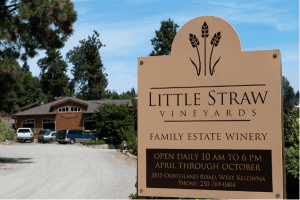 This quaint, family-run winery is full of surprises. With their innovative growing techniques, they host tour company tastings and private groups of 6 people with reasonably priced table wines at $16 to $28. New blocks of vines are added frequently so people have the chance to explore more flavours. Most recently their Sauvignon Blanc has won plenty of awards all the way from 2004 to 2018. Further, The Barrel Top Grill, their on-site lounge, is a great place to enjoy delicious tapas with your drinks. Sit back and enjoy their top-notch meals!
#3
Cherry Point Estate Wines
World Famous Blackberry Dessert Wines
840 Cherry Point Rd, Cobble Hill, BC V0R 1L3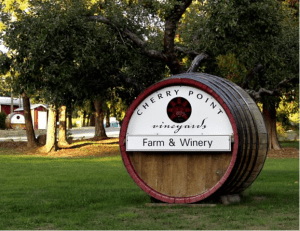 Established in 1990, this winery close to the Cowichan Bay has plenty to offer. The vines are planted on a glacial moraine, a gravel mound full of minerals, and the surrounding hills give room for rainwater drainage to irrigate the crops. With varieties ranging from Gewürztraminer and Epicure (red) to Zweigelt and Cabernet Libre (white), the resulting flavours from their European process are full of life. And don't forget to try their acclaimed dessert wines while you're there! Their winery tours are thoroughly delivered by staff and guests will have the chance to see the vineyard, current cask vintage and bottling process, as well as the Tasting Room. Afterwards, there is bottled wine for purchase, and you can even visit the La Terraza for casual meals.
#4
Dirty Laundry Vineyard
Fun and Exciting Atmosphere to Try New Things
7311 Fiske St, Summerland, BC V0H 1Z2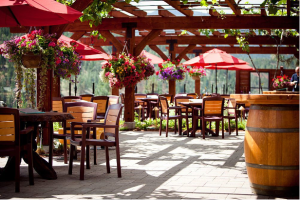 Dirty Laundry in Trout Creek has a baffling 40 hectares of vineyards. Known for its unique ambience and fun interior, this winery gives customers the full experience. The beautiful patio experience is perfect for a hot day (there's even a cool water mist that sprays in the summer) and their award-winning wines pair perfectly with their scrumptious foods. On their land, they have the Red Iron Grille which serves pizzas and smoked meats, as well as the Bottoms Up Saloon which sells both beer flights and beers by the glass. What is amazing about this place is that they offer parlour houses with views that overlook the mountains at great rates. Should you ever want to stay, Dirty Laundry would gladly welcome anyone.
#5
Bench 1775 Winery
Best Iced Wines in BC
1775 Naramata Rd, Penticton, BC V2A 8T8

On the southern shore of Lake Okanagan, this Naramata Bench winery makes the best use of its grapes grown in the Okanagan and Similkameen Valley. Winning multiple awards, they have bold red wines and crisp whites that you can try in their tasting room with a full view of the water. They also have amazing ice wines for you to try, being the largest exporters in all of British Columbia, chilled at –8 °C or lower, leading the wine to be sweet, but also have a perfect natural acidity. The bistro has wonderful patios to enjoy your charcuterie boards and you can even bring your picnic if you wish! There is space available for reservations or walk-ins. The roomy interior has a centralized bar where guests can surround the host which is everything you can ask for.
#6
Poplar Grove Winery
Award-winning Pinot Gris and Cabernet Franc
425 Middle Bench Rd N, Penticton, BC V2A 8S5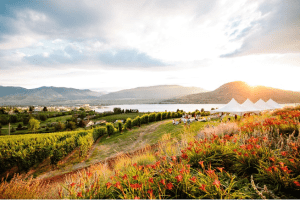 Founded in 1993, Poplar Grove has more than 140 hectares of land where grapes produce Chardonnay, Viognier, Cabernet Sauvignon, Malbec, Merlot, and Petit Verdot. However, they are most known for their Pinot Gris and Cabernet Franc which have both won plenty of awards. Using sustainable farming practices, the vines grow in optimal conditions depending on their variety from temperate to hotter weather. Their tasting room is open all week from 12 pm to 5 pm and they even host special events (e.g., corporate meetings or private functions) and weddings. However, if you're looking for something more casual, The Restaurant at Poplar Grove expertly uses novel culinary techniques to curb your hunger. This family-operated winery is the perfect place to visit if you're in the area.
#7
Fitzpatrick Family Vineyards at Greata Ranch
Amazing Acidity due to their Attention to Detail
659 BC-97, Peachland, BC V0H 1X9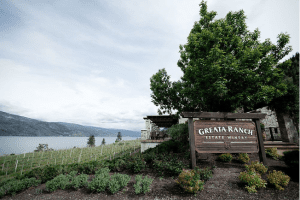 Run by the Fitzpatrick Family, what sets this winery apart is their attention to detail and focus on natural acidity for that crisp, clean flavour. They have 12 blocks on their 40 hectares including varieties such as Chardonnay, Ehrenfelser, Gewürztraminer, Meunier, Pinot Blanc, Pinot Noir, and Riesling. With the only winery in the surrounding area, they are the only ones with those specific growing conditions. For example, when the sun sets, not only does Mt Eneas help to cast its shadow on the grapes so that its indirect light can lead to higher acidity, but the slope absorbs the heat during the day and radiates it in the evenings, prolonging the vine hang time. The Okanagan Lake also allows for a cool, sweeping breeze and a breath-taking view. The family prioritizes sustainability, thus little chemical or pesticide spray is used, and the soil is carefully curated so that the minerals remain rich. Their process to produce the wines is very hands-on, with those extra steps to harvest the grapes with the Willmes press and gravity-feed system making all the difference. Notably, they also carry extraordinary sparkling wine and have the onsite 19 Bistro @ Fitz.
#8
Wild Goose Vineyards & Winery Inc
Best Stoney Slope Riesling in the province
2145 Sun Valley Way, Okanagan Falls, BC V0H 1R2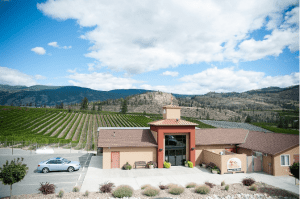 Located in Okanagan Falls, Wild Goose Winery was the seventeenth winery in British Columbia. At this location, they are known for their Stoney Slope Riesling. The reason for this name is because the large stones along the paths absorb the sun rays and the slope of the land increases sun exposure. As well, the light clay soil allows for the optimal production of their Gewurztraminer. Their tasting room also has an incredible view of Stoney Slope Riesling Vineyard with Peach Cliff Mountain with picnic space and the Smoke & Oak Bistro that serves salads, smoked meats, and South American BBQ skewers, and sandwiches. Ultimately, Wild Goose Vineyards is a great place to stop by as they have a wide selection of wines, bottled on-site, with premium quality for any who wants a sip.
#9
Burrowing Owl Estate Winery
Unique Sustainable Farming Techniques
500 Burrowing Owl Pl, Oliver, BC V0H 1T1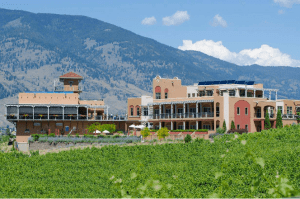 In a unique antelope brush ecosystem, the Burrowing Owl Winery sits at the north part of the Osoyoos Lake. Their promise to protect the wildlife around the land allowed for more than 100 bluebird boxes to deter bugs and all other animals have been safely relocated. The slopes in the hills are also the ideal conditions to use the modern, temperature-controlled gravity-flow cellar so that the wine doesn't need to pass through pipes and can be aged optimally. This ensures less manipulation which can affect fermentation. Their farming practices make the most use of the natural terrain through irrigation systems, cover crops, and organic techniques. In terms of the building design, they've taken strides to reduce their carbon footprint by implementing underground production and storage facilities. The guest house, the beautiful Sonora Room, uses a geothermal system and the hot water is warmed by solar heating. This winery is the perfect place to relax, enjoy nature at your fingertips and take care of the environment.
#10
NK'MIP Cellars
Indigenous culture with every sip
1400 Rancher Creek Rd, Osoyoos, BC V0H 1V4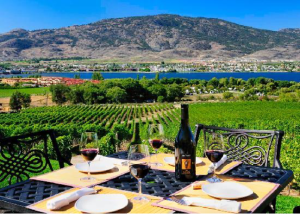 As the first Indigenous-owned winery in North America, this Osoyoos winery believes in the importance of listening to the land. In the hottest and driest place in BC, Nk'Mip Cellars promises culture and authenticity in each glass. Located in the Osoyoos Indian Reserve, it has over 32,000 acres of land and is adjacent to multiple lakes and mountains. This picturesque scenery is visible from their patio restaurant open for lunch daily. They have an extensive variety of wines due to the warm temperatures including their unique Qwam Qwmt (pronounced kw-em kw-empt), an award-winning estate wine, and Mer'r'iym, a mixture of Merlot, Cabernet Sauvignon, Cabernet Franc, and Malbec. If you love fun flavours, amazing views and deeply rooted culture, NK'MIP Cellars is definitely the place for you!