#1000towns choice
By Kaitlyn Hui
In the winter, we think of the cold air and the fun activities. One of the essentials is to go ice skating. Especially in Canada when the weather calls for snow, some of the lakes and ponds freeze over which makes for the perfect outdoor skating rinks. Not only is it great exercise since it gets you motivated and works your body, but you can enjoy your time with friends and family to form meaningful memories. There are only so many chances to experience this outside, and perhaps it might even form a tradition!
Here at #1000towns, we will give you the inside scoop on some of the top 10 towns to go outdoor ice skating in Canada. Hopefully, this will encourage you to pick up those skates again and get out there.
#1
The Rideau Canal, Ottawa
UNESCO World Heritage Site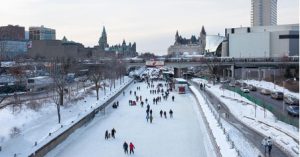 The Rideau Canal is sure to excite since there are 7.8 kilometres of ice for you to skate on with others. It is typically open around January to March when it is coldest outside. It is one of the largest skating rinks in Canada with thick ice. There are rental sheds available in case you don't have your own skates as well. There are multiple access points interspersed throughout with ramps, so you can start at one point and end up somewhere completely different. You should definitely check out this place if you're looking for some fun, but don't forget to stop off for some beavertails after you're finished.
#2
Lac des Castors, Montréal, Québec
2,500-square-metre large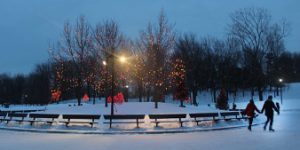 Otherwise known as Beaver Lake, Lac des Castors, has a lot to offer. There is hot chocolate as well as other snacks available at the Pavilion's restaurant and they have rentals. They're only open from mid-December until mid-March and have late hours, sometimes until 10 pm on certain days. This lake has smooth ice which is perfect for beginners or small children. It is inside Mount Royal Park, so you can also enjoy other activities while you're there such as snowshoeing, cross-country skiing or even snow tubing if you end up staying for longer.
#3
Grouse Mountain Ice Skating Pond, Vancouver, British Columbia
The perfect cozy place to skate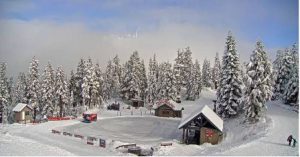 In Vancouver, Grouse Mountain is known for its skiing in the winter. However, it has a secret. It is home to the Grouse Mountain Ice Skating Pond which has some of the best ice in British Columbia. This outdoor rink is in a little alcove filled with trees all around. They also have snowshoeing and sleigh ride options for you to enjoy. At night, the pond glows brightly with a stream of colourful lights, however, keep in mind that the temperature will drop by then. Remember to dress warmly and bundle up!
#4
Lake Louise, Alberta
One of 10 of the world's most beautiful ice skating rinks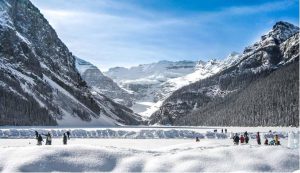 Lake Louise is a majestic place to skate since it is surrounded by the Rocky Mountains and has beautiful landscapes all around. As the sun sets, you will be able to see a lot of stars since it is away from city life. It is also close to the Fairmont Chateau Lake Louise should you find yourself in the need to get somewhere warm and take a break. There are also skate rentals available for great prices! A lot of people go when it is pitch black outside so they can get the full experience. Sometimes, you can even make out the ice castle in the distance.
#5
Emera Oval, Halifax, Nova Scotia
400-metre long track speed skating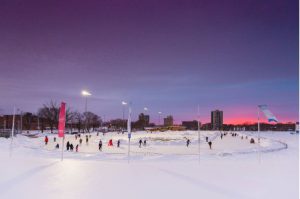 55,000-square-foot in size, the Emera Oval in Nova Scotia is an amazing place to go. It has free public skating programs as well as instructors to teach you how to skate. In fact, it is so large that it is the size of three NHL rinks! It is the largest outdoor, artificially-refrigerated ice rink on the East coast, so there is plenty of space to move around and familiarize yourself with skating. In fact, the max capacity sits at a startling 230 participants since it is so large. There aren't rentals for skates and helmets available due to COVID-19, however, you can bring your own equipment and still have an amazing day.
#6
Lake Windermere Whiteway, Invermere, British Columbia
Guinness World Record holder for its length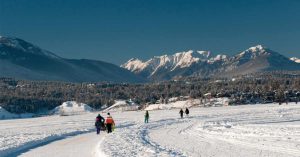 Located in the Columbia Valley, Lake Windermere Whiteway has 29.8 km of ice going for it. As the winter hits and the ice solidifies, it is great for families since there are multiple routes you can take, both shorter and longer. One loop around normally takes around two hours. However, if you aren't into skating, you can also go fat biking which has been gaining popularity recently, as well as cross-country ski trails. Close by is also the Fairmont Hot Springs Resort which you can head to when you need to relax and grab a bite to eat.
#7
Cameco Meewasin Skating Rink, Saskatoon, Saskatchewan
Free skating for everyone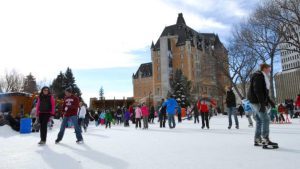 At the bank of the South Saskatchewan River, Cameco Meewasin Skating Rink is one of the best places to go if you're in Saskatchewan. In the holiday period, there are festive lights strung up. Right beside is the Bessborough Hotel as well. You do need to pre-register to guarantee a spot on the ice, though the hours are really long, even on weekends. It is important to keep in mind that it does get to around -30 in the winter, so you need to bundle up and be prepared to wear those extra layers to keep warm.
#8
Parc La Fontaine, Montreal, Quebec
Music and lights on sight for the perfect ambience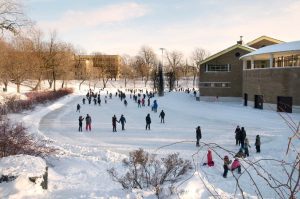 Parc La Fontaine is surrounded by gorgeous scenery that stretches for what seems like forever. The open sky and the cool breeze are just what you need as you get on the ice. Although it is located in Montreal, you might just forget about the bustling city life. Espace La Fontaine has some really good hot chocolate if you want a warm beverage, and if you find the need to head back downtown, there are a lot of access points. Be sure to check this place out if you find yourself in Quebec since there are a lot of great photo opportunities as well.
#9
Arrowhead Provincial Park, Huntsville, Ontario
Cuts through the Muskoka forest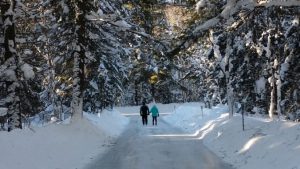 One of the best skating trails in Ontario, Arrowhead Provincial Park goes through the woods so you can really get a look at the nature around you. It was created fairly recently and has grown in popularity as more and more are finding out about it. There is a rental shop available as well as a campfire to warm up. There are frequently Fire and Ice nights where lights make the trail glow when it starts to become dark. The snow-covered evergreens are magical as you traverse through the park with your loved ones. Arrowhead Provincial Park takes the cake when it comes to ice rinks that are out of a fairytale.
#10
The Forks and the Assiniboine River Trail, Winnipeg, Manitoba
The Forks National Historic Site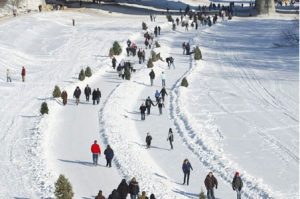 1.2 kilometres long, The Forks area has the best state trail in Manitoba. There is the Plaza skating rink for those who are just starting off, as well as an Olympic skating rink for the pros, so there is a little bit of something for everyone. If it becomes cold enough and if the weather is just right, the Assiniboine River Trail freezes over as well so that the entire thing takes up 9.3 kilometres! There are also other outdoor activities for you to enjoy such as curling, hockey, broomball and much more. There are eight sections for you to skate on that take you to different places, so pack your bags and head over here to start your adventure.