#1000towns choice
By Kaitlyn Hui
With love in the air, Canada has some of the most beautiful towns for a romantic getaway with your partner. Spending some alone time with your significant other to explore these great cities will be a blast as you get the chance to view the scenery. There are resorts in the area for relaxing spa treatments and whatever the season, there will always be something for you to enjoy. Everyone needs to get away from work and their hectic life, and any one of these towns is far enough from the big metropolitans for you to breathe in the fresh air and settle in for the weekend or a longer vacation.
Get ready for the ultimate list of towns to go to for a romantic getaway because #1000towns will give you all the details you need to know!
#1
Whistler, British Columbia
2,181 m Above Sea Level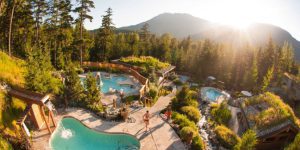 Whistler is most well known for its stunning resorts and outdoor adventures, however, there is a little bit of something for everyone. For the thrill-seekers, there is bungee jumping there all year round, intense skiing or snowboarding and mountain hikes in the winter. There are RZR tours so you and your partner can discover Whistler's backcountry as well as Superfly Ziplines and the Peak 2 Peak Gondola to enjoy the view from above. However, for those that prefer to stay in and relax there are luxury hotels like the Fairmont Chateau Whistler or the Four Seasons Whistler which have heavenly spas and sweet cafes to sit back and relax. If you want wine for your date night, there is the Araxi Restaurant & Oyster Bar for an elevated dining and the 21 Steps Kitchen + Bar for a more casual option. You'll be sure to create a lot of wonderful memories in this town that will last forever!
#2
Victoria, British Columbia
Known as the City of Gardens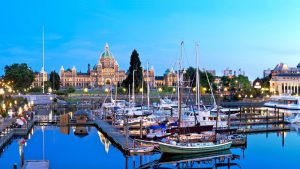 This town has some amazing date spots such as the Abkhazi Garden, home to some of the most gorgeous flower buds, and Mount Tolmie Park. If you want to be unique, however, you can ride a horse-drawn carriage and parade around the streets while you look at the sights like the Salish Sea. It's truly something out of a fairytale! Afterwards, you can travel on over to the spa-like Oak Bay Beach Hotel for some relaxing massages and spend the night on a cruise ship to sip some delicious wine. The sunsets on the Ogden Point or Oak Bay stain the sky's lovely hues and provide for some amazing hiking trails. You can also watch from the ocean via the Victoria Harbour Tour or from a rental kayak as well as the sky through the floatplane tours. Victoria has some hidden gems so be on the lookout, so you can have a wonderful experience.
#3
Fogo Island, Newfoundland & Labrador
Home of One of the "Four Corners of the Flat Earth"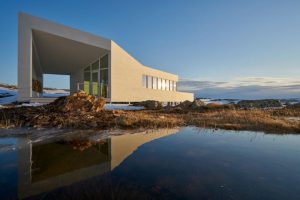 Fogo Island really is a special place due to their hiking trails, small boutiques and fun tours. You can go whale watching or iceberg hunting if you're there at the right time. The island has abundant wildlife ranging from puffins to caribou that are easy to spot from Brimstone Head hike (one of the "Four Corners of the Flat Earth") or Sandy Cove Beach. For those in the mood for romance, the Fogo Island Inn is the spot to be. It has only 29 rooms so it is pretty exclusive and has been known to be rich in local heritage. In fact, the furniture is all designed by regional craftspeople and it looks out on the North Atlantic Ocean since the building is raised on high stilts. There are different workshops you can partake in from boat making to baking, but if you prefer to be on your own, the rooms are comfortable and perfect for alone time.
#4
Lunenburg, Nova Scotia
1 of only 2 UNESCO World Heritage site communities in North America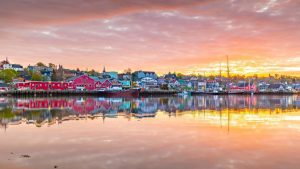 Lunenburg is a unique town with its colourful buildings and interesting shops. On Lincoln Street, the walls are painted with bold hues filled with artisans and eclectic boutiques, and the Bandstand & Public Gardens is the most idyllic place to go on a romantic stroll. These are great places to walk around to explore the town. Also available around the Blue Rocks is a great kayaking area so you can paddle along and you can even sail the Eastern Star to have fun in the waves. Spending time in nature will be great for homemade picnics as well so you can be together in seclusion. To spend time on land, you can rent a 35-minute buggy tour and snuggle under the blankets. Overall, Lunenburg and all its bright colours are fantastic for cute photos and it's a fun place to have an adventure.
#5
Revelstoke, British Columbia
The Revelstoke Mountain Resort has the Most Vertical Runs in Canada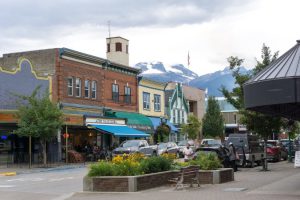 Known for its ski resorts, Revelstoke has a bunch of outdoor activities that will have you enraptured. Start your day off early by going to the Revelstoke Rapids for a great whitewater rafting experience or go dog sledding and skiing at the nearby Revelstoke Mountain Resort. After you're feeling exhausted from your long and fun day, check out the gondola for an amazing view of the entire town as you get lifted up really high and end the date with a delicious dinner. The 112 restaurant in The Regent hotel has a great atmosphere, but for a more casual option there is the Village Idiot Bar and Grill decked with ski decor. The next morning, you can take one of the many hiking trails in the Mount Revelstoke National Park or Glacier National Park and even see the stunning waterfalls, such as Moses Falls. Revelstoke has some of the best scenery out there.
#6
Harrison Hot Springs, British Columbia
Harrison Lake is 60 km long and 900 feet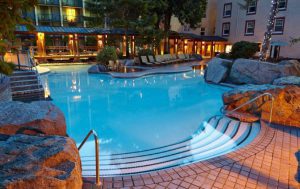 Harrison Hot Springs has some of the best beaches in British Columbia. With golden sand, it's a great place to relax and spend time with a loved one. The Green Point Day Use Area is perfect to have a BBQ. You both could also go fishing or kayaking on the sparkling waters, and right after a soak in the mineral-rich hot springs, known to be very healing and beneficial. Nearby is also a place to get a spa appointment for massages at the resort. There are hiking trails at Bear Mountain and Sandy Cove that are ideal in the summertime. With ample shading throughout, it would be great to spend time together and bond as you spend time in nature. Harrison Hot Springs is amazing for a weekend getaway because of the calming waters so you can have many romantic nights.
#7
York, Prince Edward Island
Home to a Canadian National Historic Site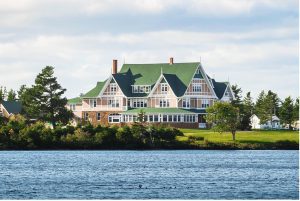 York is a quaint little town in PEI, notably home to Dalvay By the Sea. It is a lovely inn in PEI for couples to visit since it has the most gorgeous Victorian architecture and is in a picturesque location. For Anne of Green Gables fans, the building was featured as the White Sands Hotel where Anne has her recital in the 1985 mini TV series. Prince William and Kate also stayed at this location on their royal honeymoon tour. It has beach and lake views, as well as its very own tennis court. However, York itself has some exciting things to do such as fine dining, wine and fancy meals. You need to visit this staple inn for its beauty, elegance and the fact that it is a Queen Anne Revival-style estate.
#8
Niagara-on-the-Lake, Ontario
The Region Produces 80% of Canada's Ice Wine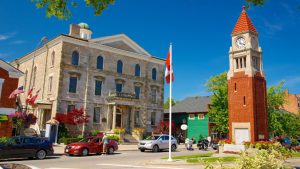 Niagara-on-the-Lake is a charming place and a definite tourist destination just because there is so much to see and do! It has some of the oldest Anglican and Catholic churches in all of Ontario and you need to grab a scoop of ice cream or waffles at Cows for a refreshing treat. There are also several historic sites to visit such as the Fort George National Historic Site or the Fort Mississauga National Historic Site as well as museums or art galleries. Downtown Niagara-on-the-Lake is always bustling with people and be sure to snap a picture with The Memorial Clock Tower or visit the cute shops. The ice wines are also so smooth and light, as they are the region's biggest producers of that beverage, so going on a winery tour with your partner is another really fun idea.
#9
Mont-Tremblant, Québec
The Highest Peak in the Laurentians Region
Known for Mont Tremblant Resort, Mont-Tremblant has that and more. While the resort has many amenities such as restaurants and skiing, you can also stay in a Love Nest Dome at Bel Air Tremblant which is much cooler. They are essentially bubble pods that have a kitchen, bathroom, a king-size bed, a TV and more. There are also helicopter tours you can take that offer exhilarating rides and take you to some of the most beautiful destinations. For a thrilling time, you can even go snowmobiling or night-tubing down the mountain so you can have fun in the snow together. The Scandinave Spa has couple's massages, Eucalyptus steam baths and thermal waterfalls for the most relaxing, yet memorable experience yet. All of this will definitely sweep your partner off their feet, so book a hotel stay today to celebrate your relationship together.
#10
Churchill, Manitoba
Polar Bear Capital of the World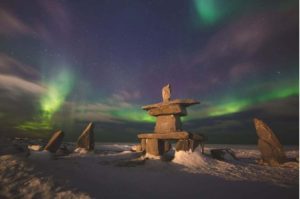 The Northern Lights are a must-see when you travel to Churchill due to their stunning colours as they drift through the night sky. Many couples propose under the stars with the glowing green and yellows. In town, The Tundra Inn Pub has some really yummy food for dinner and a cute date idea would be going to Fun Time Pottery to create pretty art pieces for each other. Blue Sky Expeditions offers some great dog sledding opportunities and Frontiers North Adventures takes you on spectacular nature tours. You might be lucky enough to spot some wildlife. Tandem kayaks are another date idea to get to see some whales and since this is the Polar Bear Capital of the World, maybe you'll get the chance to spot some bears at Nanuk Lodge in the Boreal Forest. Churchill is great for any couple who loves the outdoors.