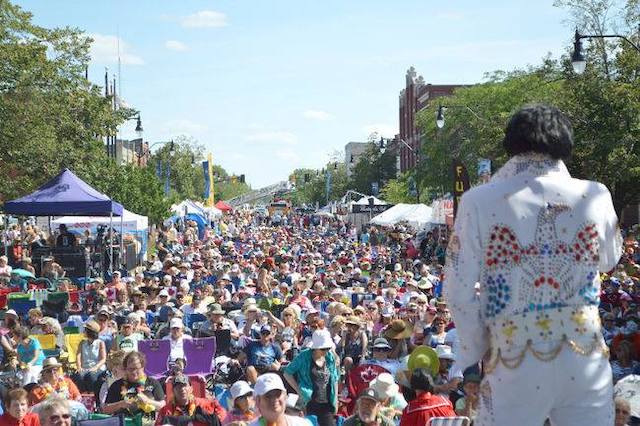 Starting in 1995, every summer in July, Collingwood did welcome thousands of visitors who paid tribute to music legend Elvis Presley at the Collingwood Elvis Festival. It was about the community that came together for 4 days every summer. 
Here you could find Elvis impersonators, tribute artists, many diehard fans, and more gold sequins and curled lips than you would ever find in Las Vegas.
The Elvis impersonators participated in a competition that saw them perform in three different rounds in front of a panel of judges.
The festival retired in 2019 after 25 years.
Photo: https://www.facebook.com/events/1473428772766515/1473428782766514/?active_tab=about
#2
International Hair Freezing Contest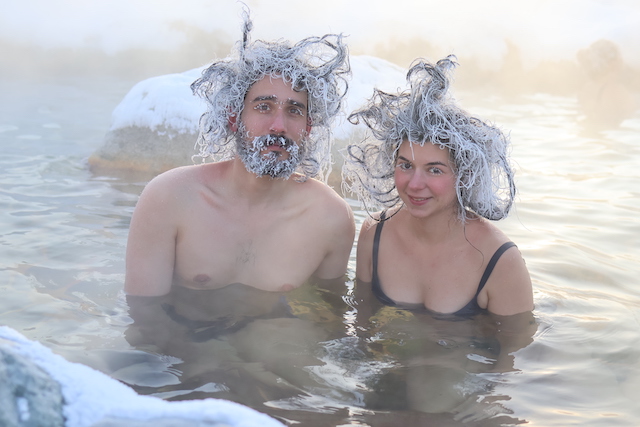 Each February, the Takhini Hot Springs, just outside Whitehorse in Canada's Yukon, hosts a hair-freezing event – The International Hair Freezing Contest.
People from every corner of the globe come to soak in the springs and let the steam create condensation on their hair, which freezes in the winter air. The idea is to create the wackiest, most creative frozen hair sculpture, and winners receive hefty cash prizes.
Photo: https://hairfreezingcontest.com/
#3
Sainte-Perpétue Pig Festival
Sainte-Perpétue, Quebec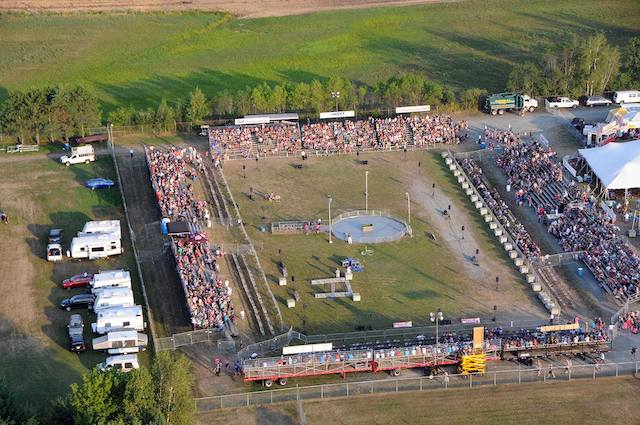 The Sainte-Perpétue Pig Festival is an annual event organized since 1977 in Sainte-Perpétue. This event brings together approximately 40,000 visitors annually.
If you've ever lamented that there's nowhere, you can show off your special skill of wading through mud to catch a greased-up pig and put him in a barrel; lament no more. Quebec has got you covered. Each August, the pigs and pig-chasers are joined by musicians, frosty brews, tons of food, and other strange contests like the horse pull, to make the Festival Du Cochon, or Pig Festival, a reality.
Photo: https://www.facebook.com/festivalducochon
#4
Icelandic Festival of Manitoba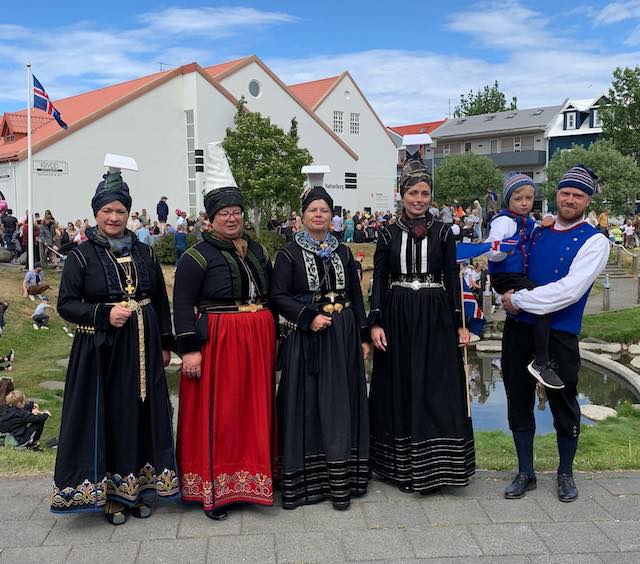 On July 2023, the 128th consecutive Islendingadagurinn (Icelandic Festival of Manitoba) began in Manitoba.
 It is the second oldest ethnic festival in North America and features lots and lots and lots of Vikings. There's a Viking battle, a Viking village, and the Maid of the Mountain crowning. In addition, there is a team frisbee event, a huge parade, and a sandcastle contest. The music is Icelandic, the food is Icelandic, and by the end of the three days festival, you might be convinced you're Icelandic, too.
Photo: https://www.facebook.com/IcelandicFestival
#5
Sunshine Coast Art & Words Festival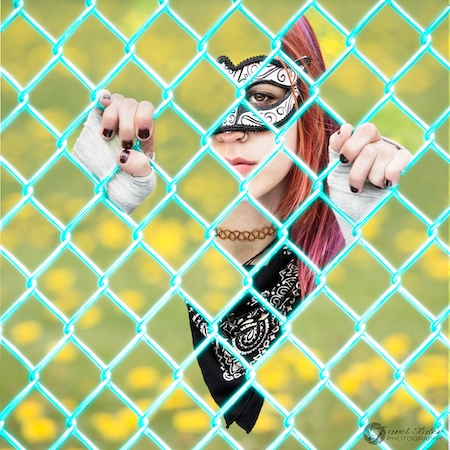 In August, Gibsons holds Sunshine Coast Art & Words Festival.
Surround yourself with art, literary voices, and live music by the lovely sea wall. Immerse yourself in one or more of fourteen workshops for artists, photographers and writers. In August, at the Gibsons Public Market, let the magic happen again.
Photo: https://coastculture.com/event/2nd-annual-sunshine-coast-art-words-festival/2023-08-11/
#6  
Chocolate Fest
St. Stephen, New Brunswick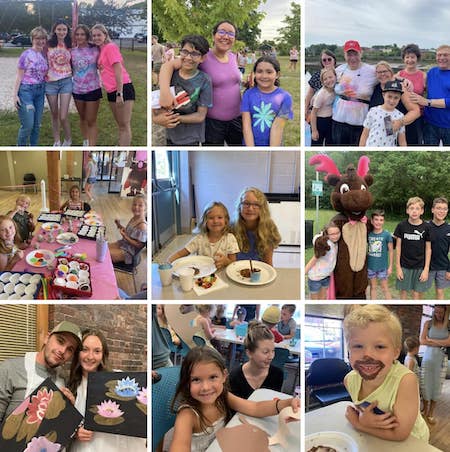 Is it any surprise that Canada's chocolate capital, home of the Ganong Brother's chocolate company and Canada's Chocolate Museum, also puts on a chocolate-themed party for a week each August? 
Sample chocolate every day from July 30th until August 6th at the St. Stephen Chocolate Fest. There's also a chocolate scavenger hunt, chocolate trivia, chocolate treasure hunt, chocolate pudding eating contest, chocolate cocktail hours, cupcake decorating, cookie decorating, and much more. Every day, you'll be able to make your chocolates, enjoy a chocolate heritage walking tour, and enjoy music, dancing, and other activities, all for the love of chocolate.
Photo: https://www.facebook.com/NBChocolateFest
#7
Owen Sound Festival of Northern Lights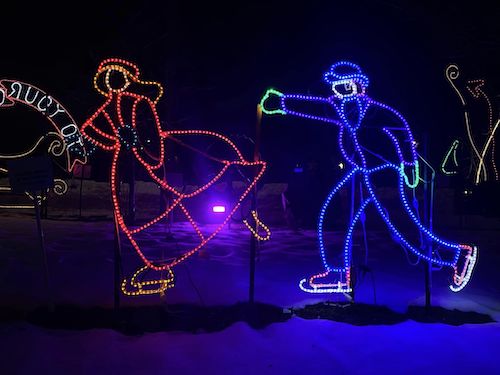 The Festival of Northern Lights is a large award-winning display of Christmas lights in Owen Sound, Ontario.
This celebration runs from November to January each year and sees brilliant lights take over public city spaces. It is considered one of the most beautiful festivals in all of Canada. It has been known to attract upwards of 20,000 visitors each year.
Photo: https://www.facebook.com/osfonl
#8  
Friendship Festival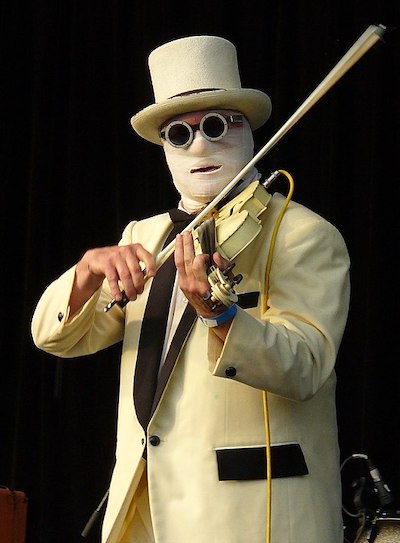 The Friendship Festival was an annual celebration of the continuing friendly cooperation between Canada and the USA; this festival was held in Fort Erie, Ontario, and Buffalo, New York – two cities connected by the Peace Bridge.
The festival ran from 1987 to 2019.
Photo: Nash the Slash performing at the 2008 Friendship Festival in Fort Erie; Tabercil – Own work, CC BY 3.0
#9
Rollo Bay Fiddle Festival
Souris, Prince Edward Island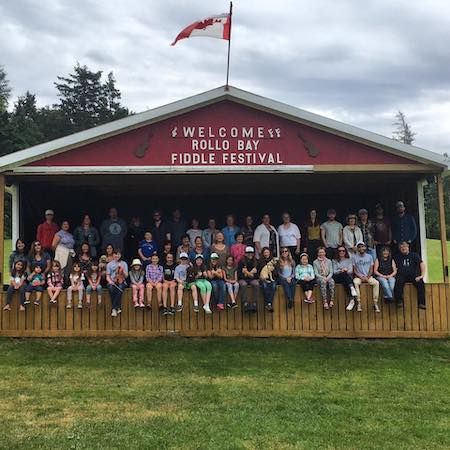 The Rollo Bay Fiddle Festival celebrates Prince Edward Island's rich music heritage every summer during the third weekend of July.
The family-friendly fest and music camp features modern on-site facilities in a tranquil setting, not to mention some of the best traditional tunes around.
Over the past four decades, the event has welcomed to its stages such stars as Natalie MacMaster, Ashley MacIsaac, Richard Wood, Troy MacGillivray, Jerry Holland, The Chaisson Family, and The East Pointers.
Photo: https://www.facebook.com/rollobayfiddlefestival
#10
Shambhala Music Festival
Salmo, British Columbia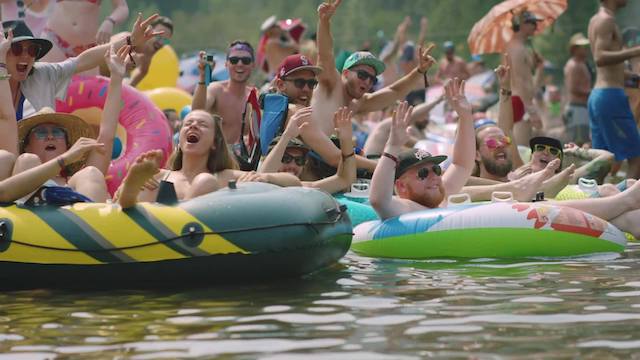 For most of the year, Salmo, BC, is a quiet village of just under 1,200, nestled in the beauty of southeastern B.C.'s Selkirk mountain range. But for four days every August, Salmo is home to one of the best parties in Canada – Shambhala.
Shambhala is one of the largest electronic music festivals in Canada and has grown from a few hundred ravers partying on a farm to an event that draws over ten thousand attendees, artists from around the world, and includes immersive art exhibition, yoga, and meditation workshops.
Photo: https://www.facebook.com/shambhalamusicfestival