#1000towns choice
By Scott Opichal | University of Alberta
Photo: Pierre5018 – Own work, CC BY-SA 4.0
#1
Nelson, British Columbia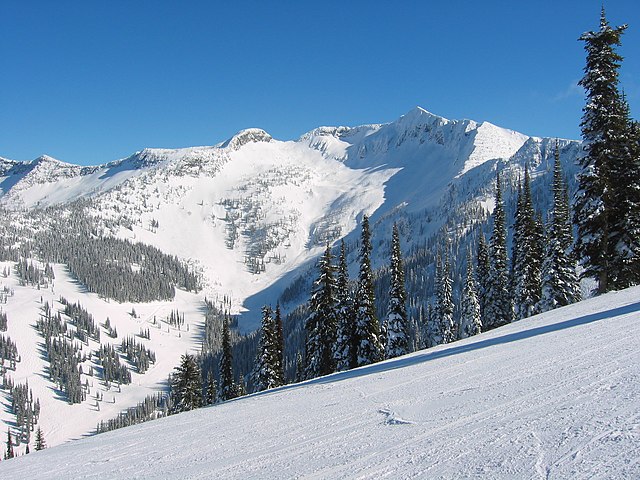 Nelson and its surrounding areas are world-renowned for their exceptional ski and snowboarding conditions. The deep, pure snow is legendary. The Whitewater Ski Resort, just 20 minutes from town, gets over 12 meters of puffy snow every season! The resort also hosts annual festivals and events on and off the mountain.
Nelson is also a backcountry paradise, with many operators taking skiers to remote locations and plenty of trails for cross-country skiers to wander down.
Photo: Baoluo at English Wikipedia – Transferred from en.wikipedia to Commons by Premeditated Chaos using CommonsHelper, Public Domain
#2
Revelstoke, British Columbia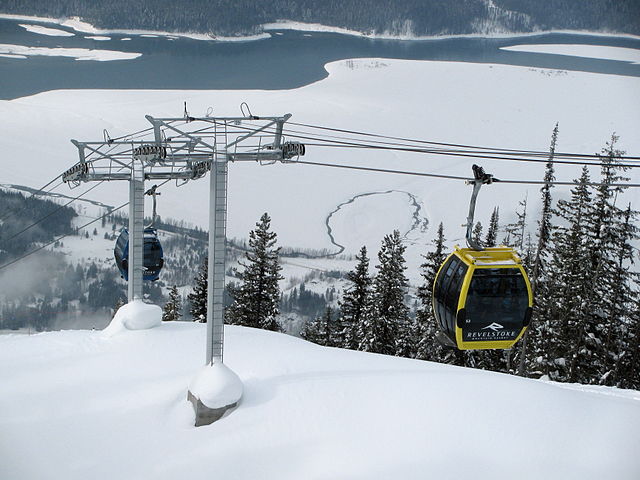 The ski town that hosts the most lift-accessed vertical in North America's winter also boasts adventure of equal scale in the summer.
Revelstoke is the home of Revelstoke Mountain Resort. It's got the perfect combo of remoteness, authenticity, good people, food, and testing terrain.
This town has endless outdoor activities — such as snowboarding, mountain biking, rock climbing, kayaking, and skiing.
Photo: Stevemconst61 – Own work, CC0
#3
Mont-Sainte-Anne
St-Ferreol-les-Neiges, Quebec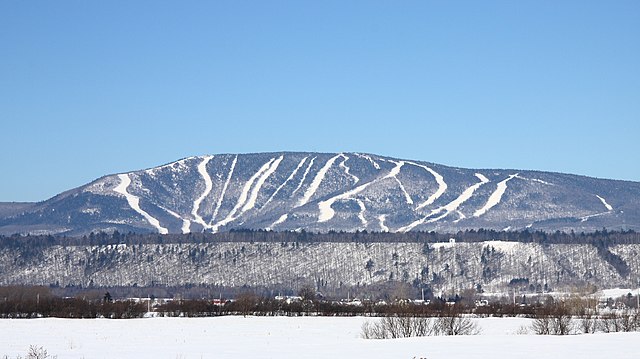 Forty minutes outside the old-world quarters of Quebec City is a town of 3,000 residents situated at the heart of nature.
This cold-loving, Quebecois-speaking beauty of a place sits at the foot of Mont-Sainte-Anne, one of eastern Canada's most popular ski resorts. With 59% of the mountain deemed "difficult" and a vertical that drops you and your skis over 2,000 feet, you will find many snow enthusiasts flocking to St-Ferreol-Les-Nieges every winter.
If you're a cross-country skier, you'll want to take special notice since you'll be hard-pressed to find a better spot in Canada. Second in North America only to California's Royal Gorge Cross Country Ski Resort, St-Ferreol-les-Neiges has over 124 miles of trails deep in the Laurentian woods by which the town is surrounded. It's also home to the Pierre-Harvey National Training Centre, which provides xc-ski athletes with year-round training grounds. The training center includes a 3-mile summer roller course that has more vertical than any other Canadian trail suited for the purpose and was designed to feel as true as possible to what enthusiasts would find while skiing on a difficult trail in winter.
Photo: Cephas – Own work, CC BY-SA 3.0
#4
SilverStar Mountain Resort
Vernon, British Columbia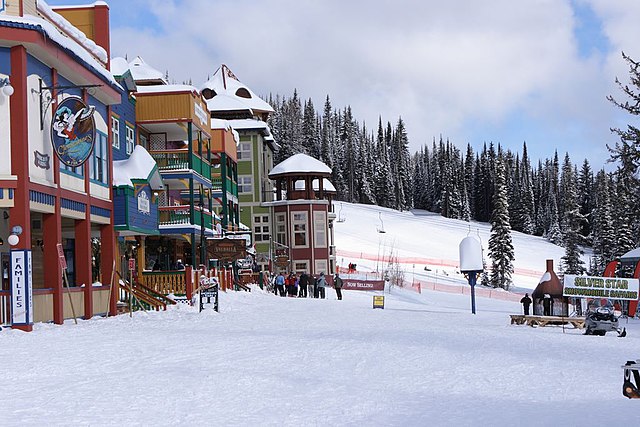 Think of SilverStar as a big mountain with a small-town feel. A colourful mid-mountain village offers true ski-in/ski-out access to the slopes.
With 3,282 acres of skiable terrain over 4 distinct mountain faces and 132 runs, SilverStar's progressive terrain is perfect for every level of skier. The resort's front side boasts wide-open groomers for beginners and intermediates, our Terrain Park, plus a variety of glades and powder stashes. The backside has our longest run of 7 km and includes an uncrowded paradise of steep and deep, black and double black diamond runs. In addition, 105 kilometres of world-class Nordic trails weave through the mountainside, offering Canada's largest daily groomed cross-country trail system.
Photo: No machine-readable author provided. Klauskk assumed (based on copyright claims). – No machine-readable source provided. Own work assumed (based on copyright claims)., CC BY-SA 2.5
#5  
Whistler Blackcomb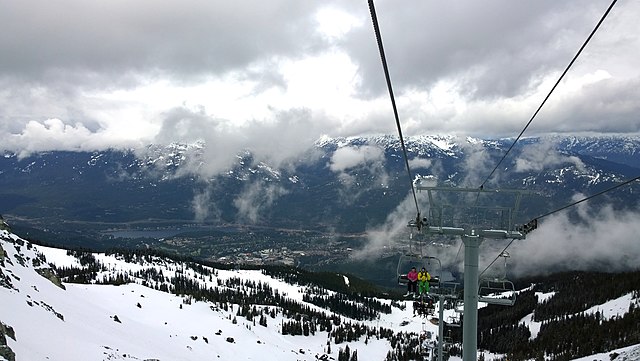 Whistler is a chalet-style town at the base of one of North America's biggest ski resorts.
 It's hard to find a better area for winter sports in the world, but those who don't ski or snowboard can enjoy the great Canadian outdoors from Whistler just the same. The resort has five terrain parks with over 150 features, 90 rails, and 40-plus jumps. Skiers will rejoice as they blast down beautiful wide-open bowls on Whistler Mountain and cruise incredible groomed runs across both mountains. On Blackcomb, the Horstman Glacier provides year-round skiing.
Photo: Ruth Hartnup from Vancouver, Canada – Whistler Blackcomb, CC BY 2.0
#6
Tremblant
Mont-Tremblant, Quebec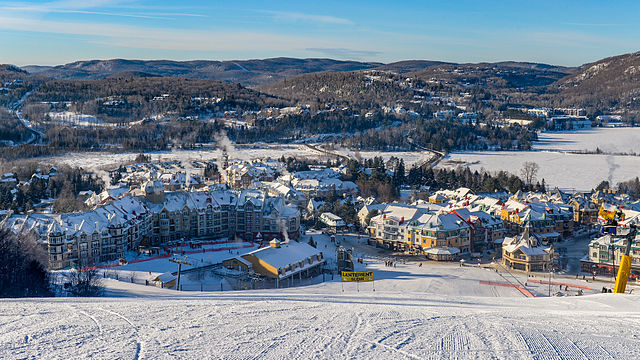 Mont-Tremblant is a winter wonderland that offers over 600 acres of skiable terrain.
Besides skiing, you can also venture through the snow on a guided snowshoe tour – there are even night tours available. Prefer to sit back and cruise through the snow? You can opt for an adventure by dogsled, with a small troop of mighty, fluffy huskies to pull you through miles of forest.
Families can head to the rink by the Chapelle Saint-Bernard for some ice skating fun, which lights up and provides an even more memorable sight at night. You can also go mountain biking and horseback riding while the kids can get their thrills whizzing down the slopes at Skyline Luge Mont Tremblant.
Photo: RogMack – Own work, CC BY-SA 4.0
#7
Sunshine Village Ski Resort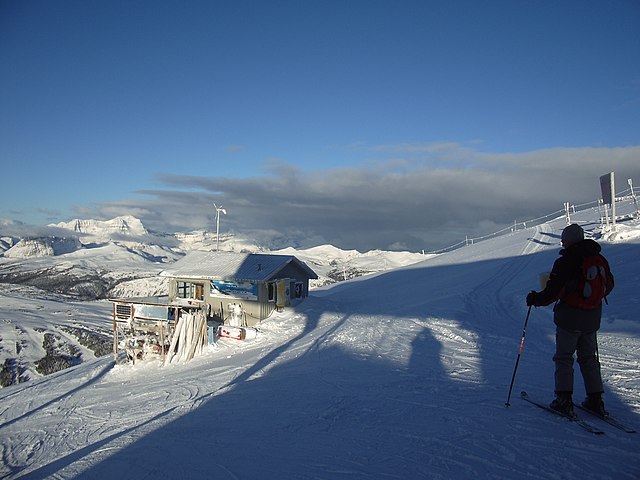 Lake Louise, near Banff, is in the heart of the Rocky Mountains and is one of Canada's most well-known resorts.
This mountain is for all skiers, from the die-hard extreme skiers to families coming here to learn the sport. With 4,200 acres of skiable terrain and an average snowfall of 15 feet, the resort offers a mix of alpine bowls, steeps, chutes, and plenty of groomed runs.
The skiing at Lake Louise continues to get better. Last season the new Summit chairlift opened up in the West Bowl area. This new area is 480 acres, and the runs are for intermediate to advanced levels.
Photo: Axel Pettersson – Own work, CC BY-SA 4.0
#8  
Sun Peaks Resort
Sun Peaks, British Columbia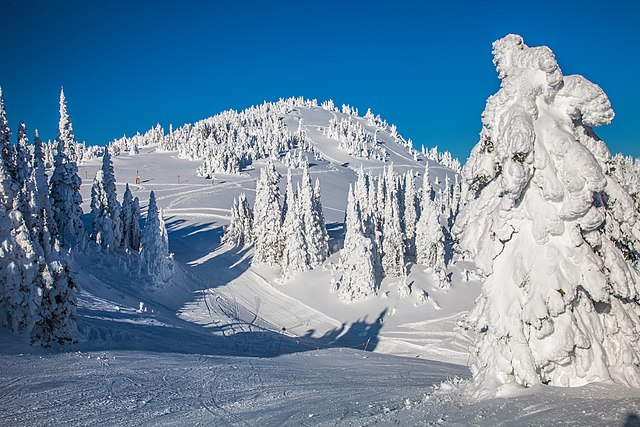 Sun Peaks is Canada's second largest ski area but is still largely unknown outside of Canada and even one of the lesser-known resorts within Canada. 
Given the amount of terrain, spread over three mountains, it's not surprising that this resort offers a little something for everyone, with steeps, cruisers, and tree skiing. And although you can find a wide variety of runs, Sun Peaks is particularly focused on beginner and intermediate skiing, making it a great choice for families. The European-style village at the base offers ski-in, ski-out accommodation and facilities, adding a level of convenience for people who choose to stay here. You can find everything you need right at the resort, including quality hotels or condos and good restaurants, or you can commute from nearby Kamloops, 45 minutes away.
Photo: Murray Foubister – https://www.flickr.com/photos/mfoubister/13653299205/, CC BY-SA 2.0
#9  
Kicking Horse Mountain Resort
Golden, British Columbia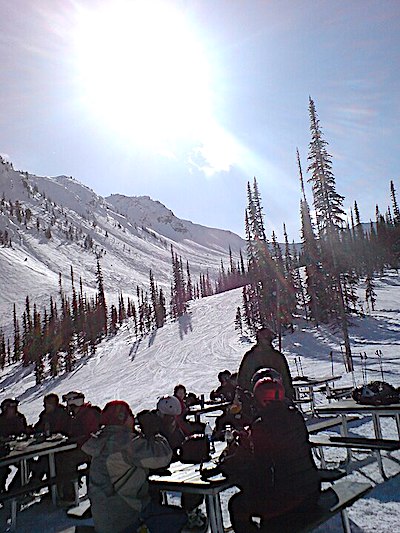 Kicking Horse Mountain Resort, outside of Golden, BC, is frequented by both families and hardcore skiers.
The mountain has 4,133 feet of vertical, an average of 24 feet of snow each season, incredible expert terrain, steeps, and great hike-to-powder runs.
The mountain is north facing, and as a result, good snow conditions tend to endure. Three bowls drain down into more gentle terrain, where you'll find intermediate and beginner runs.
Photo: John Johnston – lunchtime at kicking horse, CC BY 2.0
#10
Fernie Alpine Resort
Fernie, British Columbia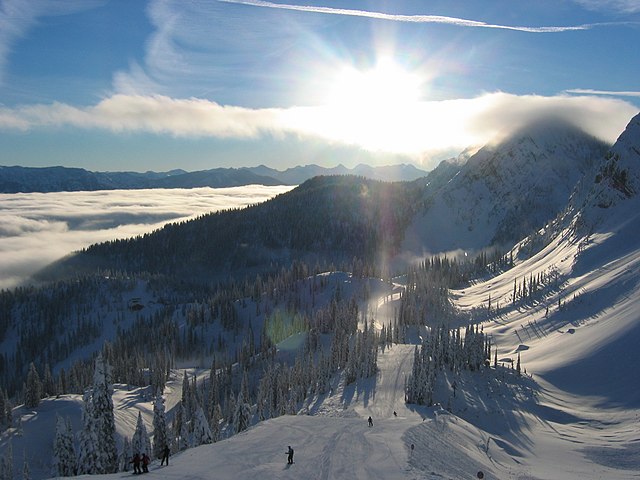 Fernie Alpine Resort is a great ski vacation option for almost anyone. 
You can plan a family vacation, a friends' weekend, a week-long getaway, or park yourself here for winter. The snow and skiing are comparable to other resorts in Western Canada, with an average snowfall close to 30 feet each season. The runs are a good mix of terrain, from open bowls to groomed runs and glades.
At the base of the mountain is a small ski village with restaurants, hotels, and ski-in and ski-out accommodations.
Photo: John Johnston – timber bowl, CC BY 2.0