#1000towns choice
By Scott Opichal | University of Alberta
Photo: S A Hooper from Swansea, Wales – Looking down on a climb from Moraine Lake, Yukon, Canada, CC BY 2.0
#1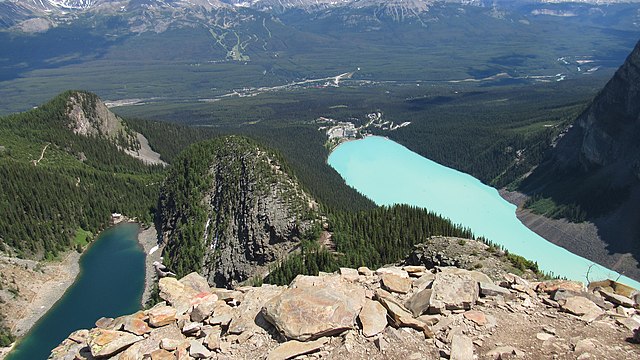 Nestled amongst the peaks of the Canadian Rockies, Banff is known as an adventurer's mecca. 
The Lake Agnes trail is one of the best Banff day hikes and is relatively easy to complete. Located in the Lake Louise area, the distance is 3.4-kilometres in one direction and a 2.5 to 3 hours round trip. Treat yourself to some tea at the famous Lake Agnes Tea House, which was built in 1901 and serves over 100 varieties of tea.
One of the most scenic hikes at the park is the Plain of Six Glaciers trail. The hike is 13.8-kilometres long and takes about 4 to 6 hours to complete. It is accessible to hikers and provides stunning surrounding views of peaks and glaciers, including the Victoria Glacier.
Enjoy views of the mountains while exploring trails of Banff!
Photo: Khoshhat – Own work, CC BY-SA 4.0
#2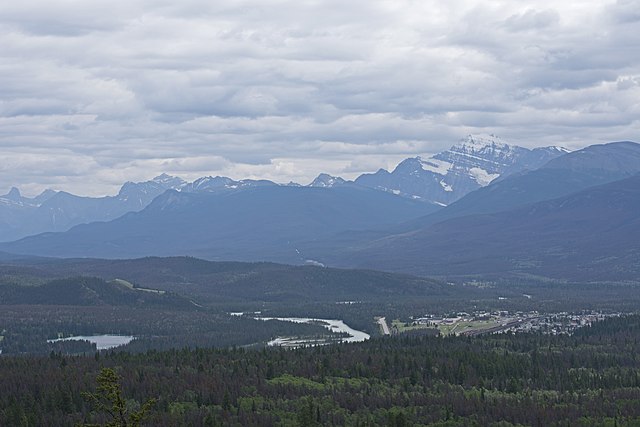 Jasper is a great destination to reconnect with nature.
In Jasper, you can swap your ski boots for a pair of hiking shoes and head out to discover some of Alberta's stunning wilderness. Firstly, there's the iconic Icefields Parkway – a scenic 3-hour alpine drive between Lake Louise and Jasper, littered with breathtaking outlook posts and access to various trails in between. You can also reach beautiful lakes from Jasper, such as Maligne, Medicine, Pyramid, and Patricia Lakes.
Photo: Ymblanter – Own work, CC BY-SA 4.0
#3
Kamloops, British Columbia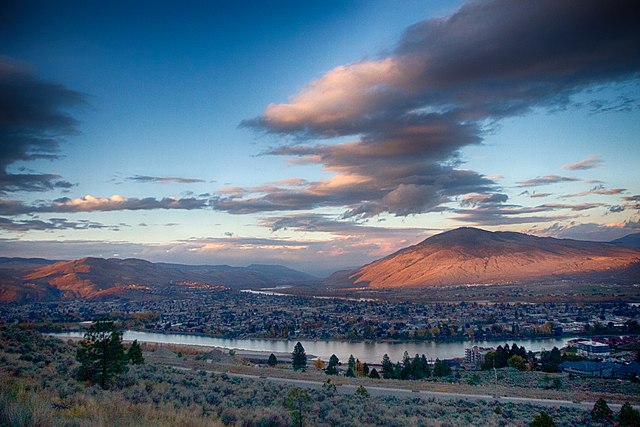 Kamloops is home to numerous hiking trails.
The British Columbia Wildlife Park is a 15-minute drive east of Kamloops, home to grizzlies and arctic wolves. The Secwepemc Museum & Heritage Park is east of town, on the western bank of the South Thompson River. Great for understanding the local culture and history, the complex has four separate galleries showcasing the remains of a 2,000-year-old village.
Photo: cogdogblog – https://www.flickr.com/photos/cogdog/15451340749/, CC BY 2.0
#4
Whitney, Ontario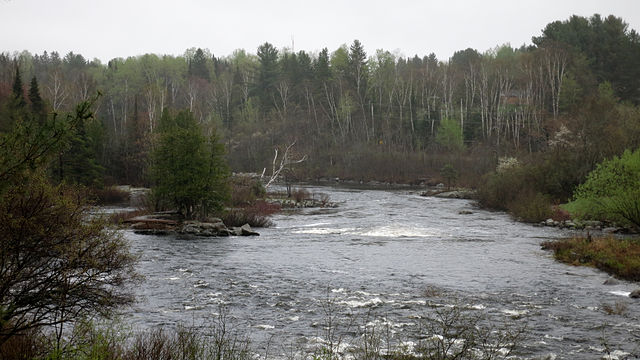 For more hiking trails near Toronto, Algonquin Park is one of Ontario's most popular parks and one of Canada's oldest provincial parks.
It has a variety of walking trails that are open year-round with different levels of difficulty. If you're an advanced hiker, several multi-day treks and portages are also available.
If you're up for a challenge, Centennial Ridges Trail is a 10.4-kilometre loop with steep slopes and rocky terrain. That said, it provides a breathtaking view of the trees and lakes. As well it's known for being one of the best hiking trails in Ontario during the fall season as the leaves change colour.
For an entry-level hike, Bat Lake Trail is a great family-friendly option. While walking along the 5.8-kilometre loop, you'll see various ecological features and may even encounter a moose.
Photo: Whpq – Own work, CC BY-SA 4.0
#5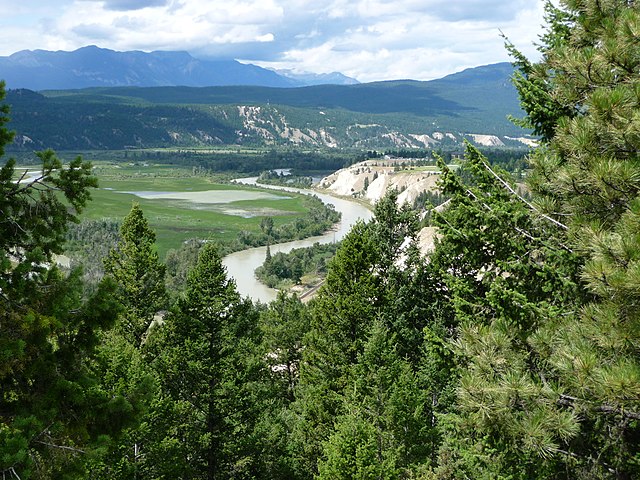 Located close to Radium Hot Springs, Kootenay National Park is open year-round with over 25 trails that span from easy to difficult. You'll take in incredible views of the Canadian Rockies while hiking any of these trails.
You'll want to start with the popular Marble Canyon Trail for an easier hike. Several bridges connect the 1.6-kilometre walking trail. Look down, and you'll see an incredible view of the gorge beneath you. Another popular short hike to consider is Juniper Trail, which is 6 kilometres long and takes about 2 hours to complete.
A popular half-day hike is Stanley Glacier. Moderate in difficulty, the 8.4-kilometre hike takes about 3 hours to complete. You'll come across a fire-swept forest during your trek, waterfalls, wildflowers, and even fossils!
If you're an advanced hiker looking for a challenge, the Rockwell Trail is a world-renowned multi-day trek. The elevation changes make it a more difficult hike but offer incredible views of the Rockies.
Photo: By Jürgen Regel, Marian…, CC BY 3.0
#6
Alma, New Brunswick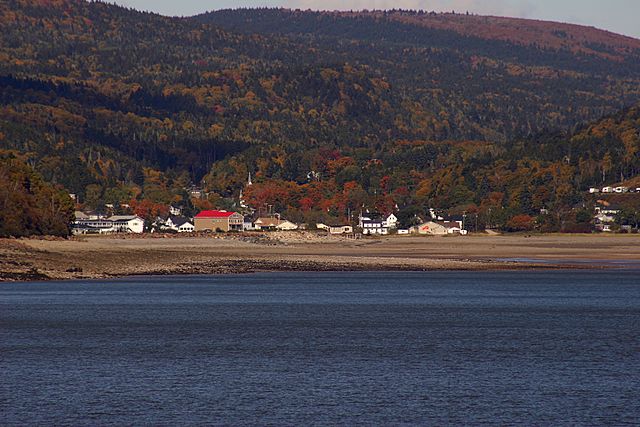 Home to the world's largest tides, Fundy National Park is a must-visit destination in Alma. With 29 trails available, hiking is one of the most popular activities at the park.
Ranging from easy to difficult trails, you'll take in views of the Acadian forest, waterfalls, and coast.
Dickson Falls is a popular and kid-friendly route for shorter and easier walking trails. The 1.6-kilometre loop runs through a forest with boardwalks available for parts of the trail. While the trail is short, you'll come across beautiful waterfalls and great lookout points.
A must-see trail is the Moosehorn to Laverty Falls Loop, a combination of the Moosehorn and the Laverty Falls Trail. The combined trial is a 2.54-kilometre trek and is well-suited for novice hikers. As the name implies, you'll take in incredible views of the waterfalls during your trek. Plus, you can take a dip in some of the water holes!
Point Wolfe Beach Trail is a short yet beautiful hike through rock beaches if you're looking for a trail that encounters beaches. This beach trail may whet your appetite to see more local beaches.
Photo: Martin Cathrae from Charlottetown, PE, Canada – Alma, CC BY-SA 2.0
#7
Squamish, British Columbia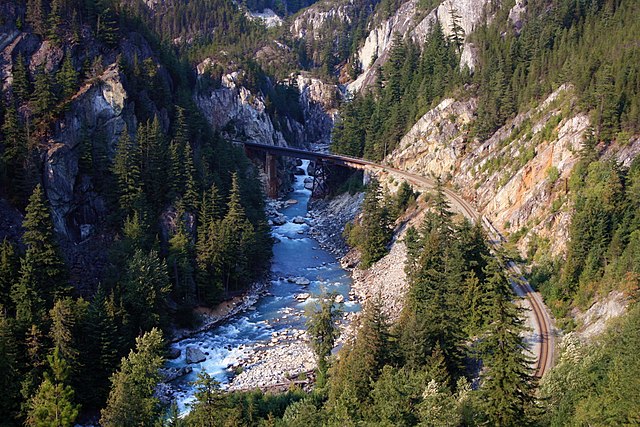 For some of the best hikes near Vancouver, Garibaldi Provincial Park has over 90 kilometres of established hiking trails and is perfect for more advanced hikers seeking multi-day treks.
Five trailheads lead into the park: Diamond Head, Black Tusk / Garibaldi Lake, Cheakamus Lake, Singing Pass, and Wedgemount Lake.
For one of the most scenic views of Garibaldi Lake, you'll want to consider a trek to Panorama Ridge, with two main trailheads that lead to it. Rubble Creek trailhead is considered the more popular route since it's more scenic and slightly shorter at 30 kilometres. Once you reach Panorama Ridge, you'll get a panoramic view of Garibaldi Lake, Black Tusk, and the Helm Lake area.
For shorter trails to Panorama Ridge, the trek from Garibaldi Lake to Panorama Ridge takes 2 hours at 5 kilometres. It offers views of the lake and the Sphinx, and the Sentinel Glaciers. The hike is marked as moderately difficult.
Photo: Kevin Teague – https://www.flickr.com/photos/49503205198@N01/3873823098, CC BY 2.0
#8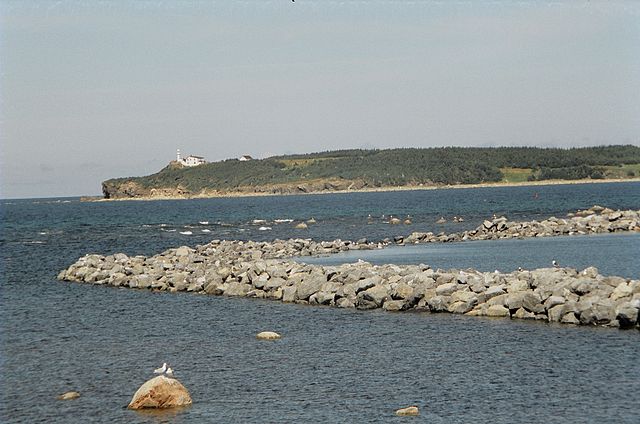 If you plan on hiking in Newfoundland, Gros Morne National Park in Rocky Harbour is the perfect spot to find many scenic trails.
The trails will have you passing by beautiful fjords, cliffs, waterfalls, beaches, and much more!
For an easy hike that the whole family can take part in, Tableland Trail is a popular spot that takes about 1 hour to complete. The hike is 4 kilometres long along an old road with minimal elevation. It's a great starting point since it's at the base of the mountains and one of the rare places where you'll see the earth's mantle exposed.
One of the most popular trails in Gros Morne National Park is Green Gardens Trail. The 10-kilometre hike takes about 3 to 4 hours to complete (round trip). The trail takes you along the coastline with incredible views of sea stacks, coves, and beaches with lush cliff-top meadows. You'll also find yourself walking through wildflower meadows and forests. You may even spot a flock of sheep during your hike!
Want one of the most iconic views in Canada? Then, you'll want to head out on the Western Brook Pond trail. It's arguably the most scenic hike in Gros Morne National Park, with an unforgettable view of cliffs and mountains as far as the eye can see. It takes only 1 to 2 hours to complete this 6-kilometre hike, and is worth every step.
Photo: Wayne Ray User:WayneRay – Windfield Photographic Collection and Archives POB 340 Stn. B London Ontario N6A 4W1, Public Domain
#9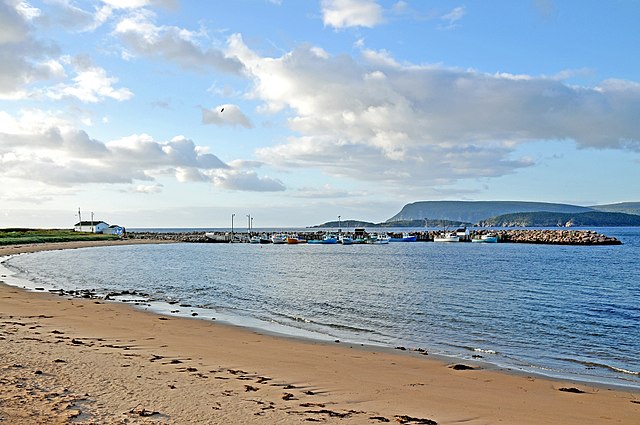 The Cabot Trail is one of Canada's best scenic drives. It's also known for its great Canadian trails along the east coast.
If you're planning a road trip along the trail, you'll want to make a stop at Cape Breton Highlands National Park. Known for its highlands and ocean views, the park is open year-round. In addition, there are 26 hiking trails, each with its own incredible and unique viewpoint.
You should consider the Skyline Trail for an easy but unforgettable hike. This popular trail is a 7.5-kilometre loop open year-round and has boardwalks set up to protect the surrounding ecosystem. During your hike, you may even catch a glimpse of moose, bald eagles, bears, and various bird species!
Photo: Dennis Jarvis from Halifax, Canada – DGJ_4705 – Ingonish Harbour, CC BY-SA 2.0
#10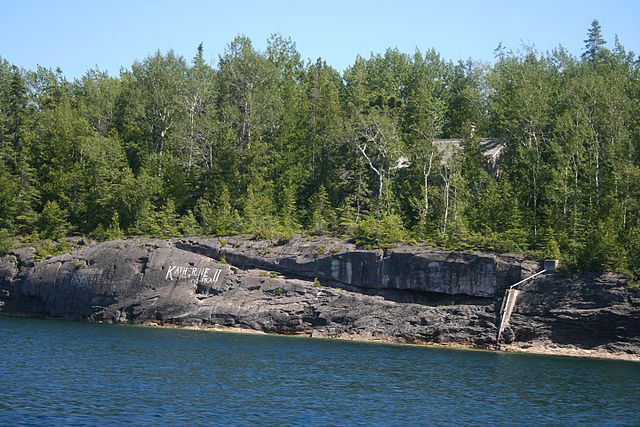 The Bruce Trail, Canada's oldest and longest footpath, starts in Queenston and ends in Tobermory, Ontario, where you'll also find the Bruce Peninsula National Park. If you live in Ontario or plan a trip there, this park offers some of the best hiking trails near Toronto.
Of the many trails to choose from, the one leading to the Overhanging Point is a popular trail that takes you to the infamous Grotto. You'll also come across the Lion's Head Trail, where you can overlook the clear turquoise waters of Georgian Bay.
The Flowerpot Island Trails are also a great option for hiking in Ontario. You'll see the historic light station and the natural rock pillars that resemble flowerpots. However, you may encounter some rocky terrain and steep stairs, giving these trails more of a moderate hike rating.
Photo: Robert Taylor from Stirling, ON, Canada – Tobermory, Ontario_2506, CC BY 2.0