#1000towns choice
Kaitlyn Hui
Since summer is just around the corner, what better activity is there to do than to try going fishing. Fishing is a hobby that hones your focus and makes you more aware of your surrounding environment. It has been proven to reduce negative health outcomes such as anxiety or depression, as well as promote relaxation and concentration. Not only will you get your fair share of Vitamin D, but it will allow you to take a step back from your hectic everyday life as well as get some exercise in. It is the perfect leisurely hobby to start up again this year.  Luckily for you, we have curated the perfect list for anyone who wants to go fishing in small towns. If you have experience, you'll know small towns are where the treasure is.
#1000towns will let you in on our secrets and give you a great list of the Top places to go fishing. We can't wait for you to get out there and catch some surprises!
#1
Haida Gwaii, British Columbia
Best Salmon and Halibut Fishing in the World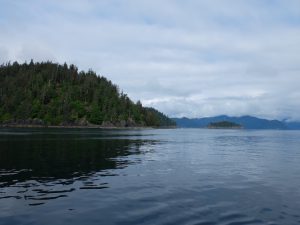 Also known as the Queen Charlotte Islands, Haida Gwaii is remote but has some gorgeous landscapes. The fact that there aren't that many people there means that there are more chances for you to catch some amazing fish. For example, the Chinook (King) Salmon and the halibut are world-renowned and the herring, as well as the needlefish, are there in plenty. These are also the ancestral home of the Haida, so there is a rich cultural history attached to the lands. Be sure to look for any guided tours if this is your first time fishing. There is also both freshwater and saltwater fishing all year round, meaning that you may see some cutthroat trout, rainbow trout, lingcod or red snapper.
#2
Reindeer Lake, Saskatchewan
Ninth Largest Lake in Canada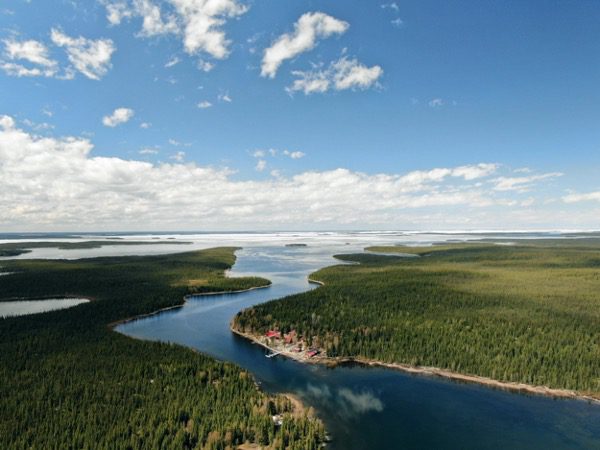 Reindeer Lake is huge which only means that there is a lot of fish in its waters. One interesting fact is that on-site, in Deep Bay, there lies a meteor strike that is 140 million years old and over 700 ft deep. The exploration really is endless. The clear waters make it the perfect place to fish for Northern Pike, Walleye, Lake Trout, Arctic Grayling and much more. With over 95 tributaries and rivers as well as 5500 islands, the conditions are always great and the diversity is endless. This top fishing location has a little something for everyone because of how vast it is, so you should definitely visit if you have the chance.
#3
Great Slave Lake, Northwest Territories
Deepest Lake in North America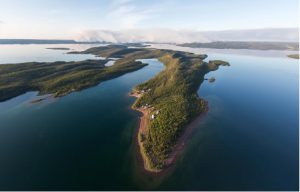 The Great Slave Lake makes for a wonderful experience due to its size, depth, and the types of fish located there. In the Northwest Territories, you can find Arctic Grayling, Northern Pike, Trout, and Whitefish since it is the 10th largest lake in the world. In fact, some have been able to catch trout that are 75 pounds, a feat in itself. Others have also said that fishing at midnight is particularly fun since the sun is still up in the summer months. If you go at the right time, you can catch sight of the aurora borealis as well as a magnificent view of the surrounding waters. If you want to stay at a lodge on your trip, there are plenty around the area. Head on over to the Great Slave Lake if you want to make some memories.
#4
North Lake, Prince Edward Island
The Tuna Capital of the World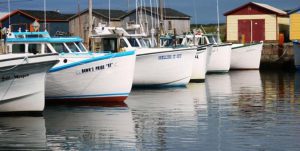 North Lake in PEI will take your breath away. You can easily find a bluefin that is a whopping  600 to 1200 pounds surprisingly close to land. This is because, during their migration period, they travel up the St Lawrence River for the spawning season. However, it isn't just bluefin you'll find, but also mackerel and makos make their annual appearance during their peak times. Around the area, there is also an Observation Tower with an amazing view as well as cruises that can take you for a ride if you wish to take a break. With kilometres of beaches at your fingertips, North Lake has more than enough fun for you and whoever you're travelling with. Take a stopover and hopefully, you'll catch the bluefin of a lifetime.
#5
Fraser River, British Columbia
Longest River in British Columbia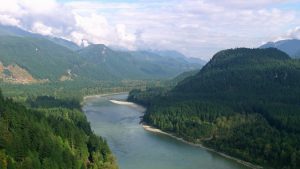 The Fraser River is known for its Salmon since, during the migration season, swarms gather in the river and are perfect to catch, averaging at around 20-50 million per year. The land here is also vastly different, ranging from mountainous caverns to canyon walls, which is why this river is also acclaimed for its Sturgeon which can exceed 20 feet in length and weigh more than 1500 pounds. If you're in the mood for something a little different, there is wilderness fishing available. You can hire experienced jet boat pilots that run these rivers regularly or use a custom boat. The Fraser River is sure to have some of the best Salmon in the area, so it is definitely worth it to swing by.
#6
Thousand Islands, Ontario
 1864 islands along the St. Lawrence River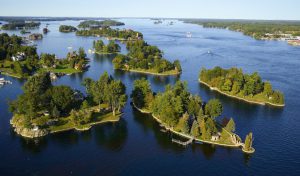 Due to its vastness, Thousand Islands is a very special location. It has trophy-sized salmon, northern pike trout, walleye and bass in its waters as well as muskellunge that are 60 inches long. There are guided fishing trips available, and closely, lies the Rideau Canal which has its own large fishing batches. If anything, the Thousand Islands will bring you a lot of joy when you catch a big one. In the winter, they also have ice fishing for you to try out. There is so much to see and do in the area such as golfing, biking, hiking, and much more should you want to partake in a new activity. With over 40 square miles, there is bound to be something for you to enjoy.
#7
Tree River, Nunavut
Best Arctic Char Fishery in Canada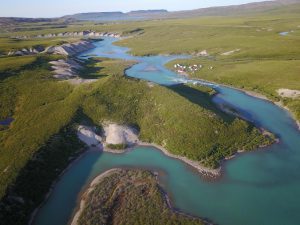 Located all the way in Nunavut, Tree River has the best arctic char fishery in the whole country and it is the perfect location for anyone who loves to fish. The fish are known to be beautiful shades of red and green, as well as have specs of blue and orange, unlike anything else you've seen before. You can even catch some that way over 32 pounds if you go at the right time. There, fishing can be done from the shore, or you can try to fly and spin fishing. Lodges and tours are on-site if you wish to stay longer or want a guide. Along with the scenery, Tree River has a lot of surprises that are waiting for you.
#8
Eagle Lake, Ontario
Wide Variety of Fish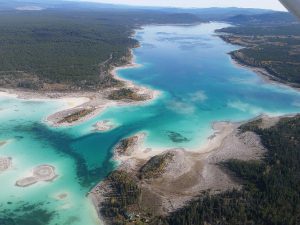 Eagle Lake has wonderful views of the waters and the forests. Here, you'll see no shortage of walleye, northern pike, smallmouth bass, trout, and perch, though there are plenty of other kinds of fish as well. For example, muskellunge is abundant and can even grow to reach 70 pounds. The sheer diversity will astound you. Whether you are with friends or with family, Eagle Lake is the perfect getaway spot for anyone, especially since it is fairly close to other cities such as Kenora. There are lodges available as well for overnight stays. The fish are huge, so make sure you're ready to take home something large if you ever choose to venture here.
#9
Bow River, Alberta
 Best Trout Fishing Globally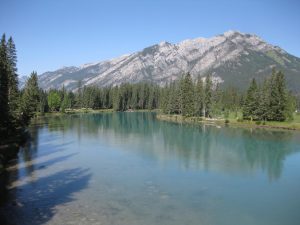 Bow River has some of the clearest waters in all of Alberta, which makes it a great place to go fishing. This is because when the Bow Glacier melts, the icy waters travel to the river, leading it to have some of the best trout in the world, from Brown Trout to Rainbow Trout. However, there are also a lot of Cutties and Rocky Mountain Whitefish waiting for you. It is said that you can go fishing here year-round, though it is best from mid-May through mid-to-late October. The fish are normally around 21 inches long which is pretty big! 144 kilometres in length, Bow River has an assortment of amazing finds and it even flows through Banff National Park should you want to go camping or take a hike.
#10
Cranberry Lake, Manitoba
Some of the Biggest Fish Around
Cranberry Lake is made up of three large lakes that are all a little different from each other. You can find some Northern Pike, Walleye and Lake Trout if you look hard enough and a lot of the time, they will be trophy-sized. The lakes offer a lot of variety in terms of what fish are there due to the difference in depth. You can also go canoeing or kayaking on the waters or explore the islands along the coast. If you're in Manitoba, you should definitely head over to Cranberry Lake because you'll never know what you're going to catch.