#1000towns choice
Kaitlyn Hui
With summer quickly approaching, what better time than now to get outside and have some fun. Something that everyone has been loving recently is rock climbing and luckily for us here in Canada, there are many great locations to scaffold the mountains. Rock climbing not only is an amazing exercise, but it also challenges your balance and strength. You can meet other like-minded individuals in the community as well to form meaningful connections. Since it improves your cardiovascular system, you'll be sure to build your endurance if you go frequently. It can be quite daunting at first, but we'll tell you all you need to know.
#1000towns is going to let you in on the Top 10 Small Towns to go rock climbing this year. Pack your bags and get on reading, because after this, you'll be sure to want to get out in nature.
#1
Squamish, British Columbia
Over 3000 Different Paths to Try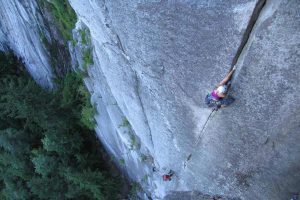 Squamish is absolutely famous for its steep cliffs and an amazing view over the Howe Sound. It has just about everything and is easily accessible by car via the Sea to Sky Highway. The six primary areas for climbers to venture to would be Murrin Park, Grand Wall, Apron Boulders, North Wall, Smoke Bluffs, and Paradise Valley. These areas have endless boulders for you to try and tackle. In Squamish, the climbing community is abundant since it is so close to Vancouver. One of the most thrilling climbs has to be the Chief since it is home to the 609.6-meter-long monolith which would be a challenge for just about anyone. Closeby is also Shannon Falls which gives you the view of the most amazing waterfalls in BC. This is definitely one of the most popular spots in Canada, so be sure to travel here to get the full experience.
#2
The Bugaboos, British Columbia
The Patagonia of Canada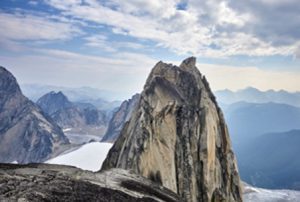 Another area in BC, The Bugaboos is near Golden in the Purcell Mountains. There are so many alpine climbs to attempt such as the Pigeon Spire or the Snowpatch. It has been said that they have the best crack climbing in all of North America which is a definite feat. Since it is in a fairly remote location, be sure to have all the equipment and supplies you need for the day. The large granite cliffs are sure to be intimidating, but the best time to go is in July and August, the warmer months. In total, there are 65 different climbs on site for you to try, most of which are traditional and alpine. Unless you're staying closer to the campground, glacier travel skills have been recommended to get to and from most of the climbs. So if you're in the mood for a challenge, head over to the Bugaboos.
#3
Sudbury, Ontario
Traditional Ice climbing and Bouldering in This Area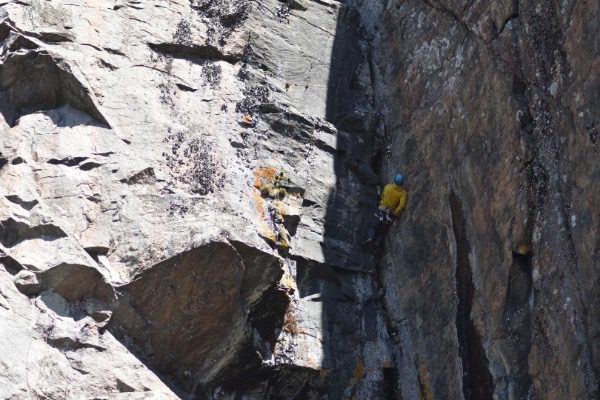 Sudbury has so many great climbs. Not only do they have a pretty great indoor gym, ARC, but also a ton of higher trails in the great outdoors. One example would have to be north of Webbwood, which comprises the Wako, Big Knob, and Rainbow Wall, the typical camping spot. While you need to be on the lookout for peregrine falcons as you go on up, there's also a swimming hole for you to enjoy. Regarding bouldering, at the base of Wako, the landings are really flat and it is the ideal location to start off. Another fun trail would be Timberwolf, one of the original crags in the Sudbury region. Check this place out if you're in the mood to try something new! Luckily, there is also a virtual guide for beginners who are unfamiliar with the area.
#4
Alpine Club of Canada Headquarters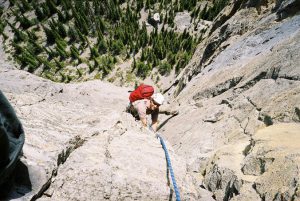 With 10,000-foot mountains, Canmore is sure to impress. It is the last town out of Banff National Park, but it is rich in the beautiful scenery and an amazing atmosphere. The runoff was able to form majestic canyons that are protected by the shade which is especially useful in the summertime. There are varied types of climbs as well, ranging from steeper crags such as Grassi Lakes, but also more technical ones like Heart Creek. Other classics include Eeyore's tail and the Shining which are both very long, but nonetheless amusing. There are a ton more to attempt, so you should try your best to add this location to the list.
#5
Skaha Bluffs, British Columbia
Perfect for Beginners and Experts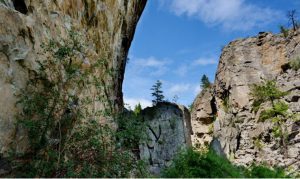 Although they are located in the rural mountains, Skaha Bluffs in Penticton, BC has over 1000 climbs. It is known to be a great place for both the pros and newbies since the season lasts a lot longer than normal. In BC, the temperatures are always fairly moderate, so in the summer it never gets too unbearably hot, unlike in other locations. Some favourites would be the Plum Line, the Bladerunner, or any other of the over 65 crags they have. While almost 65% of the trails are sports routes, there are more traditional paths you can take as well. It is also recommended to bring a guidebook with you so you know your way around and don't get lost.
#6
Home of Mt Robson, the highest peak in the Canadian Rockies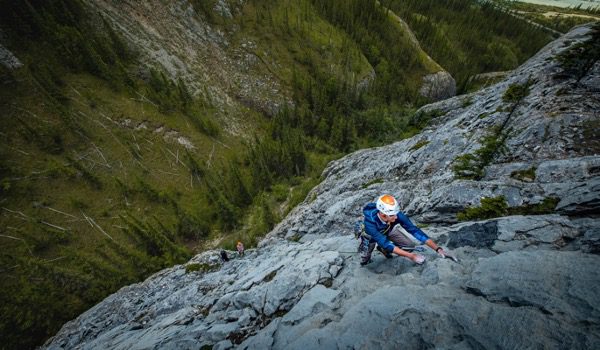 The Rocky Mountains constitute some of the Jasper National Park, so some fantastic climbs are waiting for you. In fact, some of the highest peaks are there. From May to August, the season for stupendous alpine climbs lasts a while. For beginners, you can even take lessons from really qualified professionals or have guided tours. Especially in the summer months, this site grows with all sorts of individuals, so you need to get there fast. There are a total of 123 climbs, 49% of which are alpine trails, so if you're a fan, you need to travel to Jasper this summer.
#7
Best Sandstone and Granite Cliffs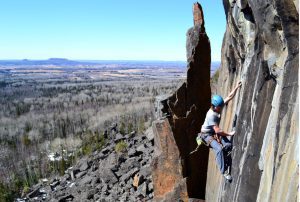 All sorts of different climbs are accessible via just a 2-hour drive out of the city. With a  campsite on Black Sturgeon Road, Thunder Bay has 74 climbs varying from traditional, sport and even top rope. One of the famous climbs would have to be Centennial Park, at the north of the bay. You'll be able to see most of Lake Superior as well as a glimpse at the Sleeping Giant, a cool rock structure. Whether you're a beginner or not, there are routes guides, access information and directions dispersed all throughout the site. If you're looking for a sandstone cliff, Pass Lake is the perfect route for you, though bolts are used instead of traditional equipment. Thunder Bay is absolutely a great place to start!
#8
450 Million Year Old Rock For You to Climb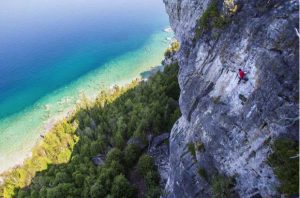 In Niagara, this vast escarpment is over 700 km long, stretching to Tobermory, with gorgeous scenery of the Great Lakes and looming forests. While it is an 11 hours drive from Toronto, that doesn't mean that it isn't worth it. People have actually noted that there are tiny fossils in the handholds which is a really neat little detail! There are a wide variety of climbs for you to partake in such as the Buffalo Crag, which is great for first-time climbers, or even the more challenging Devil's Glen. This escarpment has options for rappelling, sport lead climbing, single-pitch traditional climbing as well as two-pitch traditional climbing, so they are multiple different routes for you to try. There is so much for you to do!
#9
Lac du Bonnet, Manitoba
114 Boulders To Attempt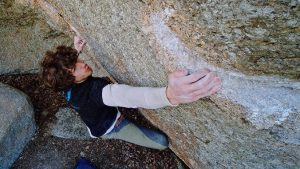 Lac du Bonnet is near the end of the Canadian Shield so you'll see the prairie lands as well as the boulders you can climb. It's only an hour and a half away from Winnipeg and fairly accessible to anyone. One really fun example would be the Cronenberg Boulders which are known to have some fairly unique slabs of rock. People do say that an extra spotter is needed if you're on the shorter side, but really, it is perfect for anyone. Lac du Bonnet is a fun place to go if you're in Manitoba and have trouble accessing the east or west coasts.
#10
Free Camping and Parking On-Site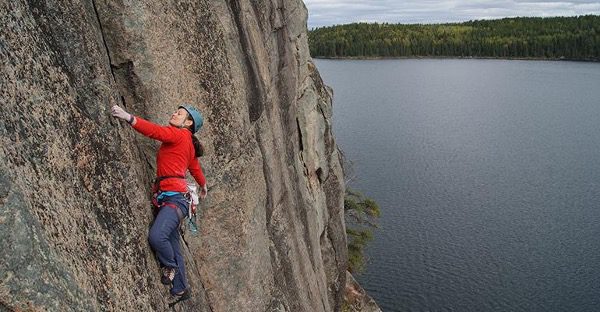 Also located in the Canadian Shield, Kenora in Ontario has granite that is roughly 2 to 4 billion years old. Although there are only 14 climbs, they are really exciting. The season lasts all the way from May to October, but it is important to bring insect repellant! It is definitely one of the more popular spots in southern Ontario with various excursion tours for you to book. A great climb would be Jones Rhode with more than 40 different routes, or Gooseneck Rocks. John Lake and Richardson Lake are just two of the waters you can swim in after a long day of climbing to relax and take a well-earned break. Kenora is the place to be if you want diversity in your paths.