#1000towns choice
By Kaitlyn Hui
In Quebec, the most well-known city has to be Montreal and it definitely steals the spotlight. However, we're here to let you know that there are so many other small towns nearby that might be even more breathtaking. The best thing about Quebec is that there are beautiful forests, national parks, and quaint communities that are nothing like you have ever seen. Exploring these towns can help you brush up on your French and save you the cost of splurging on an expensive vacation. It's perfect if you take a road trip this summer so you have the chance to visit each one and take in the gorgeous views.
#1000towns is ready to give you the best recommendations so you can start to plan your vacation in Quebec!
#1
Baie-Saint-Paul
The "Cultural Capital of Canada" of 2007 by Canadian Heritage
Charlevoix Regional County Municipality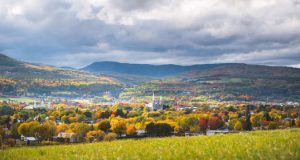 This charming town of Baie Saint Paul is situated along the St Lawrence River and is next to some of the most beautiful mountains. Well known for its artistry and cultural centres, if you're looking for somewhere to let your imagination run wild, this is the place to be. They have museums and interpretation centers, notably their Économusé du Fromage and Galerie d'art Iris, where you can learn about dairy and abstract art, respectively. There is beautiful architecture such as the Eglise de Baie-Saint-Paul as well as a gorgeous four-hour train ride that spans from La Malbaie to Montmorency falls called the Train de Charlevoix. If you want nature walks, the Boisé du Quai and the Route du Fleuve are what you are looking for. All these different activities will leave you with stunning photos of the scenery around you.
#2
Notre-Dame-du-Portage
Part of the Association of the Most Beautiful Villages of Quebec
Rivière-du-Loup Regional County Municipality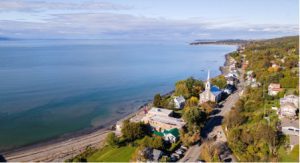 Right next to the St. Lawrence River, this town is filled with beaches and shores for kilometres, while being home to the only saltwater pool in all of Québec. The Parc De l'Anse Du Portage is brimming nature from the Charlevoix massifs to the Île aux Lièvres and the Pèlerin Islands. If you were seeking something more artistic, Notre-Dame-du-Portage has plenty of local artists, singers and sunset concerts for you to enjoy. These artists are usually found in the Portage, the Concerts du couchant, the Literary Camp Félix, the Bonheur & Portage or in the workshop boutiques. From sea shanties to classical music, every type of melody is available with the most spectacular backdrop. People have said that the setting sun behind the Charlevoix mountains creates a lovely golden bridge that connects the two bodies of water together. The relaxing ambience really makes all the difference when you're travelling and this town is sure to take your breath away!
#3
Saint-Pacôme
Detective Novel Capital of Quebec
Kamouraska Regional County Municipality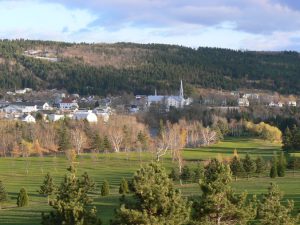 This town's rich history and location on the Rivière Ouelle make this town not only a stunner but there are so many activities for you to partake in. At the summit of the Belvedere de la Croix (or the Observatory Belvedere), there is a panoramic view of the entire area, and there are places to go skiing, golfing, hiking and salmon fishing. They also offer a heritage circuit with explanatory panels and rich architectural history. The reason that this town is known as the Detective Novel Capital of Quebec is because of the Société du Roman Detective that awards the Prix Saint-Pacôme, a prestigious prize that goes to the most distinguished crime novel. For those high viewpoints, you should definitely not forget the Circuit Fil Rouge Saint-Pacome or the Belvedere de la Croix as they are known for their landscapes and vantage points. This is a great town that is sure to have everything you need, so start packing your bags.
#4
Rimouski
Home of the Second Tallest Lighthouse in Canada
Bas-Saint-Laurent region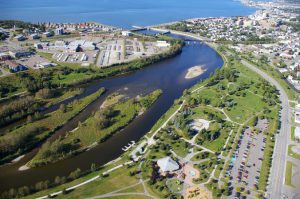 Rimouski has everything that you need from city life with plenty of entertainment to outdoor options such as hiking and boating. It has the highest suspension footbridge in Québec, Canyon des Portes de l'Enfer, so you can venture down these daunting trails and tell your friends and family of your feats. There are also gorgeous national parks and blooming gardens that are perfect for pictures such as the Parc National du Bic or the Parc Beauséjour. If you prefer something more indoors, however, Rimouski has Canada's first publicly accessible submarine, the Onondaga Submarine, or La Corporation du Musée Régional de Rimouski Inc. The Tide Tower in downtown offers visitors the chance to view the rising and falling tides in real-time. Closeby is also Saint-Barnabé Island, which has marinas and the chance to see seals, herons and even more wildlife. Don't forget to add this fantastic town to your list!
#5
Métis-sur-Mer
Member of the Association of the Most Beautiful Villages of Quebec
La Mitis Regional County Municipality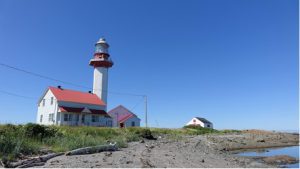 This amazing town, Métis-sur-Mer, has some of the most breathtaking gardens in Quebec. Namely, the Reford Gardens has almost 3000 different specifics of flowers and exhibitions of various artists throughout the beds. The Amis des Jardins collection tells the tale of how these gardens came to be and what exactly it took to turn dreams into fruition. The Phare De Pointe Mitis, a grand lighthouse, is also an exciting place to visit, as well as the four chapels: the Presbyterian Church, the United Church, the Methodist Church, and the Anglican Summer Church, all well over 100 years old. The Club de Golf Boule Rock is a great golf course if you want to practice your swing and the Pont couvert Bélanger is an interesting covered bridge built over a quaint river that is worth checking out. Métis-sur-Mer is surely a fun place to visit if you ever find yourself in the area.
#6
Saint-Irénée
Beautiful Scenery of the Saint-Lawrence River
Capitale-Nationale region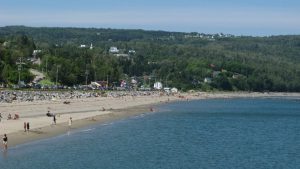 Known for its coasts, Saint-Irénée has a fantastic view of the famous Saint-Lawrence River. Sit down for a picnic along the tranquil Plage de St-Irenee, or ride along the Les Écuries Entre Monts Et Marées, an equestrian trail if you want to spend time outdoors. They have sea-kayaking opportunities where you will get to see Ruisseau Jureux, Anse au Sac and Cap aux Oies. This town also has some of the most beautiful churches and cathedrals such as the Église de Saint-Irénée built in 1912, as well as cultural centres and galleries, such as Les Ateliers DeBlois. Throughout the year they have cultural festivals that are abundant in singers and entertainers. For example, the Festival international du Domaine Forget de Charlevoix puts on concerts by dancers and musicians from the Domaine Forget Summer Academy where attendees can support these budding talents. Saint-Irénée really is a blast!
#7
Trois-Rivieres
North America's second-oldest French-speaking city
Mauricie administrative region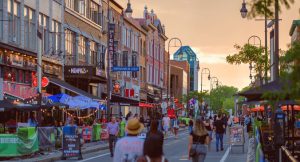 Trois-Rivières is a harbour city rich in history and culture. It has so many engaging museums such as the Boréalis, a heritage museum about the paper mill industry, the Musee Des Ursulines, a place to remember the Ursulines of Quebec, the Manoir Boucher de Niverville, a 17th-century French colonial manor, and literally so many more. You can learn about the military, gaze at art pieces and travel back into the past in just a few steps. Downtown Trois-Rivières is a spectacle in itself with the bustling people, twinkling lights, bars with superb microbreweries and performance halls. But don't forget to grab a bite to eat at one of the many delicious restaurants and seek out the fountain in Place Pierre-Boucher which puts on quite a light show. Interestingly enough, you will also find the gardens of the Notre-Dame-du-Cap Sanctuary, which has a basilica and a 300-year-old chapel nearby. There is just so much to see and do in Trois- Rivieres that you might need to plan a trip here for multiple days.
#8
La Malbaie
Cradle of resort vacationing in Canada
Charlevoix-Est Regional County Municipality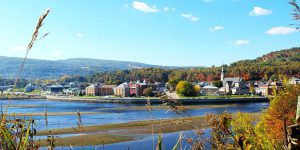 This fun town is great for anyone who likes to be on the move in style. It is home to spectacular scenery visible from whale-watching cruises or the 6 km cycling path by the St. Lawrence River. The resort villages Cap-à-l'Aigle and Pointe-au-Pic are great for weekend getaways and you can even try your luck at the Casino de Charlevoix which is next to the Fairmont Le Manoir Richelieu. Closeby is the Charlevoix Museum to look at popular art and new exhibitions and throughout, they have cinemas, bars and billiards if you're looking for a night out. There are also several interpretation centres such as the Ecological Center of Port-Au-Saumon, the Cauchon Forge-Joinery, the Riverin Memory Space and plenty of others that are worth visiting. Definitely head over here if you want to spend a relaxing time in the spas or walk through some fantastic gardens.
#9
Îles-de-la-Madeleine
Over 300 km of Whitesand Beaches
Gaspésie–Îles-de-la-Madeleine region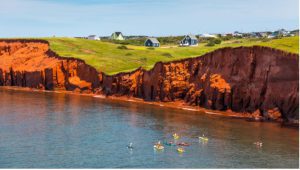 These islands are majestic and perfect for any nature lover. There is a wide range of activities to try out depending on the season, but if you're there for the summer, be sure to try horseback riding, canoeing, boating and even wind sports. The lagoons provide the ideal opportunity to try out sailing for the first time, however, there are harsher seas for the experts as well! They also have the most gorgeous white sand beaches and sandstone cliffs. In the winter, the ice makes it great for sliding and spotting nautical wildlife (even harp seal pups) in their natural habitat! The Îles-de-la-Madeleine's culture is strongly influenced by Acadia, as sighted in their music, traditions and dialects. That being said, there are galleries and exhibits showcasing its history and artistic heritage. Back in 2015, this town won the Best Strategy for Creative Tourism Development award as part of the Creative Tourism Awards which speaks to its ability to draw in tourists with their innovative strategies and imaginative ventures.
#10
Piopolis
Coeur villageois
Le Granit Regional County Municipality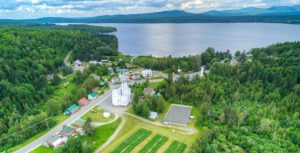 This town really has it all, from hiking trails to music festivals and more. If you enjoy nature, explore the forests and the river in the Parc National du Mont-Mégantic which has 30 km trails, and stargaze through the ASTROlab in February and March. However, if you're a fan of the arts, Piopolis hosts the Saint-Zénon-de-Piopolis festival which features classical music in the village's church. In terms of food and beverages, this town has the most amazing beers, specifically at the 11 Comtés brewery, as well as delicatessen meats like sausages, terrines, pancetta, and hams. The Centre Equestre Le Vent du Sud is a great place to go for a horseback ride and view the sights. Especially in the fall, when the leaves change colour, this town is a sight to behold. Because of its small size, you're able to walk through the whole thing daily quickly and get the chance to see all the eclectic boutiques and snack shops!