Brigadier-General Paul Triquet was a Canadian recipient of the Victoria Cross, the highest award for valour "in the face of the enemy".
Died in 1980 in Quebec City, Quebec
Paul Triquet was 33 years old, and a captain in the Royal 22e Régiment, Canadian Army, Royal Canadian Infantry Corps during the Second World War.
On December 14, 1943, Captain Triquet's company, augmented by an Ontario Tank Regiment squadron, fiercely assaulted the fortified Casa Berardi. Enemy resistance cut them off from the rest of the regiment.
Triquet rallied his men by saying,

"The enemy is before us, behind us, and on our flanks; the only safe place is the target."
With only fifteen men and three tanks remaining, he continued to advance. By the time the regiment finally sent reinforcements the next day, Triquet's group had repelled numerous counter-attacks. Triquet's sense of duty and leadership earned him the Victoria Cross.
Radio CBC, March 26, 1944. Interviews with Paul Triquet after Casa Berardi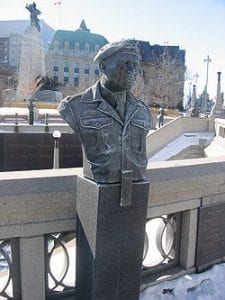 Statue of Paul Triquet in Ottawa
---
Cabano is a former city in Témiscouata Regional County Municipality within the Bas-Saint-Laurent region of Quebec. It is situated on Lake Témiscouata.
On May 9, 1950, a fire destroyed a large part of the city.
On May 5, 2010 it merged with Notre-Dame-du-Lac to form the new city of Témiscouata-sur-le-Lac.