In 2002, Canadian puller Greg Boyes won the right-hand super heavyweight title at the WAF World Championships. 
His hometown of Burk's Falls, Ontario, was so impressed with his achievement that a statue was erected in his honour! How cool is that!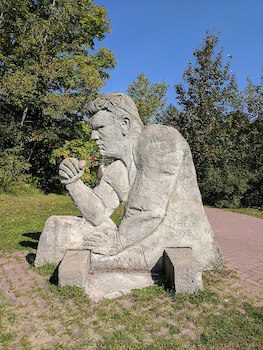 Boyes was born in 1974 and raised here. Upon graduation from Carleton University, he returned to Burk's Falls to work in the family business, Ted Boyes & Sons Construction Ltd. 
He and his wife reside in the village.
Photos: Vlad Umnov; Eric Lanning, CC-BY-SA-4.0