NHL star "Jumbo" Joe Thornton was born in London ON in 1979. He is the 2nd oldest current NHL player at 41 years old.
Joe grew up in the small community of Lynhurst, Ont., just outside of St. Thomas. He played minor hockey for the St. Thomas Travellers.
Joe was selected 1st overall by the Boston Bruins in the 1997 NHL Entry Draft. He went on to play seven seasons with the club, three of them being named the team's captain. He was then traded to San Jose in the 2005-2006 season splitting his campaign between the two teams. That year he received the Art Ross and the Hart Memorial Trophy making him the only player in NHL history to win them while switching clubs in his winning campaign. He went on to play 14 seasons with the Sharks with 4 of them as team captain.
He has now returned back to Canada currently playing on the Toronto Maple Leafs looking to win his first Stanley Cup. Joe was also a part of the Gold Medal Winning Team Canada club in the 2010 Vancouver Olympics.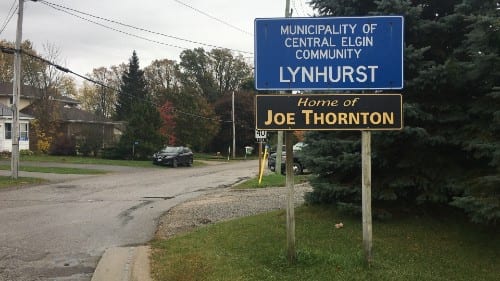 Thornton's parents Wayne and Mary still live in Lynhurst on Crescent Avenue.
Photo: mark6mauno, CC BY-SA 2.0