From St. George, Ontario
Adelaide Hoodless, the née Addie Hunter, was an educational reformer who founded the Women's Institute.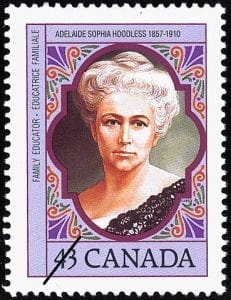 Born in 1857 in St. George, Canada West (now Ontario)

Died in 1910 in Toronto, Ontario
Adelaide Hoodless was jolted out of a comfortable middle-class life when an infant son died in 1889 after drinking impure milk. After her son's death, Adelaide's public life began. She wanted to ensure that women had the knowledge to prevent deaths like those. Adelaide campaigned for Domestic Science (home economics) in the schools.
In 1897, the Minister of Education asked Adelaide to write a textbook for Domestic Science courses. This became known as the 'Little Red Book'.
In 1897, she founded the first Women's Institute (Stoney Creek, Ontario); within a few years, this movement spread across Canada and around the world.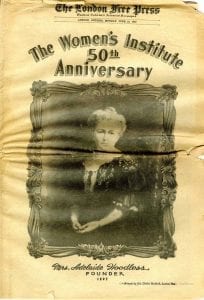 Working with Lady Aberdeen, she helped found the National Council of Women, Victorian Order of Nurses and the national Young Women's Christian Association (YWCA).
Hoodless believed women's natural destiny lay in the home, and she never supported the suffragette cause.
St. George, Paris and Burford are served by the county of Brant, Ontario. Reminiscent of a small, British village, St. George's downtown core offers antiques, coffee shops and one-of-a-kind collectibles.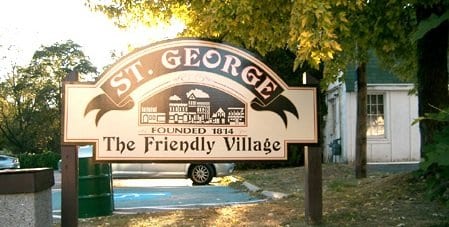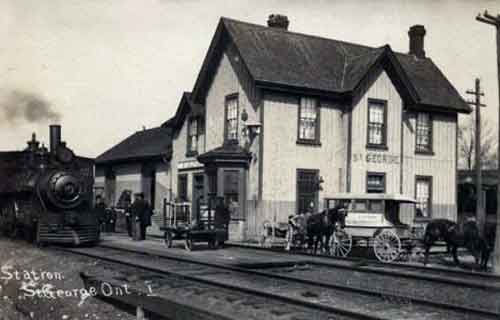 Traditional English fare is available at the local pub or an authentic tearoom. Several other local eateries provide a selection of great food that consistently pleases the palate of those that dine in the quaint, picturesque downtown.
Adelaide Hunter Hoodless Homestead is the birthplace of the co-founder of the Women's Institute Movement.
The "Marquee" Event, St. George AppleFest, is held annually on the 3rd weekend of September and turns the entire town into a magical place for all things apple!
A special Santa Claus Parade in honour of 7-year-old Evan Leversage, who battled with brain cancer for 5 years. St. George, October 2015, Rogers TV