Willowbank is best known for the impressive Greek Revival mansion designed and built in 1834 for Alexander Hamilton, sheriff of the Niagara District, by John Latshaw. Alexander Hamilton was the third son of the Honourable Robert Hamilton, one of the founders of Upper Canada.
This National Historic Site of Canada is a gracious treed estate with a large three-and-a-half-storey temple-fronted mansion. Willowbank is named after magnificent willow trees that once graced its grounds.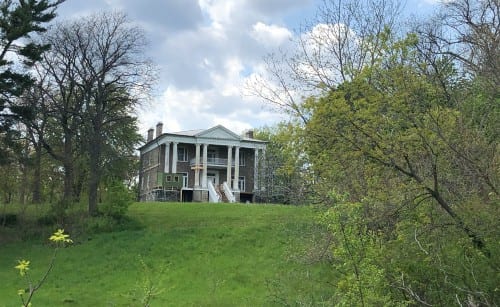 Sited on a height of land overlooking the Niagara River, the mansion is the centrepiece of wooded, five-hectare property at the north end of the village of Queenston.
Exactly one hundred years later in 1934, the Bright Family—pioneers in both wine and orchard industries—purchased the property just as the Niagara Parkway was being completed.
Now Willowbank is owned and operated by the Willowbank School of Restoration Arts. The school is dedicated to the teaching of all arts and skills related to the restoration of built heritage.
Willowbank is open to the public for tours through the summer months and from September to May by appointment.
The Willowbank graveyard is one of the most interesting parts of the Willowbank property. It is on a small plot of land located northwest of the mansion itself and is surrounded by a low stone wall and trees. The only people buried at the Willowbank graveyard who were not a part of the extended Hamilton family are Maj.-Gen. Sir Isaac Brock and his adjutant John Macdonell.