#1000towns choice
By Scott Opichal | University of Alberta
Photo: Dietmar Rabich, CC BY-SA 4.0, https://commons.wikimedia.org/w/index.php?curid=121220913
#1
Prince Albert, Saskatchewan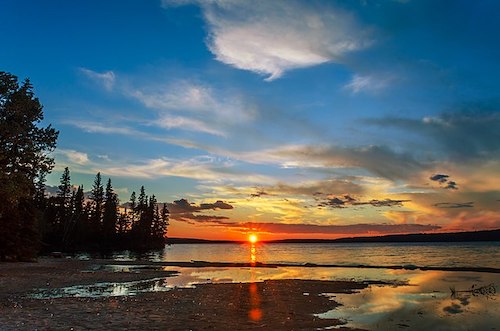 Prince Albert National Park in central Saskatchewan embraces a million acres of wilderness, seven rivers, and 1,500 lakes. The landscape represents the transition from aspen parkland to northern boreal forest and teems with wildlife. Unique to the park is a free-ranging bison herd estimated to be about 270 animals. If they stay in the park, their only predators are wolves.
Often spotted on the banks of the Sturgeon River, the giant bison are protected and managed in the park but have the freedom to roam as they wish. Prince Albert National Park is also famous for its abundance of lakes, including Waskesiu, Kingsmere, and Crean Lake, which provide a wonderful sanctuary for the park's 195 species of birds. Although summer is a popular time to visit the park, fall is beautiful and quiet. As a result, visitor numbers dramatically fall, and autumnal colours sweep throughout the park. Other animals to enjoy here include elk, red fox, coyote, beaver, otter, moose, deer, and wolf.
Photo: Viktor Birkus – Own work, CC BY-SA 4.0
#2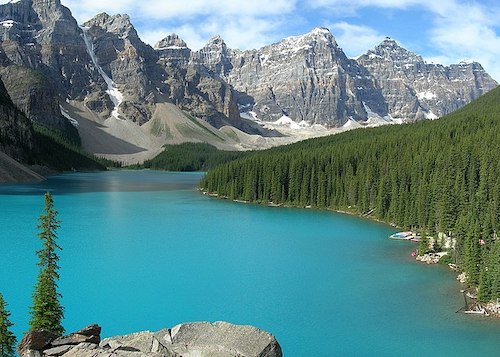 Established in 1885, Banff in Alberta was Canada's first national park and is a wonderful place to view Canada's diverse wildlife.
The park's alpine forest and tundra terrain allow grizzly bears, moose, caribou, bighorn sheep, and mountain goat to roam the landscape freely. For your best chance to spot a grizzly bear, drive to the Icefields and Bow Valley Parkway, a popular place for these wonderful creatures to inhabit. Caribou and moose can be easily seen grazing on the rolling plains. In contrast, mountain goats and bighorn sheep can be spotted on the slopes of Mount Fairview and the Plain of Six Glaciers.
Photo: Tobias Alt, Tobi 87 – Own work, CC BY-SA 4.0
#3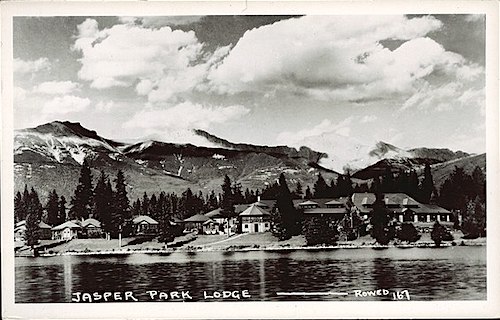 Jasper National Park, situated in Jasper, is home to caribou, elk, moose, mountain goats, bighorn sheep, bears, and wolves. We also have a variety of birds and many smaller creatures like marmots and pikas. The best times to see wildlife are spring and fall.
Photo:https://www.pc.gc.ca/en/pn-np/ab/jasper/activ/activ-experience/faune wildlife
It's common to see bighorn sheep and mountain goats, plus deer and elk. The wildlife in Jasper is abundant thanks to the town's location in the largest inhabitable valley in the Canadian Rockies.
Photo: Jasper Park Lodge 1947, Rowed: Photographer – University of Alberta Library Prairie Postcard Collection – https://archive.org/details/PC008151, Public Domain
#4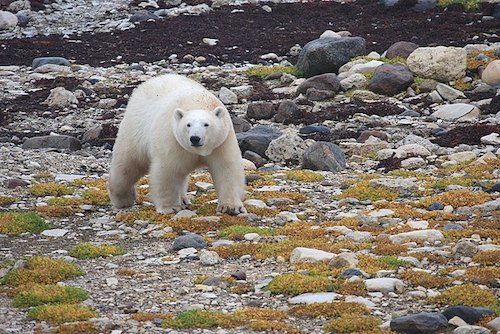 Churchill is known as the polar bear capital of the world!
During the autumn, many polar bears migrate to the shore to feed, allowing visitors to come face-to-face with these powerful creatures in their natural habitat. Take a tundra vehicle tour over the snowy and icy terrain and follow the bears as they gather along the shores of Hudson Bay. After winter, as the ice melts away and waters start to warm, thousands of Beluga whales inhabit the Churchill River. Take a kayak or boat trip to see these beautiful animals nicknamed 'sea canaries' due to their strange high-pitched whistles and underwater chirping. Churchill is also renowned for being a great place to witness the colourful phenomenon – the Northern Lights!
Photo: TravelingOtter from Houston, Texas, USA – Polar Bear – Churchill, Manitoba, CC BY 2.0
#5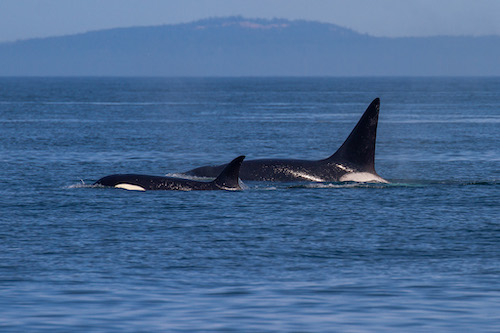 Sidney is a picturesque and quaint town and one of Canada's prime whale-watching destinations.
Situated on the Salish Sea, killer whales are abundant in the region. They can often be seen breaching from Sidney's waterfront. However, for a more reliable chance of seeing these majestic creatures in the wild, take a whale-watching boat trip from the town, all offering incredibly high stakes of sighting whales. Other mammals that frequent Sidney's waterfront include seals, porpoises, and river otters. It is also the gateway to the southern Gulf Islands National Park Reserve, which offers ample opportunity to view wildlife, kayak through the waterways, and birdwatch.
Photo: https://www.facebook.com/SidneyWhaleWatching
#6  
Whitney, Ontario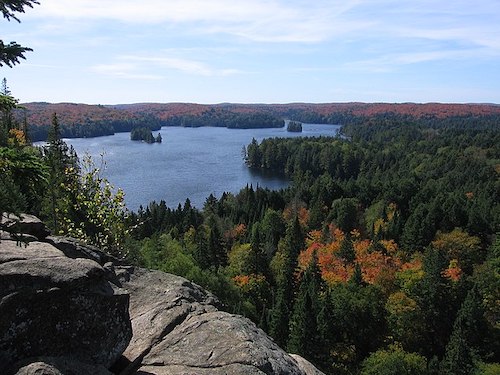 Algonquin Provincial Park in Whitney is a vast area of gleaming lakes, maple hills, and rocky ridges. It is home to one of Canada's largest mammals – the elusive Algonquin moose.
One of the easiest places to spot these huge animals is on the roadside along the Highway 60 corridor with white-tailed deer. However, if you want to spot a moose in its natural habitat, it's a little harder. How about taking a sunrise canoe on a deserted lake? Or a gentle hike through the rolling hills at the crack of dawn? Alternatively, the Beaver Pond Trail offers excellent views of two large beaver ponds; you may also see wolves, chipmunks, and black bears elsewhere in the park.
Photo: Original uploader was Ptrbnsn at en.wikipedia – Transferred from en.wikipedia, CC BY-SA 3.0
#7
Val Marie, Saskatchewan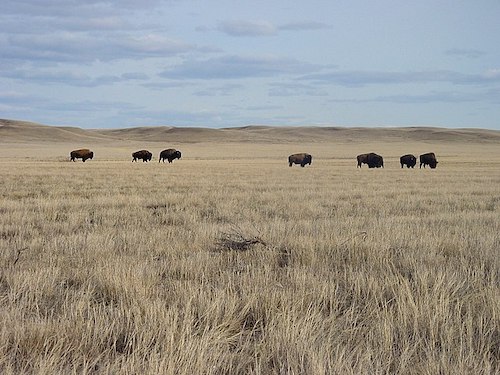 In south Saskatchewan, you'll find Grasslands National Park. It is 907 square kilometres, situated north of Montana, adjacent to the border.
It is best known for being the only place in the country that houses the comical black-tailed prairie dog. They are fascinating to watch, and if you stay in your car, they go about their business as usual. Other rare and endangered faunas include pronghorns, greater sage-grouses, burrowing owls, and swift foxes.
Photo: 1brettsnyder – Own work, Public Domain
#8  
Kitimat-Stikine, British Columbia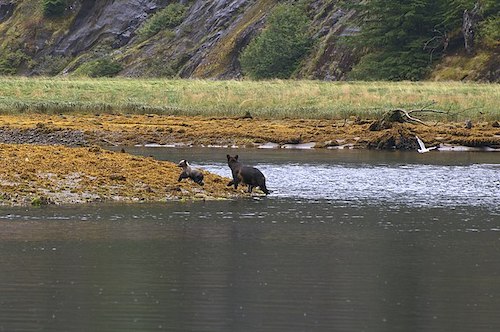 Glacial fjords, ancient cedars, and the elusive spirit bear to wait in British Columbia's mighty Great Bear Rainforest. Comprising 6.4 million hectares, this sprawling region is located on the Pacific Coast of British Columbia. It makes up the world's largest coastal temperate rainforest.
Untamed and relatively undisturbed, the Great Bear Rainforest is home to grizzly bears, black bears, and the mysterious Kermode bear, locally known as the Spirit bear. This rare subspecies of the American black bear has a unique cream-coloured coat, with your best chances of seeing these majestic creatures in the wild during September and October. Cougars, wolves, and salmon also thrive in this region, making it an excellent place for wildlife viewing. The rainforest also harbours giant trees, including a 90-meter Sitka spruce and thousand-year-old western red cedars.
Photo: Jack Borno, CC BY-SA 3.0
#9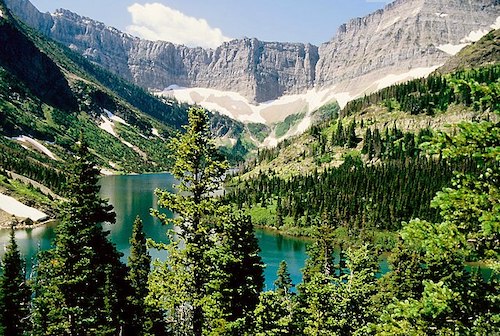 Alberta's prairies meet the Rocky Mountains peaks in Waterton Lakes National Park. Clear lakes, thundering waterfalls, rainbow-coloured streams, colourful rocks, and mountain vistas await hikers and sightseers.
With an exceptional diversity of wildlife and wildflowers and a cozy little waterfront town to serve as a home base, Waterton packs a big natural punch into a relatively small and accessible area. Many wildlife can be observed here, including wolverines, bighorn sheep, bald eagles, deer, mountain goats, elks, mooses, foxes, and bears.
Photo: LBM1948 – Own work, CC BY-SA 4.0
#10  
Queen Charlotte, British Columbia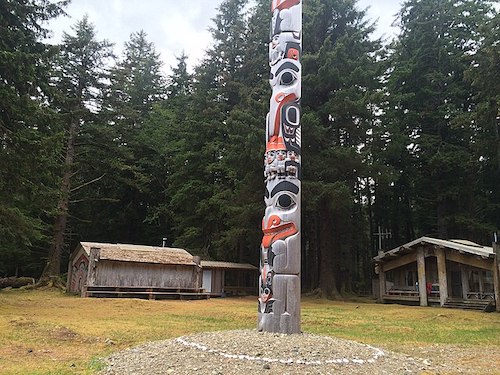 Gwaii Haanas National Park is on the southern tip of Haida Gwaii, a group of islands about 130 kilometres (81 miles) off the coast of British Columbia. Keep an eye open for wildlife while you're up here. You never know what might come along!
Towering moss-draped cedars and spruce exist in the lush rainforest islands of this park. Bears hunt for salmon, and the ocean bustles with porpoises, sea lions, and whales, as this is a primary feeding ground for the humpback species.
Photo: Christine Rondeau from Vancouver, Canada – Gwaii Haanas National Park, CC BY 2.0