#1000towns choice
By Kaitlyn Hui
Explore Canada by horseback while experiencing the beauty of nature. Meet new friends that share your passion for the great outdoors, adventure, and love of horses. Don't be worried if you're a novice or a seasoned equestrian, horseback riding is a refreshing new way to discover our nation's past-time. This pastime will increase your muscle and core strength, boost your mood, and induce healthy cardiovascular circulation. There are many benefits, both mental and physical, that will definitely make you want to continue after you begin. With the right lessons, you will be sure to have a great time!
There are no excuses, as we at #1000towns have composed a short list of great places to go horseback riding to help you start creating multi-generational memories. Strap on your boots, grab your camera, and let's venture out!
Photo: Unknown author – University of Alberta Library Prairie Postcard Collection – https://archive.org/details/PC021195, Public Domain
#1
Plain of Six Glaciers Trail
Brilliant blue-green water from the "rock flour" silt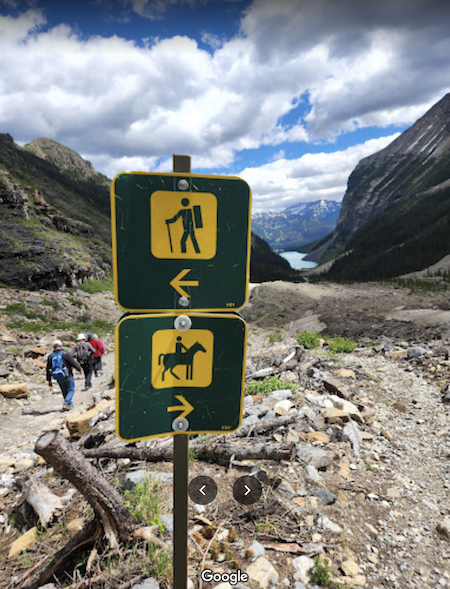 This moderately challenging route near Lake Louise, Alberta takes around 4 hours and 30 minutes to complete.
The trail is open year-round for hikers, bird watchers, horseback riders and people who just enjoy the scenic attractions. There are plenty of amazing views that you can see from atop your horse, so it is quite popular with tourists and locals.
Be warned that there are seasonal road closures, so be sure to go when the time is just right.
Photo: Google Maps, Marc André Van Winden
#2
Quaite Creek Trail
9.8-mile out-and-back exploration near Lac des Arcs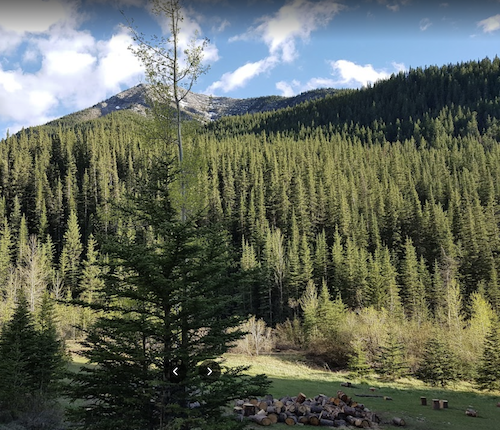 This popular trail is next to Jewel Pass in Canmore. It is 3.65 kilometres but is split into several paths.
Through lush greenery and a nestled creek, you'll be able to enjoy everyone's company with its wide roads. You'll need a pass, so be sure to purchase that beforehand. You can also stop for a lunch break and soak in the wonder before heading back.
Luckily, there is plenty of shade if you're going on a hot day, and the path is well-maintained. 
Photo: Google Maps, Canadian Rocky
#3
Club équestre de Mirabel
Mirabel, Quebec
Bonfire nights, summer picnics and more!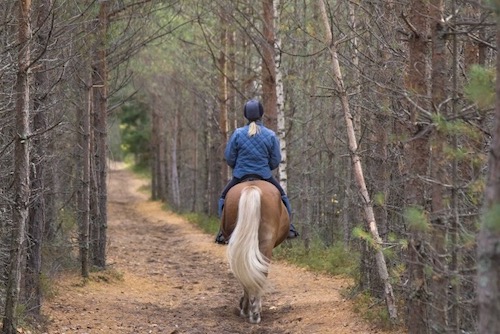 Club équestre de Mirabel has been a staple in Quebec for quite some time, known for its discovery hikes and explorations. They also host some night parties for those who are interested. With amazing facilities for your horses, you can practice horseback riding with style, knowing that the animals are being well taken care of.
Along the way, there are numerous exciting trails with fantastic views that will for sure blow you away.
Photo: https://www.clubequestredemirabel.org/
#4
Mont Tremblant Horseback Riding
Mont-Tremblant, Quebec
Explore the heart of the Laurentian forest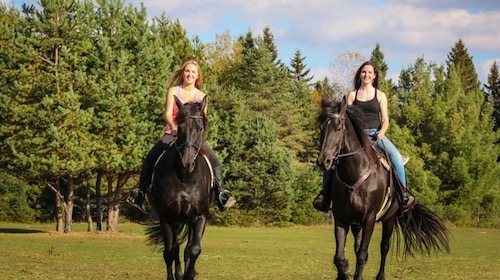 You should definitely come here if you want to discover the Laurentian's backcountry.
You can ride through scenic pastures before heading up the mountain, and if you're lucky enough, you might see some bison along the way. This is the perfect destination for families to escape for just a little rest and rejuvenation from the city.
Photo: https://www.tremblant.ca/things-to-do/activities/horseback-riding 
#5
Chilcotin Mountains
Pavilion, British Columbia
Covers 0.74 million hectares of the province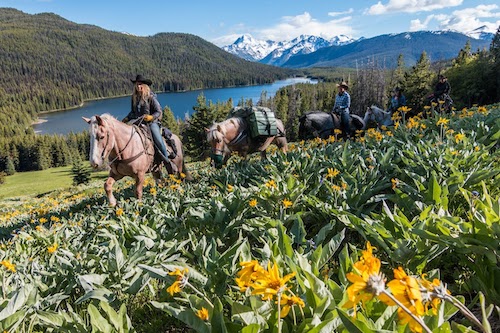 Immerse yourself in the stunning wilderness as you delve into this land's rich riding experiences by coming to the Chilcotin Mountains. You'll be gazing at the stretch of the Pacific Coast Mountains and the emerald waters of Chilko.
Once you make it to the top, you'll be amazed by the endless panoramic view, which is amazing for photos to preserve your memories. 
Photo: https://www.chilcotinholidays.com/
#6
Sturgeon River Ranch
Sturgeon River, Saskatchewan
You might even spot a wild bison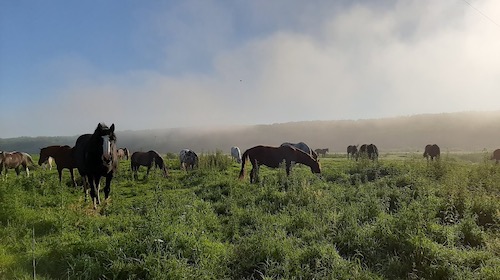 For a unique experience in Saskatchewan, plan a trip to this 940-acre gem. You can even learn to groom your horse as you ride over to Prince Albert National Park. There you will see Canada's only free-ranging herd of Plains bison and deer.
You will also have the opportunity to catch your own fish for supper by the campfire. This is a must-Canadian backcountry experience to put on your bucket list!
Photo: Sturgeon River Ranch
#7
Spirit Reins Ranch
15 acres of pastureland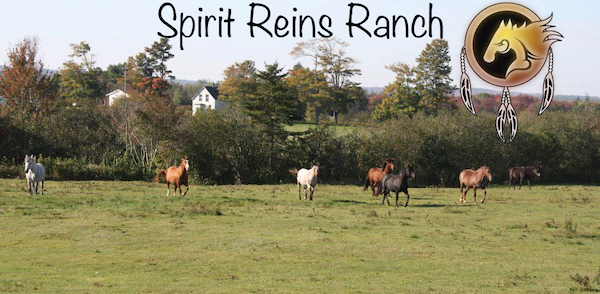 A small farm outside picturesque Parrsboro, Nova Scotia. They offer a multitude of trail rides: picnic rides, fossil tours and beach rides to the bottom of the Bay of Fundy. Sometimes, there are even competitions and shows you can watch with your family.
However, if you want to try out riding yourself, they personalized service for novices as they take you out to the Bay of Fundy Beach. There are lots to discover as you ride along under the night stars.
Photo: http://spiritreinsranch.com/
#8
Skimikin Lake
Tappen, British Columbia 
Embrace the summer sun with over 100km trails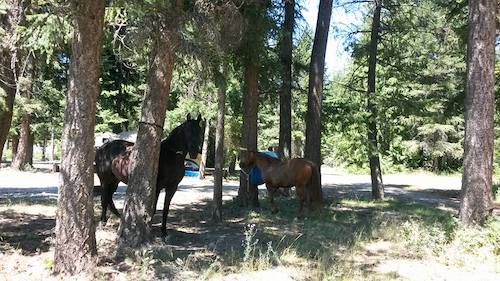 This all-year-round recreation site is perfect for all adventurers, especially horseback riders. There is over 100 km of marked trails that wind around the lake to the beaches and cascade the surrounding mountainsides, so this is a must for any avid explorer.
There is even plenty of wildlife, from birds to even turtles. Pack your bags, bring a lunch, and enjoy a fun-filled day on the trails.
Photo: https://www.facebook.com/profile.php?id=100071747121376
#9
HorsePlay Niagara
Port Colborne, Ontario
90-minute tours to explore the nature around you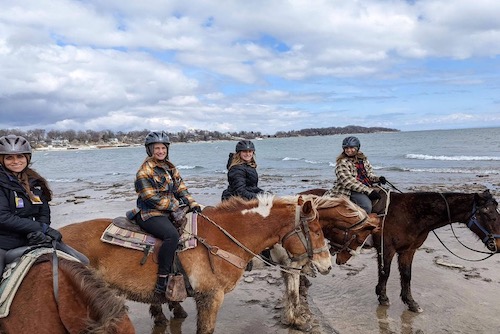 You need to visit HorsePlay Niagara offering some of the best horseback riding along Niagara. Remember to bring your camera, as the sunset here is ideal for any picture. There are various packages to meet your equine needs, so be ready to be transported into another realm.
Photo: https://www.horseplayniagara.com/articles-about-us/ 
#10
Niagara Riding Stables
Ride through the peaceful Niagara woods for an adventure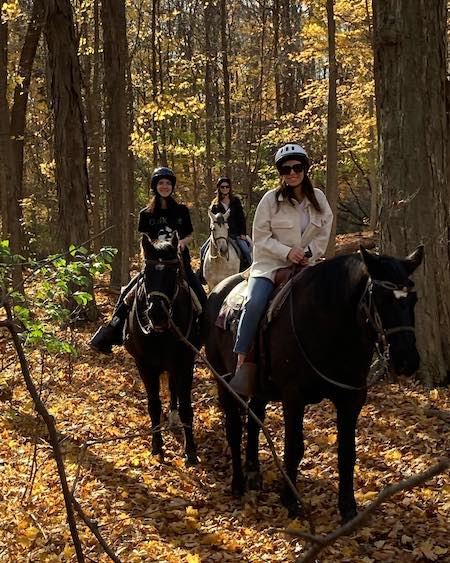 What better way to ride along the Niagara escarpment than through wine country? The trails are exceptionally beautiful during spring when you trot through the flower meadows.
As you meander through the natural woods, you'll be amazed by the calmness and serenity that overcomes you. Their horses are suitable for all levels of mastery, so no experience is necessary.
Photo: https://www.facebook.com/profile.php?id=100063350582087