As more of you are getting vaccinated by the day, it's time to pack your bags and visit all the top 5 golf courses this season.
If you're a traveller and have a passion for golf, you've come to the right place. For too long we've been stuck in lockdowns and restricted travel between provinces. Watching golf on TV may be fun but can we get golfing in person soon?!
As various parts of Canada start opening, you better have your must-visit golf course list ready to book. I can assure you other golfers have probably already gotten a headstart on that. I mean you got to brush up on those rusty skills and what better way to do it than while exploring Canada.
Our country is known to have such amazing courses and some with breathtaking views! Imagine teeing it up with your buddies or even golfing solo and enjoying the warm sun and some beers. Now that's something to look forward to!
Recently, Golf Digest released a survey conducted with 1,900 well-travelled amateur golfers and mentioned below are some of their scores. The scores of the courses are on the following criteria: Shot Options, Challenge, Layout Variety, Distinctiveness, Aesthetics, Conditioning and Character. All the courses mentioned on this list are open to the public to visit. Here are the top 5 golf courses you must visit in Canada.
#1
Cabot Cliffs
Inverness NS
It's about 2,400 miles from Nova Scotia to Old Scotia, a distance that melts away as you drive down Central Avenue in Inverness. Cabot Cliffs, ranked No. 1 on Golfweek's Best list of modern Canadian courses, is just a couple miles down the street from Cabot Links (another course) but in many aspects feels a world away. While Links is low-profile and subtle, Cliffs is quite the opposite.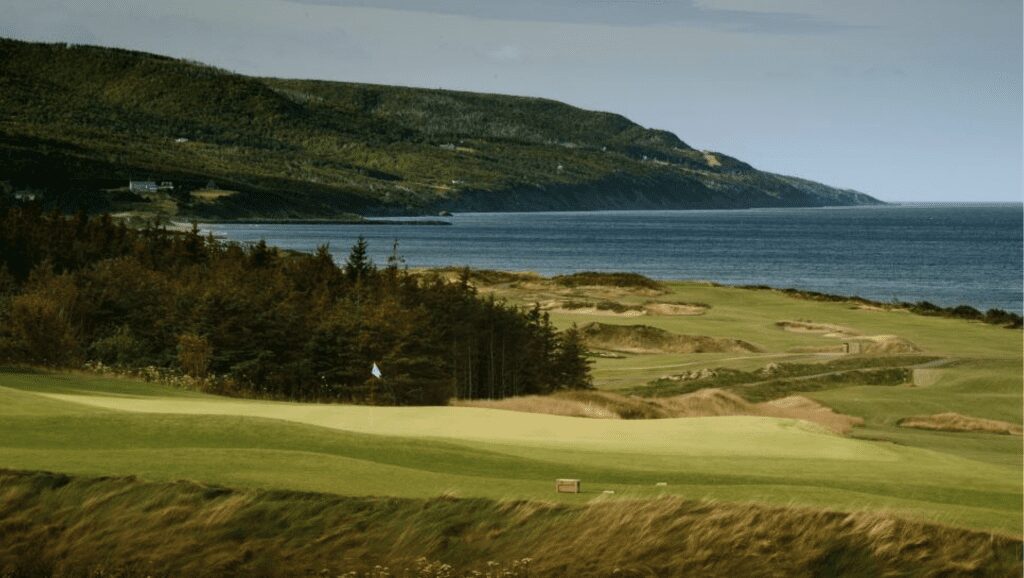 Photo by Bill Coore & Ben Crenshaw (2015)
#2
Fairmont Jasper Park Lodge G.C.
The Fairmont Jasper Park Lodge golf course, deep in the heart of the Canadian Rockies, is the setting of unforgettable memories for thousands of golfers since the course opened in 1925. That summer, after a gruelling year of planning and preparation (it had taken 50 teams of horses and 200 men to clear the land of boulders and debris). The Fairmont Jasper Park Lodge's award-winning golf course was ready to play.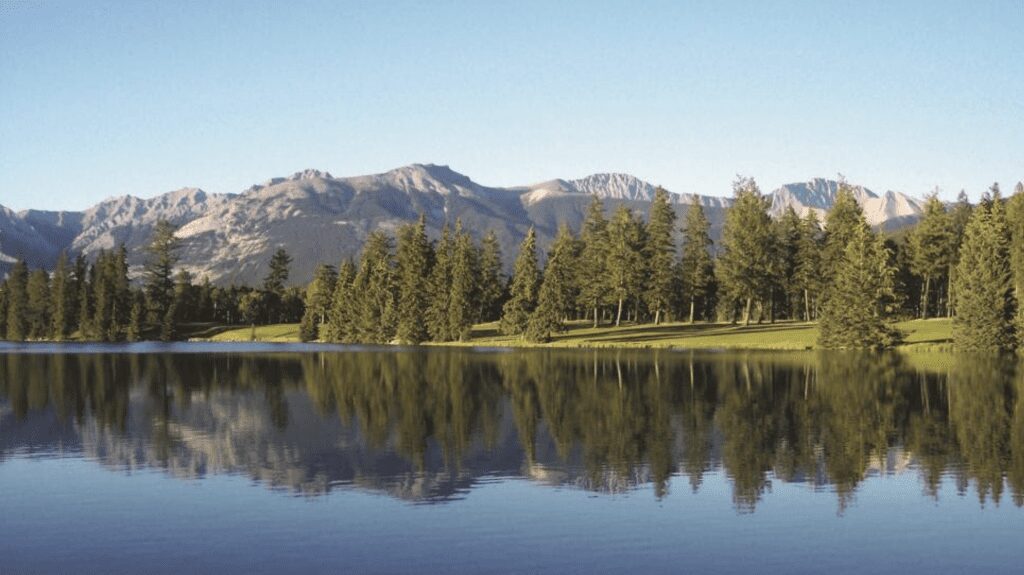 Photo by Stanley Thompson (1925)
#3
Tobiano G. Cse.
Kamloops BC
Tobiano is situated in one of the most stunning, pristine and unaffected areas of the province. Capturing the essence of B.C.'s semi-arid desert climate, and panoramic vistas, here you will find some of the most remarkable landscapes in the province. You will find yourself surrounded by hues of red soil, grey-green sagebrush and a deep-blue lake.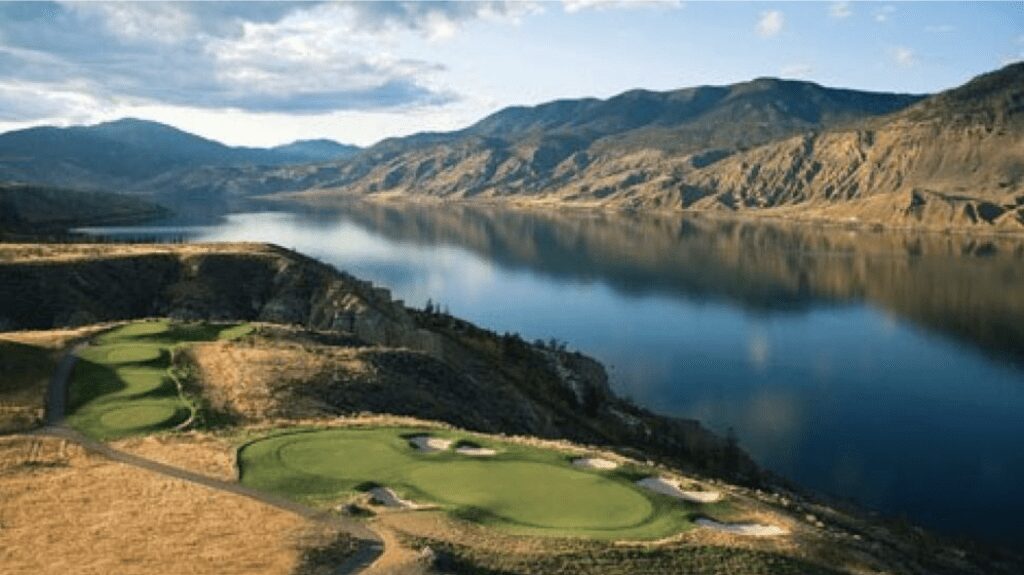 Photo by Thomas McBroom (2008)
#4
Muskoka Bay Club
Muskoka Bay Club sprawls across a majestic landscape of mature forests, lush valleys, and sparkling lakes but its beauty is defined by the dramatic rocky outcroppings throughout. Strolling through the 280 acres of scenic wilderness feels very much secluded, but the club is situated only minutes from the town of Gravenhurst and less than two hours from Toronto. The natural wetlands were carefully preserved and incorporated into the layout, creating challenging water hazards on several holes.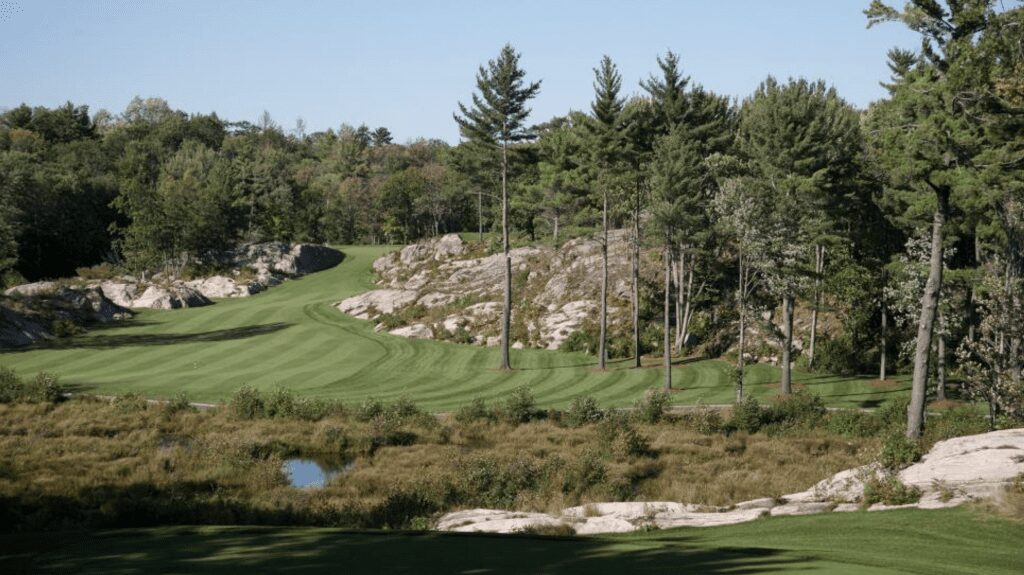 Photo by Doug Carrick (2007)
#5
The Links at Crowbush Cove
Morell PEI
The Links at Crowbush Cove is an 18-hole public course situated on what was formerly, "swampy campground" on the north coast of Prince Edward Island. Teeing off amid PEI's red cliffs and sweeping sandy beaches on the Atlantic is an experience like no other – especially when you cap off the day on the course by dining on some of the freshest seafood on the planet.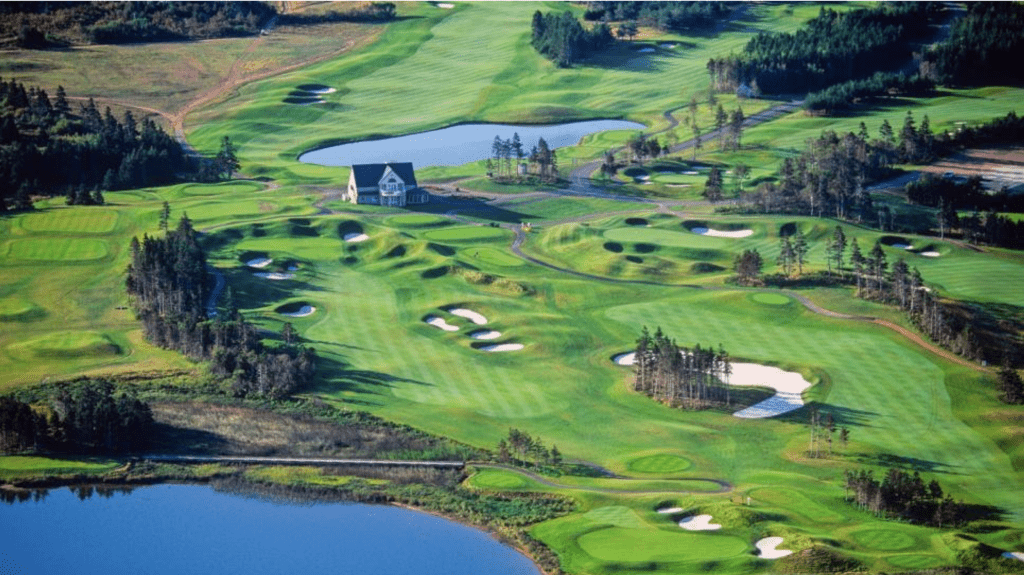 Photo by Thomas McBroom (1994)
Catch other key destinations to visit around the area by visiting the 1000 Towns of Canada's town section to see what else you can see around your area. Summer won't last forever so get your bags packed and get on that road trip you always wanted to do.
Blog post was written by Karen Mascarenhas