Built in 1917, the Beamsville School of Aerial Fighting and Gunnery was an important part of the war effort as a training site of the British Royal Flying Corps.
Known locally as the Aerodrome, the school was established to train WWI pilots. The camp was constructed on 282 acres of land on Sann Road, extending north from Road 8.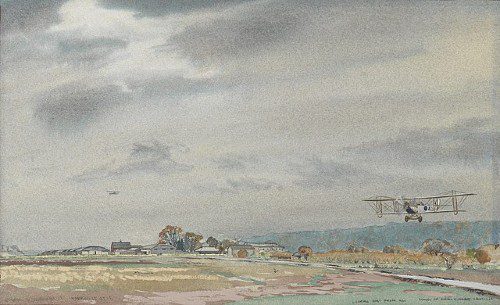 Pilots practiced flying over the orchards and gunnery targets were set up in Lake Ontario. The officer's mess was located in Senator Gibson's home on King Street, in what is now a dormitory at Great Lakes Christian College.
By late 1918, WWI had ended and the aerodrome was abandoned and forgotten. Only one building remains today.
Today a historical plaque at 4222 Sann Road marks the geographical centre of the 300-acre school property
Photo: John S. Bond; Frank Johnston-Looking East, School of Gunnery, Beamsville, CC BY-SA 4.0;