Trent-Severn Waterway Lock 21
The hydraulic lift lock at Lock 21 on the Trent-Severn Waterway was designated as a Historic Mechanical Engineering Landmark by the American Society of Mechanical Engineers in 1987.
It was for many decades, the largest hydraulic lift lock in the world, raising and lowering boats 65 ft. between the upper and lower canals. The lift lock was designed by Richard Birdsall Rogers, and its construction was completed in 1904. It was deemed a National Historic Site in 1979.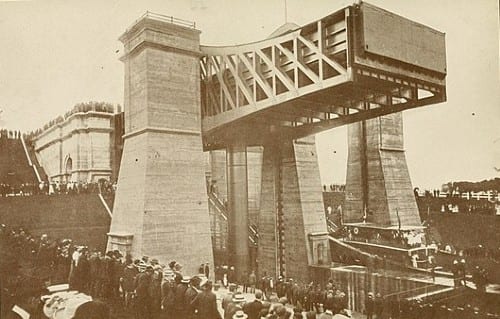 You can take a pleasure boat or canoe through the locks, moor overnight on the upper canal (two-night maximum stay), or simply take in the architectural mastery from the green space surrounding the canal. In the winter, join the many locals who skate on the lower canal.
Photos: thekawarthas.ca, americanaunivers03newy, Wikimedia Commons
Show More