The grain elevators were one of the crucial details of the Langdon landscape for dozens of years. Langdon used to be on the Canadian Pacific Railway mainline until it was shifted to run through Indus and Carseland on the present-day CP Brooks subdivision. There are no grain elevators here anymore.
We investigated where this place was.
Denise Marie McCann (Langdon, Alberta – The Good Luck Town Facebook group) suggested adding the place of the old elevators to the Langdon map:
"I remember playing by that far elevator as a kid. The other two were already gone, but that last one was still there. I remember the day they tore the last one down.
I know the elevator was across from us on the tracks and down a little way. We're on McCann Street."
Holly McKenna clarified the place:
"I also lived on McCann Street. It's not quite to scale, but this might give you an idea. It was an open field between Twnshp Rd 233B (used to be Railway Ave) and 1 Ave SE for years after the elevators came down."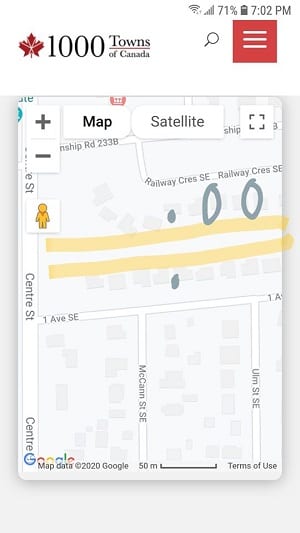 When you visit Langdon, I can go to the place to feel the old town's atmosphere.
P.S. Denise Marie McCann:
"Love it! Brings back some great childhood memories of living near the tracks and seeing the trains come and go. Ultimately the last elevator was torn down and the trains stopped rolling through and no there are houses where the track used to be, so this is a nice walk down memory lane. THANKS!"