What Makes Our Beer Special?
Premium Craft Beer. Born & Bred in the North. 
Lake of the Woods Brewing Company has brewery locations in Ontario, Manitoba and Minnesota. All three regions touch the shores of Lake of the Woods. This is where we work and play, it's our backyard. We are proud to be able to bring beer to everyone that has a connection to the place we call home. Located in a 109-year-old firehall in Kenora, the flagship brewery opened its doors in the summer of 2013. Since opening, we have brewed upwards of 100 different beer styles, many of those beers were inspired by local ingredients from wild rice to blueberries to spruce tips.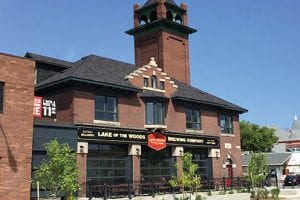 If you're ever in Kenora, this is a MUST for any craft beer lover… and be sure to stay for dinner as well. Great beer, reasonable prices and do yourself a favour and get an order of the cauliflower "wings" to start your meal, so good!

Jason Agnew
The food is always phenomenal, whatever you choose!! There are always new flavours of beer to test out, I love the seasonals (and their cute names)! The staff are always so nice, and super entertaining!! It's honestly just a great atmosphere to try something new, kick back with friends, and relax!

Randi
Time will change regularly depending on local health unit restrictions. Stay up to date on our website. 
Whether you're travelling through Kenora on the Trans Canada, heading out for a day/night on the town in Winnipeg or crossing the border to Warroad, we welcome you to pay us a visit and experience craft beer at its finest anytime!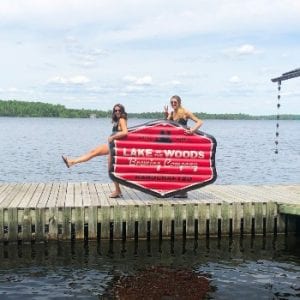 Upcoming events can be found here.
We're always feeling a little social! For more information, check us out on website, give us a like on Facebook or follow us on Instagram. 
It all started back in 1898 when entrepreneur Abraham Kingdon opened the doors to the original Lake of the Woods Brewing Company in downtown Kenora. The brewery closed for a period during prohibition but was soon re-opened by Stanley Drewery in 1927. Unable to compete with the emergence of large national breweries, the original brewery closed its doors in 1954. 
June 29th, 2013 marked the opening of Kenora's first brewery in 59 years. Local, fresh, handcrafted beer returned. Proud of Kenora's brewing heritage, Lake of the Woods Brewing Company uses the same simple ingredients used by the brewers of the past…fresh, Canadian Shield water, malt, yeast and hops. That's it.