Kinmount is notable for being one of the first sites of Icelandic settlement in Canada.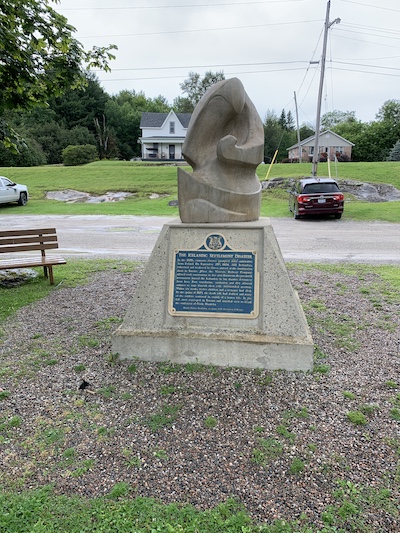 "In the 1870s, economic distress prompted mass emigration from Iceland. On September 25th, 1874, 352 Icelanders, exhausted and weakened by illness arrived at the emigration sheds in Toronto. When the Victoria Railway Company offered work constructing its line from near Kinmount, the provincial government housed the Icelanders in log shanties downriver from here. Poor ventilation, sanitation and diet allowed sickness to rage through their cold, over-crowded quarters. Within six weeks, twelve children and a teenager had died. By the spring of 1875, the death toll had doubled and many of the settlers scattered in search of a better life. In the fall, most regrouped in Toronto and travelled west to found the settlement of Gimli, Manitoba."
Ontario Provincial Plague
Additional plaques include this text in Icelandic and French.
A memorial paying tribute to these early settlers was erected there in 2000.
Photos: Vlad Umnov