John Peters Humphrey (1905-1995) was a legal scholar, and human rights advocate born in the town of Hampton. He is the main author of the first draft of the Universal Declaration of Human Rights. He taught law at McGill University in Montreal, was made an officer of the Order of Canada in 1974, and was a director at the United Nations' Division of Human Rights. He became involved in various human rights covenants in Canada to protect people's rights. Additionally, he was also a key member that helped launch Amnesty International in Canada.
He received various awards for his efforts and accomplishments, with the John Humphrey Freedom Award in his name being presented each year.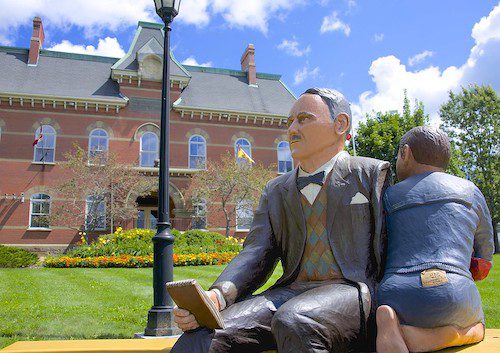 A memorial was built in his honour in 2008, found on the front lawn of the Hampton Town Hall a few hundred yards from the house where he originally grew up. His legacy has paved the way for many international movements on human rights, changing history.
Photo: Google Street View; Jamie McCaffrey, flickr, CC BY-NC 2.0