#1000towns choice
By Landon Kiltz
With the Summer months fast approaching and the nicer weather along with it, many Canadians will want to experience the Country's wonderful outdoors. Camping allows outdoor enthusiasts to enjoy cozy campfires and food, great hikes, canoeing or kayaking, and some unparalleled scenery. Staying out in the wilderness in a tent or RV where these activities are convenient makes camping ideal for those who want to take in all the great outdoors have to offer.
#1000towns will explore some of Canada's best-camping destinations below for those looking for the perfect outdoor getaway.
#1
Bissell's Hideaway Water Park & RV Resort
One-acre Outdoor Swimming Pool
Metler Rd, Ridgeville, Ontario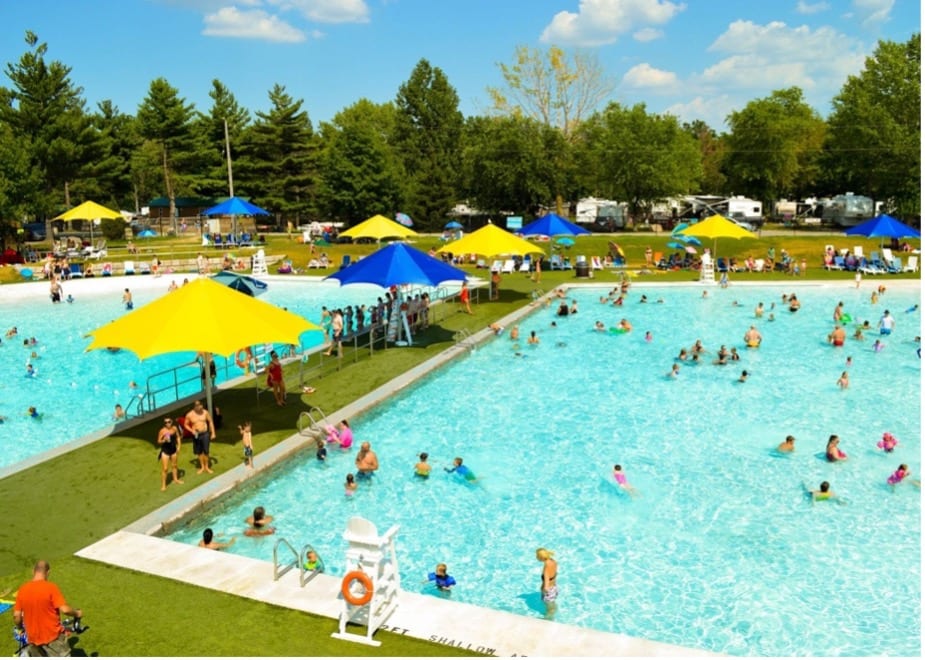 Bissell's Hideaway, which is about a 23-minute drive from Niagara Falls, is a resort that offers cabins, tent camping options, and many inclusive amenities. Cabins come in three varieties: the studio, which features a kitchenette and a full bathroom, rustic plus, two sets of bunk beds, and the yurt, which offers a unique camping substitute. As for campsites, there are hydro and water sites, full-service sites, pull-thru sites, seasonal sites, and tenting sites. All campsites require a two-night minimum stay.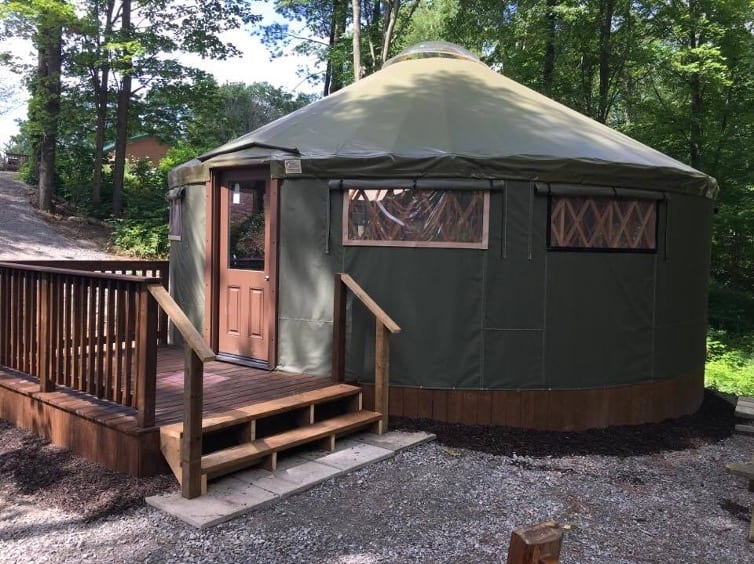 Bissell's Hideaway offers a massive one-acre outdoor swimming pool. The giant pool is separated by a boardwalk that cuts through the centre, leaving one side as a 4-feet deep pool, and the other a slightly deeper 9-feet deep pool. In the pool area, there is also a 130-foot spiralling water slide and a kiddie splash pad. The resort also features two ponds, one of which is used for fishing and the other used for pedal boats. For sports enthusiasts, Bissell's Hideaway also offers tennis, basketball, and volleyball courts, and they even have their own mini-golf course. The campsite is also a 23-minute drive from both Niagra Falls and Marrine Land, both of which can take up an entire day to fully experience. Suppose you're looking for a camping resort that will provide fun for the whole family. In that case, Bissell's Hideaway can provide for everyone!
#2
Tulabi Falls Campground
Spacious Campsites and Gorgeous Views
Nopiming Provincial Park, Manitoba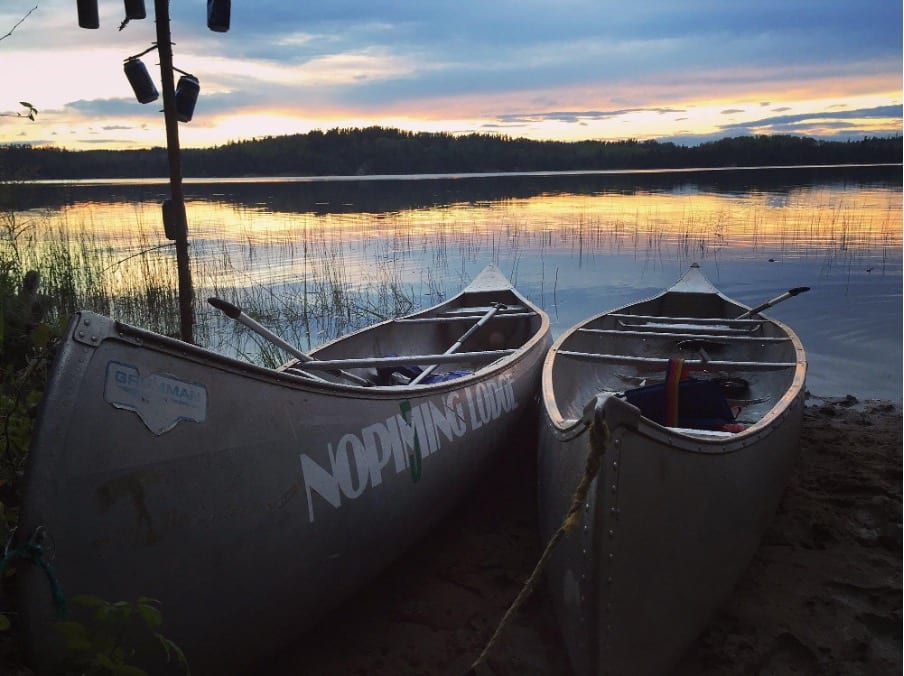 Tulabi Falls, located in Nopiming Provincial Park, has 17 basic and 19 electrical campsites. The site is an hour's drive away from the town of Lac du Bonnet, which offers many excellent hiking trails, as well as its own town dock and beach. Once you've arrived at the Tulabi Falls site, you'll be greeted with very spacious campsites and jaw-dropping scenery. The Tulabi Falls Trail is very close to the campground, giving visitors easy access to the falls. Along the beaches of Tulabi Falls, there are designated swimming areas where visitors can go for a dip and enjoy the natural beauty of the falls. There are also many places visitors can canoe or kayak in Nopiming Provincial Park. If you're looking for spacious campgrounds, dazzling natural scenery, and an excellent place for some recreational paddling, then look no further than the Tulabi Falls Campground.
#3
Thomas Raddall Campground
Saltwater Canoeing and Kayaking
100 Core Loop, Port Joli, Nova Scotia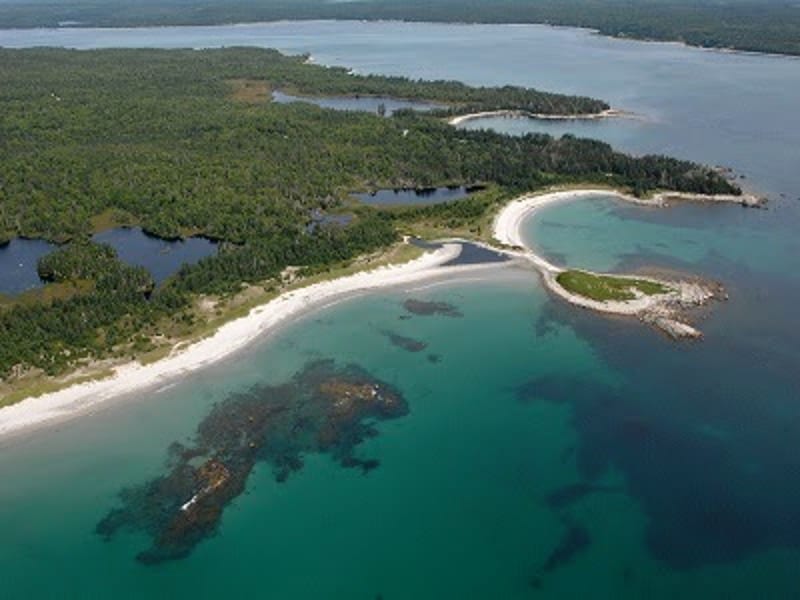 Within the Thomas Raddall Provincial Park, the Thomas Raddall Campground is about a 40-minute drive from the town of Lockeport. The campground contains 65 unserviced campsites and 10 walk-in campsites. Limited Wifi is also offered to guests of the resort. Trail access gives campers access to the white sand or rocky beaches within the provincial park. Canoeing and kayaking in the saltwater of Port Joli Harbour offer visitors a unique experience, allowing paddle enthusiasts an adventure on the open ocean. If you're looking for somewhere to enjoy views of the ocean, and go for some great hikes, keep Thomas Raddall Campground in mind.
#4
Spruce Grove Campground
Giant Naturally Heated HotSprings Pool and Zipline
5250 Spruce Grove Frontage Rd, Fairmont Hot Springs, British Colombia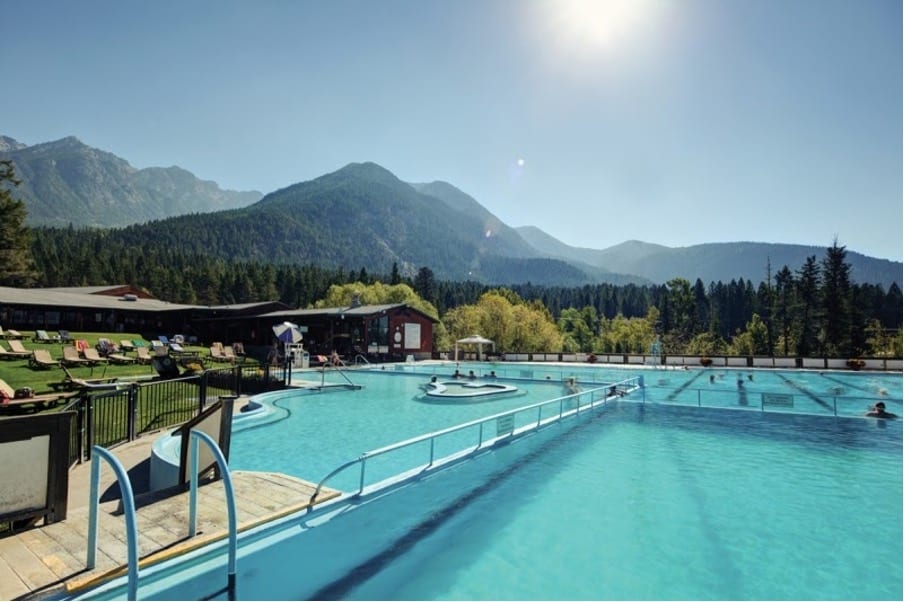 Located in the small community of Fairmont, the Spruce Grove Campground offers visitors 143 campsites, with options for water/power/sewer sites, power/water sites, and unserviced sites. Some campsites even sit directly on the Columbia River, giving campers an incomparable backyard view. An on-site heated swimming pool is available for guests free of charge; however, the campsite is only a five-minute drive from the Fairmont Hot Springs Resort. Campers will receive a discounted admission to the resort, which features three separated pools, a large heated one, a smaller and hotter pool, and a deep pool with diving boards. A restaurant and a bar are also available just beside the pool. Three golf courses can also be found on the resort, giving guests the option of two 18 and one par 3 9 hole courses.
The Fairmont mountain has a vast variety of hikes for campers to explore, with over 50km of marked trails. Trails can either be hiked or biked and range from easy to difficult. Still, all give spectacular views of the Columbia Valley.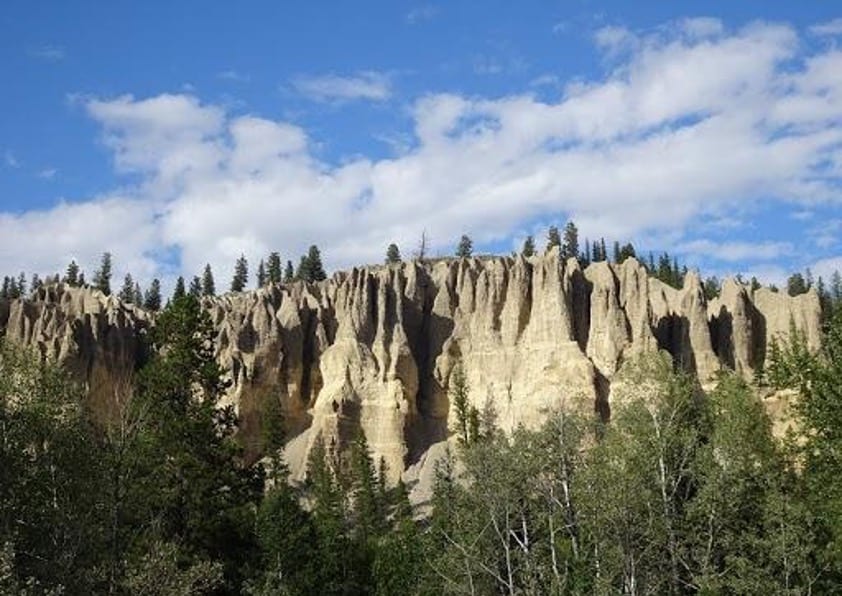 Close to the campground, hikers can also hike the Hoodoo Trail, taking in even more geological natural beauty.
Finally, Mineral Mountain Ziplines, located on the Fairmont Hot Springs Resort, allows guests to experience the thrilling rush of six different ziplines. The longest of these zip lines is over 470 meters long and over 60 meters high off of the ground, giving visitors a new way to take in the stunning valley at high-velocity speeds! If you're looking to get in some great hikes, do some ziplining, and then relax in the natural hot springs, be sure to check out the Spruce Grove Campground.
#5
China Beach Campground
47km of Trail Along a Crashing Surf
12287 BC-14, Capital H, British Columbia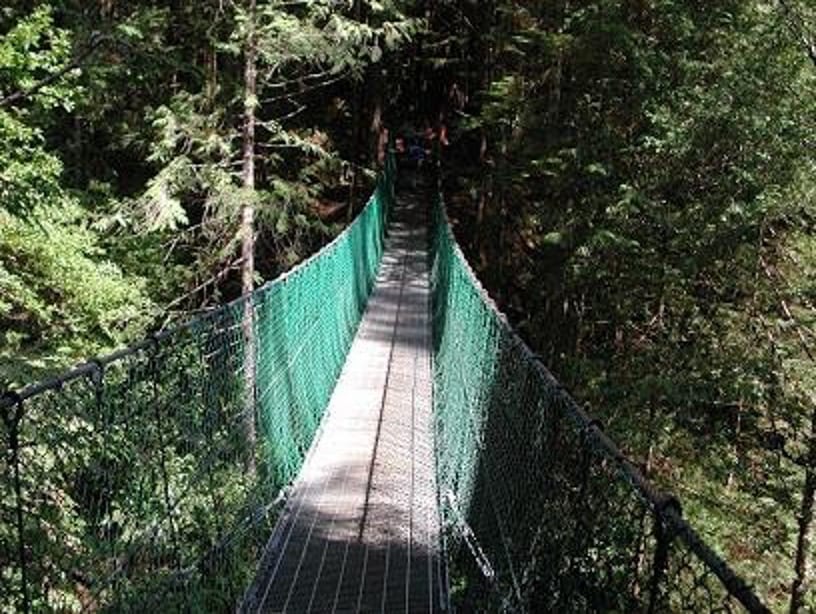 Looking at another B.C. campground, the China Beach Campground is located in the Juan de Fuca Provincial Park. The park is about an hour and a half drive away from the town of Sidney. China Beach Campground offers walk-in campsites, standard or double-standard sites. The camp is located on the west coast of southern Vancouver Island, right along the Salish Sea. Scenic majesty, many great hikes, and a lively surf are all things visitors can experience. The Suspension Bridge over the Sombrio River is one of the unique spots guests can visit during their hikes. The Juan de Fuca Marine Trail offers hikers 47km of trail to explore, cutting through the extensive forests and offering visitors a chance to see some sea life. 
For hike-enthusiasts, China Beach Campground offers access to expansive trails to explore.
#6
Cavendish Campground
Seaside Camping
357 Graham's Ln, New Glasgow, Prince Edward Island
Exploring another campground on one of Canada's islands, Cavendish Campground is located on Prince Edward Island, which is about a 10-minute drive away from the town of North Rustico. The campground features over 200 available campsites with options for RVs, tenting, and even oTENTik camping. The oTENTik tents have their own deks, Barbeque grills and fit up to six people. The campground has its own beach where guests can swim, and lifeguards supervise the beach from July-August.
Cavendish Campground is also within walking distance of the Homestead Trail, which is 9.6 km long and is described as a moderate difficulty trail. Visitors will get to see the shores of the Cavendish beach, a vast spruce forest, and even a view of the New London Bay and the Cavendish Dunes. If Seaside Camping is of interest to you, remember Cavendish Campground for your next camping trip.
#7
Petit-Gaspé
Quiet Campsites and Wharf Fishing
2286 Boulevard de Grande Greve, Gaspé, Quebec

Located in the Forillon National Park, Petit-Gaspé campground is a wooded campground offering guests privacy within their own campsite. The campground is about an hour and a half job away from the town of Murdochville, known for its ski resort and snowmobile trails. 101 campsites are offered without electricity at the campground, but 35 sites are available with electricity, and 31 spots are available with both water and electricity. Guests will also have access to the camp's swimming pool and playground.
Forillon National Park offers guests the opportunity to take in a day of fishing at the Grande-Grave wharf. Mackerel is the preferred saltwater fish to catch for eating. The wharf is a good place for experienced and beginner fishermen alike. Penouille beach, also in Forillon National Park, offers vacationers a beautiful sandy beach with water warm enough to swim in. There are also many trails in the area, ranging from easy trails (La Vallée) to challenging paths (Les Lacs) that are hiker and cyclist friendly. For those campers looking for a quiet private campsite to relax while also taking in a little fishing, Petit-Gaspé will deliver on these needs.
#8
Kathleen Lake Campground
Views of Canada's Highest Mountain Peak
Kathleen Lake Rd, Destruction Bay, Yukon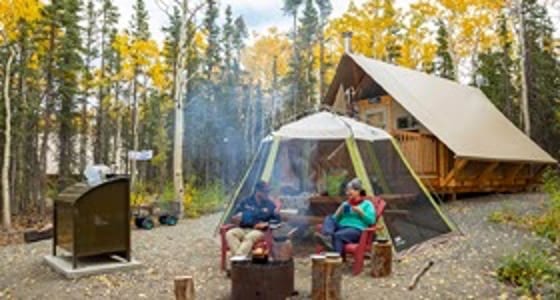 Kathleen Lake campground is part of the Kluane National Park and Reserve and is about a two-hour drive away from Whitehorse. The campground has 38 available sites and operates on a first-come-first-served basis. Water is also not available, so campers will be required to supply their own usable water when staying. Five oTENTik tents are also available to rent at the lake, and these can be reserved, which is recommended.
Visitors can expect crystal clear views of the lake and its scenery within walking distance of the site. The lake is perfect for canoeing and kayaking. The Kings Throne trail is close to the campsite and offers hikers a 5-kilometre challenge.

Kluane National Park also contains Canada's highest mountain, Mount Logan, which has a 5,959-metre peak. Several local companies offer guests the chance to go on flightseeing tours, where they can get a chance to really see the majestic mountains. Kathleen Lake Campground must be visited for those campers who want to see the very highest mountain peaks.
Kluane National Park also contains Canada's highest mountain, Mount Logan, which has a 5,959-metre peak. Several local companies offer guests the chance to go on flightseeing tours, where they can get a chance to really see the majestic mountains. Kathleen Lake Campground must be visited for those campers who want to see the very highest mountain peaks.
#9
The Hoodoo RV Resort & Campground
Camping with a View of the Hoodoos
Located 13 kilometres East of Drumheller, the Hoodoo RV Resort & Campground sits right along the Red Deer River. 30-amp power and water sites are available for RVs, as well as unserviced tenting sites. On the campsite grounds are two playgrounds, an entire baseball diamond, a volleyball net, and a small soccer field offering outdoor fun for everyone.
The campground is a five-minute drive away from the Hoodoo trail, allowing vacationers to walk through Drumheller's stunning Hoodoos. The path is a 1.4-kilometre loop and is accessible for hikers of all skill levels. Hoodoo RV Resort is also a 20-minute drive away from the Royal Tyrrell Museum. It is famous for its excellent dinosaur exhibits and is the perfect destination for a day trip.
#10
Wilderness Village Resort
Family Fun Resort
Rocky Mountain House, Alberta
Finally, located 12 minutes away from Rocky Mountain House, the Wilderness Village Resort exists. Vacationers can take in the views of the majestic Alberta mountains from the comfort of their own campsite. Tenting and RV sites with access to power and water are available. The campground offers many family fun activities, such as access to multiple swimming pools, hiking, bicycling, and even horseback riding. Guided horse rides are available to take guests through the phenomenal Crimson Lake Provincial Park.
Speaking of Crimson Lake, Wilderness Village is only a three-minute drive away from the lake. The lake can be used for swimming and even fishing! This lovely lake also offers over 10km of trails for visitors to hike nearby. If you're looking for a campground with plenty for the whole family to enjoy, head on over to the Wilderness Village Resort!