Brooks & District is home to many influential and exciting figures with fascinating stories worth telling. The Brooks & District Museum has collected artifacts and has well-laid-out displays to preserve these stories.
The museum has presented Southern Alberta Cultural Heritage to visitors since its doors opened in 1974.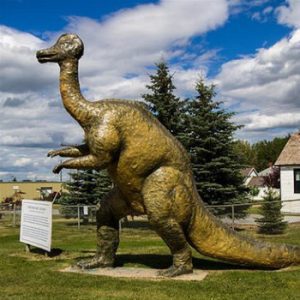 Outside the museum, there is a statue of Corythosaurus Casuarius, also known as The Helmet Lizard, which is impossible to miss.
The museum features exhibits that include the Brooks Bulletin, Corner Garage, Sarah King house, Kitchener schoolhouse, Philpott Honey Hut, Seventh Day Adventist Church, The Barn, The Caboose, Alberts House, Duchess Train Station, The Parvella and more. Other exhibits include the Blacksmith shop, 1903 oil rig and sheep herders' wagon.
The museum will have visitors leaving feeling inspired, educated, and eager to visit again.
Photo: brooksmuseum.ca