Saint Peter's Church is a beautiful sandstone structure located on Cape Breton Island, where it overlooks the charming Chéticamp Harbour.
After years of fundraising, construction took place in 1893, with the designer, David Ouellet, and the contractor, Joseph-Hubert Morin, coming from Quebec. Their French-Canadian roots can be seen in Neo-classical architecture, consisting of features such as a bell tower, vaulted ceiling, medieval rose window, and a traditional east-west ecclesiastical orientation.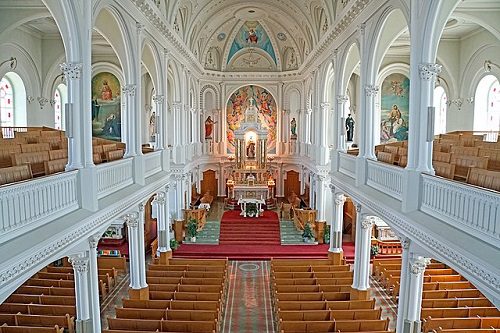 The church has an absolutely stunning altar made from beautiful white marble that has a life-like sculpture of Jesus erected in the center. Behind the altar is an inconceivably majestic painting with angels on display.
The outside of the church is made from stone and has an elegant spire overlooking the surrounding grounds. Above the entrance on the roof, you will find two statues of Mary and Jesus.