In the early 1980s, a troupe of performers founded by Gilles Ste-Croix – future co-creator of Cirque du Soleil – took to the streets of Baie-Saint-Paul, a charming village on the shores of the St. Lawrence River near Quebec City.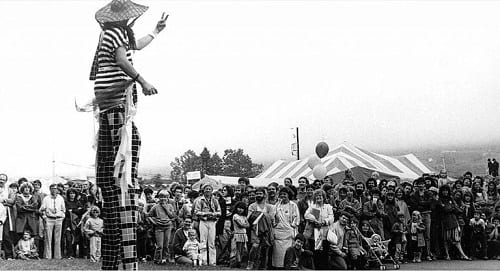 Les Échassiers de Baie-Saint-Paul (The Stiltwalkers of Baie-Saint-Paul) – including one Guy Laliberté – juggled, danced, breathed fire and played music, to the delight of locals and visitors. It would eventually lead to the founding of Cirque du Soleil with Guy Laliberté in 1984.
In 1988, Gilles Ste-Croix became Cirque's Artistic Director, as well as coordinating a talent search. Gilles Ste-Croix has created numerous shows including Saltimbanco, Alegría, Mystère, Quidam, O and LOVE.
Read more about Gilles Ste-Croix | People of Small Towns
Le Phare by René Derouin
A monumental sculpture, Le Phare, was created by internationally renowned artist René Derouin, in tribute to Cirque du Soleil.
This 10-metre-high metal structure (aluminum, wood and ceramic) holds several hundred ceramic figures on 25 rings stacked one on top of the other, each layer essentially representing a year in the Cirque's evolving history.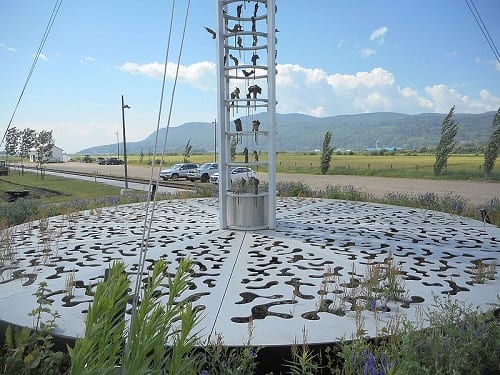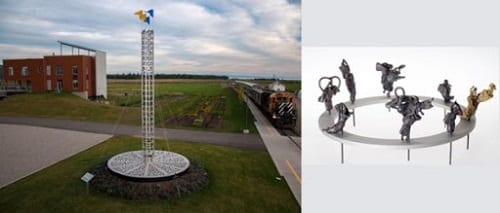 It can be admired at Hôtel Germain Charlevoix, next to the train platform.
Photo: Jeangagnon, Wikimedia Commons