Canadian Space Agency astronaut Chris Hadfield was born in Sarnia in 1959. He studied at King George VI elementary school in Sarnia.
Chris became Canada's first astronaut to live aboard the International Space Station. He commanded the International Space Station from December 2012 to May 2013 and flew two separate Space Shuttle missions. Chris became beloved by millions thanks to his zero-gravity reworking of David Bowie's "Space Oddity".
Sarnia Airport was renamed in honour of Chris Hadfield in 1997.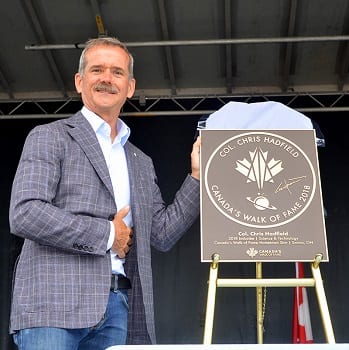 In 2019, the former astronaut was honoured with a Canada's Walk of Fame Hometown Star celebration at Sarnia's Bayshore Park.
Chris spends time at his cottage on Stag Island on the St. Clair River.