Explorer Roald Amundsen's ship Maud sank in 1930 and sat in shallow coastal waters for decades near Cambridge Bay.
Maud, named for Queen Maud of Norway, was a ship built for the second Amundsen expedition to the Arctic. After sailing through the Northeast Passage, which did not go as planned and took six years between 1918 and 1924, she ended up in Alaska.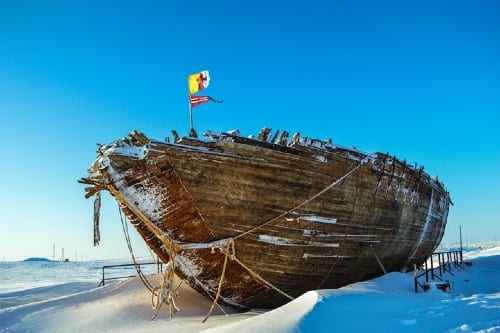 In 1925 she was sold to the Hudson's Bay Company. The year after, it was frozen into the ice at Cambridge Bay. The wreck lay just offshore, across the inlet from the community's former Hudson's Bay Company store.
In 2017 Maud began the journey back to Norway. Now she is waiting for a new museum building for her.
Now the stone cairn commemorating the Maud is placed here.
Photo: Jojo Trenholm