Ste. Croix Parish has a rich history in the small town of Lafontaine. Lafontaine was originally called Sainte-Croix (French for "Holy Cross").
This first wave of Québecois families arrived in 1841 from Batiscan. The first chapel of Sainte-Croix, built in 1856, was a log structure located immediately in front of the present church.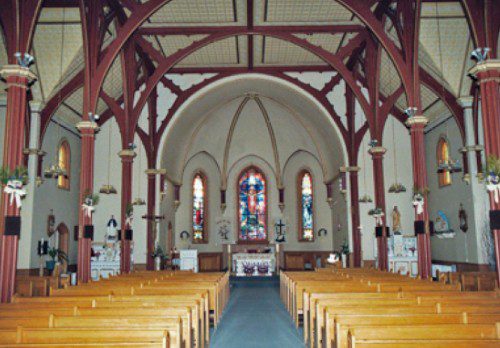 Construction of the present church and rectory began in 1873. All materials were local – fieldstones cleared from farms made the foundation, local trees were felled and turned into boards in nearby sawmills, the bricks were made of clay dug nearby and formed and fired by a parishioner, Louis Thanasse, and the interior columns and arches were hand-carved by local woodworkers.
The new church was completed in 1877.
Photos: huroniamuseum.com/museum-town/e-s-c/; Google Street View
Show More