Chalets aux Crocollines estate is a four-season resort that has welcomed visitors for over 40 years.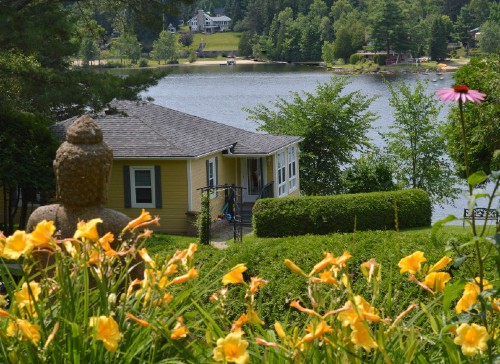 Located on the outskirts of Lac-Simon, the enchanting site is the perfect place for a family gathering, a romantic getaway, or a business holiday. Five cabins are available for rent, three suited for both summer and winter. The landscaping of the estate ensures a panoramic view of the lake and the mountains from each chalet. Because of its location, you can enjoy a private beach with a waterslide, chairs, umbrellas, and a dock. You can also rent a pedal boat, canoe, kayak, or motorboat. Whatever floats YOUR boat. For toddlers, this place can offer a set of swings, a slide, a small playhouse, and a climbing wall, all in one modular playground; for those old enough to play, the estate offers volleyball, badminton, and a pétanque court.
Reconnect with nature by taking some of the most beautiful nature walks from your doorstep. Take advantage of the wooded areas via hikes or snowshoes in the winter! Ensure to reserve a spot to surround yourself with a lush nature scene.