Died in 1992 in Toronto, Ontario.
Bailey's career came to an abrupt end on December 12, 1933, when he was hit from behind by Eddie Shore of the Boston Bruins.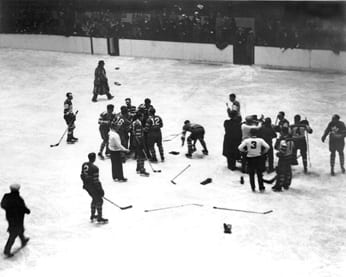 It was feared that Bailey would not survive after severely injuring his head. Bailey did recover but never played hockey again.
The Ace Bailey Benefit Game was the first all-star game in National Hockey League (NHL) history. It was played on February 14, 1934 at Maple Leaf Gardens in Toronto to raise money to support Ace Bailey.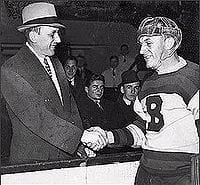 Bailey (left) shakes the hand of Eddie Shore at the benefit All-Star Game held in honour of Bailey.
In 1975 Bailey was inducted into the Hockey Hall of Fame.
Named in his honour, the Ace Bailey Memorial ice hockey tournament for youth players is held annually in Stoney Creek, Ontario.
---
Bracebridge is the seat of the Muskoka District Municipality in Ontario. It was built around a waterfall on the Muskoka River in the centre of town and is known for its other nearby waterfalls (Wilson's Falls, High Falls, etc.). It was first incorporated in 1875.